It would be an understatement to suggest Calgary fans have been spoiled somewhat lately when it comes to projecting first round selections in recent entry drafts.
Picking 4th or 6th (twice) is a range much easier to break down, creating three month debates about Sean Monahan vs Elias Lindholm, or whether the Oilers were going to take Leon Draisaitl or Sam Bennett. Last summer the Flames received some good fortune when the likely 4th overall pick Matthew Tkachuk fell to Calgary at 6 and then promptly went on to show his moxie in his rookie season in Calgary.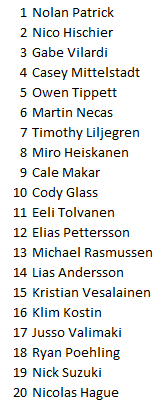 Two years ago the Flames were slated to pick in a similar spot with my player circled as Matt Barzal when general manager Brad Treliving stole the show by swinging a deal and acquiring Dougie Hamilton and not selecting on Friday night.
This year at 16, in a draft that has very little by way of consensus is almost like herding chickens in predicting what the Flames might do when they go to the podium.

The 2017 Consensus
Special thanks to MyNHLDraft.com for making the data scrape easy by compiling pretty much all the opinions in a tabular format to average for an attempt at a consensus list.
In this case the consensus is a simple ranked average of the top twenty prospects all showing on at least 11 of the 12 "expert" lists. With the uncertainty in this draft class, going any further down the list in a consensus rank deteriorates quickly as only three other players show up on 10 of the 12 lists the rest of the way.
The average range of ranking for the top 20 is a whopping 14.5 spots, with only the top three players having single digit variance numbers in their range of rankings.
Within this list of 20 there is a huge disparity in rank, really suggesting June 23rd could make for good television as the draft rolls out in an erratic fashion.
From a Calgary perspective only five players in the top 20 have their worst of the 12 rankings below the Flames pick suggesting almost anyone on the list could fall to 16; Nolan Patrick and Nico Hischier who have only 1st and 2nd rankings, Gabe Vilardi whose worst is 10th, Casey Mittelstadt and Martic Necas who both top out at 13th.
Every other player in the top 20 has a high water mark at or beyond where the Flames will be picking.
That level of top of draft confusion certainly suggests things will be somewhat interesting after the top four or five players are taken off the board.
Owen Tippett should be long gone when the Flames pick at 16, but Craig Button has him ranked 20th, and with that one could suggest anything could happen.
Timothy Liljegren was one of the top five picks during the winter, but recent rankings from DraftBuzz and McKeen's has him sliding past the Flames pick at 16; he could easily be there.
The Russian factor is in full effect with a player like Klim Kostin as he has the widest range of rankings sitting as high as 5th from Cory Pronman back in February, and as low as 30th from Craig Button in March.
Zeroing In On the Flames Pick
In order to drill down, lets assume the averages are at least somewhat accurate and look at a handful of players and their rankings.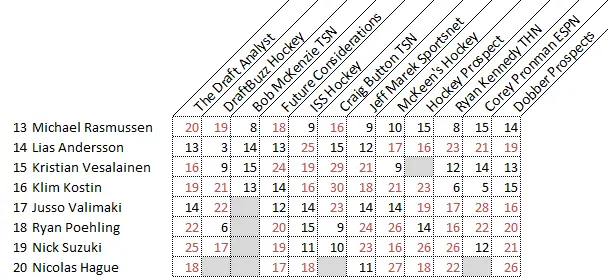 I chose 13th on the list at Michael Rasmussen as he's the first player on the list of 20 with multiple showings beyond the Flames pick, and therefore somewhat possible to fall to the Flames. This range of eight players features three that have appeared on all 12 lists, but also Nicolas Hague who fails to even appear on four of the 12, making his selection somewhat risky.
In this group you have five centers, two defenseman and a winger. You also have a lot of beef as 6 of the 8 players have a lot of size, something that while the Flames may not be chasing specifically, it's certainly not a bad addition to a team that has slowly gotten bigger over the past few years. The eight players feature three Canadians, two Fins, a Russian, a Swede and an American.
Given the Flames depth in goal and on the blueline in prospects, and the current build up the middle a draft for need would send the Flames toward Kristian Vesalainen who was ranked 15th on the consensus board.
The gutsier picks fall to Klim Kostin or Nick Suzuki, the first because of the risk of the player not coming over, and the latter because adding a player well under 6′ tall to a team with Johnny Gaudreau could be somewhat dangerous on the team building front.
My wish?
Nick Suzuki
The league is going to skill, adding a player with skill and a high hockey IQ is the right thing to do more often than not. Draft bigger, thicker role players later in the draft but make sure you add to the skill of your organization every time in the first round. Additionally, I like the fact that both Craig Button and Corey Pronman have him high in the draft. Button specifically has always had a level of bravery in his rankings before the draft, staying far from the consensus view and not being afraid to move players up or completely hammer players like Jake Virtanen in the past.
So Nick Suzuki to the Flames, should they stay at 16 and use their selection, but my gut says don't count on it. They're moving down for more picks.
Can they select Suzuki a few picks later and add a third?