The last thing a hockey fan should become is an apologist.
I think some fans tend to lean to the positive, others to the negative, and if I was to relegate myself I would certainly see more rainbows than storm clouds; but then those that know me would say I carry that slant through all things in my life, not just hockey.
For me, the thought on most transactions is the following statement;
"Brad Treliving knows what he's doing".
That isn't a statement of fact, it's an opinion, but its my basis to look at team building and what the general manager is up to.
The man is known to have his nose into every single discussion, is often referred to as a guy that out works his peers, and is quick to use the word "process" in almost every interview. In my profession, I make many calls a week that will be questioned over and over again for years by others, so to a wildly different degree I can understand having to work out the best course, and finally make a call that you're willing to live with.
With that as my basis I look at the shocking Lucic/Neal swap on Friday afternoon.
When the Calgary/Carolina swap went down last June it seemed like an over pay for the Flames. The explosive year by Elias Lindholm took the sting out of that quickly and the chatter died down but without that event it probably would have been debated ad naseum even to this day.
The truth of the matter though, was that Treliving did his best to sell high on assets that may not improve. Hamilton was young, but coming off a great season and wasn't a fit. Micheal Ferland had a career year and was likely to be gone in a year to UFA, and Fox was a prospect that the GM knew wasn't going to sign in Calgary.
Taking that account, along with the great contracts signed by Lindholm and Noah Hanifin made the deal make sense in short order. Fox's hop to Manhattan and Ferland's exit to Vancouver somewhat proves that out.
This deal won't have such an obvious take however. It's much more complicated than that.
Some Assumptions …
A. Neal had to go
We heard chatter all summer about Calgary trying to move Neal, Calgary may be able to move Neal, Calgary may have something going involving Neal.
The fact that the final exit is to Edmonton and in exchange for a worse contract pretty much proves out that the player wasn't easy to move and that this was likely the last chance Treliving had to get the player off the roster before training camp.
Its always interesting to see comments from fans like "they should have traded him somewhere else", or "they should have got more for him", when clearly this was it. Take it or leave it.
Why? I won't guess. It could be a room problem if you want to interpret the players calling Lucic to waive his NMC as a sign that they wanted the deal done. Or it could simply be fit, as James Neal was unlikely to move into the top six, and with that even more unlikely return to his only real contribution which is goal scoring.
B. Calgary wasn't going to buy him out
This trade to me, taking on a guy that has under performed with a buy out proof contract, suggests the team wasn't going to buy out James Neal's contract any time soon. That could be a view from Treliving or an order from the ownership suite, but either way that's the hint you get.
Eight years of significant cap hit is an ugly thing to show on the books a year into a five year deal.
So if you assume they weren't planing on buying out Neal, it makes it less painful to take on a contract that would be more difficult to buy out. The bottom line is similar as neither were likely to happen regardless of what course is taken.
C. Calgary was adamant about acquiring toughness
The team came in second to Ryan Reeves last summer, tried to add Kadri in a deal this summer, and were still looking for a deterrent that could play to add to the team given the lack of size in some of their players, and the number of guys in the pipeline that are vertically challenged as well.
Much more went wrong in the Colorado series than toughness, but whether you agree or not it's clearly something that the management suite was after.
Adding Lucic certainly adds toughness making the equation much different. James Neal on the third or fourth line at $5.75M not scoring vs Milan Lucic on the third or fourth line at $5.25 and being a pain in the ass more often than not to the opposition.
You could argue one is $5M over paid (Neal over replacement level player) while the other is $2.25M over paid (Lucic over the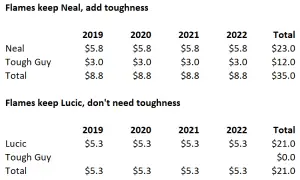 $3M it takes to add a tough guy).
It becomes even more demonstrative when you look at having to add a tough guy with Neal still on the roster.
This means nothing to Edmonton's evaluation of the transaction, but to the Flames it's getting rid of a contract that was unlikely to be given the opportunity to bounce back, and striking the toughness need off the shopping list.
Calgary's perceived desire to add a guy that can protect his teammates seems to balance the equation.
Have a look at a table that shows buying out both players in a year, plus adding a tough guy (now for the Neal case as they have no one, and in a year in the Lucic case as he fills the role in year one).
In this scenario the Flames save $3.5M in year one, pay $2.9M more in year two, $1.5M in year three, $2.9M in year four, but then have $1.5M in savings for the final three buy out years.
All told the total cap space is within $0.6M over the seven year time period.
D. Lucic is a better bottom roster fit
I said earlier that the team clearly has been trying to find a player that can play.
Despite Lucic's disappointment in Edmonton his underlying numbers have been shockingly good to be honest, especially when you consider his move down the roster and how thin the Oiler's forward group gets by the time you dig into lines three and four.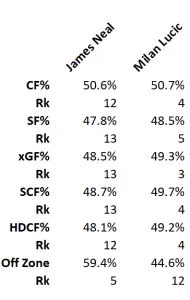 The table to the left shows how each player ranked amongst the other forwards on their respective teams last season.
As you can see despite playing for one of the poorest clubs on the circuit, Lucic had numbers close to or over above 50%, and wasn't sheltered. Neal meanwhile was ranked well down the team list in Calgary and was the 5th most advantage forward in Calgary for zone starts.
Lucic bests Neal in every single out right metric but had his most common linemates Kyle Brodziak and Zach Kassian (shudder).
Neal in Calgary meanwhile, was under water on most metrics despite having the likes of Mark Jankowski, Sam Bennett, Mikael Backlund and Matthew Tkachuk as his most frequent combinations.
Summing it Up
This isn't a win.
It shouldn't be interpreted that way.
The Oilers are getting a player that should be able to help them more if he can keep up, and an easier player to buy out should they see that he can't.
However the mistake in Calgary was the James Neal signing a year ago, the swap with Edmonton actually makes sense if you arrive at the conclusion that they feel they needed toughness, and the ownership group wasn't about to put eight years of dead cap space on the books to get Neal out of town.
As I said it's always a process with Brad Treliving, and this one isn't too hard to follow if check a few boxes as to what he seems to be trying to accomplish.
It's certainly going to make for an interesting Battle of Alberta this winter.