Short Straw in A Shoot Out
Former Flame Morris Scores In OT
---
November 27th, 2003
Rick Charlton
It would be safe to say Calgary's game plan didn't include getting into a shootout with the star-studded Colorado Avalanche.
But the Flames did just that last night, miraculously securing an important point but losing a 6-5 decision to the Avalanche in overtime in a game that left a crowd of 15,729 emotionally exhausted, the lead exchanging hands four times before ex-Flame Derek Morris capitalized at 2:24 of the extra frame.
While thrilling fans, the game also saw everything that was good or bad about run and gun 1980's style hockey, plenty of shots and chances but also poor defensive zone coverage backed by shoddy goaltending.
| | | |
| --- | --- | --- |
| McAmmond | Reinprecht | Iginla |
| Lowry | Lombardi | Kobasew |
| Gelinas | Conroy | Donovan |
| Saprykin | Yelle | Clark |
| | |
| --- | --- |
| Regehr | Leopold |
| Gauthier | Warrener |
| Ference | Lydman |
That the Flames could go toe-to-toe and cheek-to-cheek with the Avalanche in this amazing waltz is perhaps encouraging but they probably picked the wrong team to have fun with. Even with names like Peter Forsberg and Paul Kariya out of the lineup, the Avs would take a run and gun game with the Flames any day of the week.
"It's nice that we had some offensive production, but really it favors their team a lot more getting into a game like that," said Andrew Ference after the game, stating the obvious. "We're a defensive team and we take a lot of pride in the fact that we don't allow a lot of goals. We can't kid ourselves, we're not going to come up with points in too many games if we give up that many goals."
As might be expected, there were many highlights, including Shean Donovan's blistering breakaway speed and cool hands on Calgary's first goal, a short-handed effort at 5:52 of the first. Oleg Saprykin and Joe Sakic dazzled with skill, each scored from impossible angles. Miikka Kiprusoff was brutally reminded that Teemu Selanne is a fast guy, being stripped of the puck behind his net and the Finnish Flash giving Colorado a 4-3 lead. And there was the dramatic tying marker by Andrew Ference off a patient passing play with Jarome Iginla followed by the climatic winner by Morris.
Kiprusoff saw his encouraging .958 save percentage drop to roughly .889 in a single game, making only 18 saves on Colorado's paltry 24 shots, including allowing five goals on only 22 shots in regulation time.
"Obviously, you don't expect to see a 6-5 shootout nowadays especially the way Calgary's playing defensively, with the way Kiprusoff's been playing," said Colorado coach Tony Granato." "But tonight was one of those games where a lot of funny bounces (happened) around the net, people went to the net extremely well. Like I said, two teams worked extremely hard and we were fortunate enough to get the chance in overtime and get the two points."
The overtime loss leaves the Flames at 9-8-0-3 on the season, good for 21 points and a tie with Nashville for 10th in the NHL's Western Conference. The Flames have a game in hand on the Predators and several games in hand on most of the other teams around them.
Calgary outshot the Avs 32-24 on the night. Flames were one for seven on the power play while the Avs were one for four. It doesn't get any easier for the Flames, moving from the third highest scoring team in the league, Colorado, to Vancouver, the best offensive team in the NHL, the Canucks visiting the Dome on Saturday night.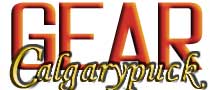 SCOREBOARD

AVALANCHE
6
FLAMES
5


1) Oleg Saprykin - Scoring twice by going hard to the net with ill-intent, this is the Saprykin the Flames had hoped would have shown up in training camp. Better late than never.
2) Joe Sakic - Joe Cool might be a better name, the wily veteran coming from the side boards and waiting, waiting, waiting for Kiprusoff to panic and leave his post exposed. A second later the puck was top shelf from a near impossible angle. And he wasn't bad the rest of the night either.
3) Shean Donovan - Scored the highlight reel goal of the night and played with passion throughout.

Dan Hinote was checking his skate laces to make sure they were still tied as he crossed the Calgary blue line early in the third period. A moment later his face had been pancaked flat by the shoulder pad of Denis Gauthier.

It's a 5-5 game and Sakic is bearing down on Kiprusoff, the latter flashing out a glove to preserve at least a single point for the Flames.

Ex-Flame Morris with some complimentary comments after the contest, perhaps expansive given he scored the game winner but also a notable difference in attitude towards the Flames organization from when he left. "We played hard tonight, we made a few too many mistakes and they capitalized. But that's a team that has a good future. They are playing their system and they're playing hard." When he was initially traded last year, there was the lingering sense Morris wasn't too sorry to be leaving, particularly given the team he was going to. . . . . . Craig Conroy was a terrifically efficient 65% in the faceoff circle while the Avs primary faceoff man, Sakic, was only 41%. . . . . . Conroy also played a season high 25:34 for Calgary, leading the Flames in ice time, unusual for a forward. Rob Blake was 28:04 for the Avs. . . . . . You might have thought plus/minus stats would have been blown out of the water in a game like this, but Chuck Kobasew was the lone player with a minus two and was on the ice when Kiprusoff burped up Selanne's goal.