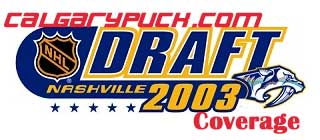 Calgarypuck Draft Coverage
Charlton: Buyer Beware!
---
June 17th, 2003
Rick Charlton
Buyer be warned.
The first netminder taken in an NHL draft year isn't often the one that emerges as the best of his class, a fact that should give those considering Marc Andre Fleury as high as first overall in 2003 at least the briefest of pause in spite of his obvious qualifications.
In a purely subjective review of draft history from 1970 through to 1995, the best goaltender in any draft class, on average, has been the fifth netminder taken, indicating just how difficult it is for those paid to make such judgements to actually gauge where an 18 year-old puckstopper will eventually end up.
In other words, if there's one position at the draft that could be legitimately described as a crapshoot, it's goaltender.
Weighing even more heavily on the equation is the fact a goaltender can also be a massive investment in terms of "time" as many need considerable development and mentoring, perhaps six to seven years, before enjoying their first true impact season in the NHL.
Under those circumstances, it's not difficult to believe that from 1970 through to 1995, NHL teams used a top ten draft pick on a netminder only eight times. In the 26 drafts measured, only John Davidson, fifth overall pick in 1973, Grant Fuhr, eighth overall in 1981 and Tom Barrasso fifth overall in 1983 could be considered top of their class and taken with a top ten pick.
Yet we've seen six additional top ten picks used on netminders between 1996 and 2002, reflecting the increased importance being placed on goaltending in the low scoring era we are currently in.
Naturally, such an analysis, naming the best netminder to come out of a draft year, can be both difficult in some years and very clear in others.
No one would doubt that Patrick Roy was the best of class in 1984, the third netminder taken that year (and 51st player overall) behind Craig Billington and Daryl Reaugh.
One wonders, however, if Dominik Hasek, the 16th netminder taken in 1993 at 199th overall, might have gone higher had his Czechoslovakian passport given him greater freedom of movement instead of acting as an anchor around his ankles. So we exclude Hasek as a tainted sample for political reasons and rate Barrasso, the first netminder taken that year and fifth pick overall, at the head of the class in 1983.
Other years left some head-scratching, such as 1978 where a sad sack group of 23 netminders left us trying to pick between Bob Froese (17th goalie taken) and Steve Weeks (19th), eventually settling on the former.
There were instances where the perils of using a first round pick on a netminder were clearly illustrated, Montreal selected Bunny Larocque sixth overall in 1972 while another francophone, Richard Brodeur, the best of class that year, was the ninth netminder taken, 97th overall.
The Canadiens had also used a fifth overall pick on Ray Martyniuk in 1970, the first time a netminder had been taken in the first round. Martyniuk never played a single game in the NHL while Daniel Bouchard, a franchophone, was selected 27th overall in the second round, Billy Smith 59th in the fifth round and Gilles Meloche 70th in the fifth round.
Other goaltenders taken with a top ten first round pick between 1970 and 1995 include Jamie Storr (1994, seventh overall), Jocelyn Thibault (1993, 10th overall) and Jimmy Waite (1987, eighth overall).
In the end, however, the best netminder in a draft year has tended to be well down the list, on average the fifth taken in a class.
The length of time it takes these young men to graduate to outstanding status tends to be longer than a comparable forward or defenceman, in fact a length of time most GM's in the league usually don't live to see. It was the lengthy development period that caused me to break off the sample at 1995.
Jose Theodore, a 1994 draftee, enjoyed a breakout season in 2001-2002, seven years after he was drafted.
Jean Sebastien Giguere, a 1995 draftee at 13th overall, is finally emerging as the best of his class and enjoying his breakout season seven years later as well.
Roberto Luongo, a 1997 draftee at fourth overall, completed his fourth NHL season and while promising greatness has yet to truly deliver a single superb season in the manner of Theodore and Giguere.
Brian Finley, taken sixth overall in 1999, made his NHL debut, a single game, last season with Nashville.
Rick DiPietro, taken first overall with much fanfare in 2000, has been in and out of the Islanders lineup with 31 appearances over three seasons and a sub .900 save percentage. Brent Krahn, taken ninth overall by Calgary in the same draft year, may be resurrecting a career that appeared stalled after a fine closing run with Seattle of the WHL.
Interestingly, Islanders GM Mike Milbury banished the developing Luongo to get a shot at DiPietro, a move that has most observers still scratching their heads, DiPietro progressing along a fairly normal development path but Luongo, a genuine NHL starter, clearly the better of the two at this point in their respective careers.
The exceptions are obvious, however, Barrasso, Fuhr, Davidson and Roy sticking out by a country mile as youngsters who came into the league early and made an immediate impact.
Should all of the above exclude teams from coveting Fleury in 2003 as much as they do?
Anyone drafting him with a top ten pick - in this case, potentially first overall - should acknowledge the risks in taking a goaltender with a high draft are more formidable than for any other position and the odds are pretty good the best goaltender to come out of any draft year is going to be lower down the pole.