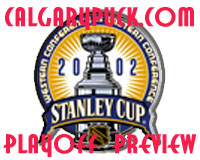 Stanley Cup Final
Rick Charlton
June 4th, 2002
---
STANLEY CUP FINAL PREDICTIONS
Detroit

(

1st NHL) vs. Carolina (16th NHL)
Red Wings (51-17-10-4, 116 pts); Hurricanes (35-26-16-5, 91 pts)
Season Series: 2-0-0 Red Wings.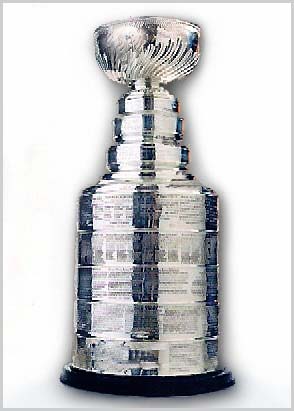 On the surface, this figures to be a wipeout by the Winged Wheel.
But they play the games for a reason and the Hurricane are hardly chopped liver. In fact, Carolina are experts in the often underestimated fine art of negating talent through a smothering defensive system.
It matters not so much that the Wings are deeper through four lines than whether or not the Hurricane can simply play Detroit's depth to a standstill and pray for some breaks.
Detroit Strengths:Brett Hull is often on the third and fourth lines and Luc Robitaille has been a bit of a part-timer which should tell you all you need to know about Detroit's depth. Top to bottom they may be unrivalled in skill but its gritty foot soldiers like Darren McCarty, Tomas Holmstrom and Kris Draper who give the Wings an added edge. Niklas Lidstrom is likely the best all-around defenceman in the NHL today and Chris Chelios is having a catharsis type season given his age. Anchoring the entire brood is Dominic Hasek, aging but driven to secure the first Stanley Cup championship of his career. How could you not favour Detroit in this series?
Carolina Strengths: Arturs Irbe has won the big game in the past, something critics of the Hurricane seem to forget. And Carolina's defensive style of play can only suceed on the back of strong goaltending as an anchor. In that sense, Irbe is the key to this series for the Hurricane. I've often said that the ability to slow a game down to a crawl depends a great deal on team speed. The faster collectively a team is, the more able it is to close on its opponents quickly and prevent them from generating their own speed through the neutral zone. The Hurricane have such team speed in abundance, just as the mid-80's Devils did, thus their impressive defensive success this post-season. Some call Carolina's style boring but there is also something inherently beautiful in watching a team play such an orchestrated chess-like game plan to perfection.
Detroit Weaknesses:I would like to say that Carolina is the quicker team but the Wings looked amply fast when playing the super-charged Colorado Avalanche. Hasek may be driven to secure a championship but, in spite of five playoff shutouts, he hasn't exactly been overwhelming, committing the odd goof and putting up the occasional stinker as well. And once you get past Lidstrom, there is the aging Chelios and a bunch of other guys who would be fairly average on any other team in the league. The Wings aren't invincible and the fact the Flames, a speedy team trying to mold itself in the New Jersey mold, could beat them three times this year is testimony to that fact. But that was the regular season and this is the playoffs.
Carolina Weaknesses:Irbe's biggest post-season successes came in the mid-90's and he's never seemed to be the same goaltender since his dog took a bite out of his arm, sidelining him with a serious injury. Many critics of the Canes point to Carolina's defence as largely no name and, more importantly, not particularly physical. And, quite obviously, the Hurricane can't match Detroit's impressive depth at forward. All in all, even the most ardent Carolina fan would have to admit the Hurricane top to bottom are inferior to the Wings talent-wise.
Prediction: The Wings are vulnerable to a strong and quick counterattack team like Carolina and it figures this will be an entirely different type of series than the run and gun played between Colorado and Detroit in the third round. In that sense it will be the Hurricane dictating the style of play and they are acknowledged experts at smothering talent and slowing a game down to a speed they're comfortable with. Hasek has had a so-so playoff and in spite of his reputation appears to be no imposing improvement over Irbe at the other end of the ice. But whom are we kidding? The Wings should win this in six. They're just better than Carolina all around.
---
SECOND ROUND PREDICTIONS
Detroit

(

1) vs. St. Louis (4)
Red Wings (51-17-10-4, 116 pts); Blues (43-27-8-4, 98 pts)
Season Series: 3-2-0 Red Wings.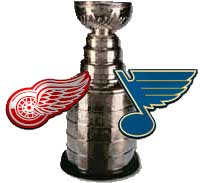 Keys for Detroit:It was an impressive opening round tune-up for the Wings, mostly for the fact they spotted the Canucks a two game lead then came back to win decisively. For all of that, the Wings might have been toast if it hadn't been for the weak goaltending of Vancouver's Dan Cloutier in the final games. Will Brent Johnston afford Detroit the same luxury? It says here the Wings learned their lesson and will bring their "A" game to the rink right from the get-go.
Keys for St. Louis:This is the series where we will find out how good Brent Johnston really is. While he shut out the Black Hawks three times in the opening round, Chicago was exhibiting all the familiar characteristics of a Brian Sutter coached team in the post-season. Too exhausted from maximum effort through 82 games, the Hawks folded like a cheap tent. But the Wings will be an entirely different class of opponent. If the Blues win this series it will have been because Johnston finally exorcised any questions about his abilities.
Prediction: Vancouver had the best shot of knocking off Detroit and gassed it. St. Louis won't have the element of surprise. The Blues are a formidible opponent but in a toss-up between Johnston and Hasek we'll take the latter. Detroit in Six.
---
Colorado

(

2) vs. San Jose (3)
Avalanche(45-28-8-1, 99 pts);Sharks (44-27-8-3, 99 pts)
Season Series: Tied 2-2-0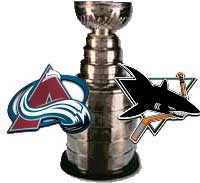 Keys for Colorado: The Avs looked like the free wheeling Colorado team of old with Peter Forsberg in their lineup against LA - and the mucking, grinding team of this year without him. Without a doubt, the health of Forsberg will be a decisive factor in this series along with the always impressive netminding of Patrick Roy.
Keys for San Jose: The Sharks bring a monotonously methodical game with a load of talent to back it up. Through four lines the Sharks have impressive depth but don't have the same playoff proven superstar game breakers that Colorado does and therefore defence will be the watchword, as it always is for a Duane Sutter coached team.
Prediction: The difference between these two teams is probably the health of Forsberg. Without Forsberg we would be taking the Sharks in six but, as was evidenced against LA, the resurgent Colorado centre gives the Avs an element they had been lacking all season..
Colorado in Six
---
Carolina

(

3) vs. Montreal (8)
Hurricanes (35-26-16-5, 91 pts); Canadiens (36-31-12-3, 87 pts)
Season Series: Tied 1-1-2.
Keys for Carolina: Carolina is a better team than Montreal but, as we saw in the Boston series, that doesn't necessarily define winners and losers. Like Boston, the Hurricane also had goaltending difficulty in the opening round but were able to find their feet with an exceptional effort from substitute Kevin Weekes. If Ron Francis, Rod Brindamour, Jeff O'Neil, Sami Kapanen and Erik Cole come through while gettting decent goaltending, the Hurricane should give Montreal all it can handle.
Keys for Montreal: As much as one can respect the remarkable opening round of Montreal's Jose Theodore, we would also have to admit the Canadiens received an equal amount of help from the .856 save percentage of Boston's Byron Dafoe. Will the same huge differential in goaltending also aid Montreal in its series with Carolina? If not, then Montreal's smallish forwards will have to re-double their efforts to keep up with the Hurricane.
Prediction: After slaying their respective Goliaths, the two David's now face off for what promises to be an interesting series. It's a given that Theodore will be amazing but the Hurricanes are probably too strong.
Carolina in Six.
---
Toronto

(

4) vs. Ottawa (7)
Leafs (43-25-10-4, 100 pts); Senators (39-27-9-7, 94 pts)
Season Series: 3-2-0 Ottawa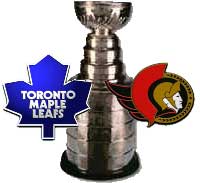 Keys for Toronto:The Leafs will have to carry the emotional lift gained from beating the Islanders into their series with the Senators and try to build some momentum early, thus preying on any lingering insecurities the Senators may have from the pounding Toronto has given them in two consecutive post-season's. But the Leafs are decided underdogs in this one given the loss of key players and the suspect health and indifferent play of Curtis Joseph.
Keys for Senators:"Bring it on" is what Ottawa fans are thinking right now which is a significant shift from the sense of impending doom which greeted a meeting of these two rivals in the post-season last year. With the Toronto lineup significantly depleted by injuries and coming off an emotional seven game series with New York, it is easy to see where the confidence is coming from, particularly since the Senators pounded the mighty Flyers into submission relatively easily. The key for Ottawa will be bringing their emotional level up to that of the combative Leafs.
Prediction:The Senators are oozing confidence after destroying the Flyers and can smell blood already as they head into their series with the Leafs. Ottawa should be plenty motivated after two embarrassing playoff losses to Toronto in recent years while the Leafs are plain running out of players.
Senators in Six.
---
FIRST ROUND PREDICTIONS
Detroit

(

1) vs. Vancouver (8)
Red Wings (51-17-10-4, 116 pts); Canucks (42-30-7-3, 94 pts)
Season Series: 3-1-0 Red Wings.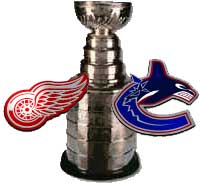 Keys for Detroit: If they win the Cup they would be the second oldest team to ever do so, behind only the 1966-67 Toronto Maple Leafs. But that only shows it's been done before and therefore can be done again. Their tepid play down the stretch may or may not mean anything given they haven't played a meaningful game in months. The key to this series will be the play of Dominic Hasek, lacking only one championship for his trophy case, the Stanley Cup. It goes without saying this may be his last chance. While some infer the high-flying Canucks are the one team that could spoil the party for the Wings the opposite may be true. Detroit has excellent special teams and a veteran's patience for playing solid defence and waiting for the right moment to strike. Many an impatient, inexperienced and younger team has fallen to that foil in the past.

Keys for Vancouver: Perhaps the best team in the NHL in the second half of the season the Canucks are hardly quaking in their boots at the prospect of playing the mighty Wings. The Canucks look confident heading into this series unlike last year when they were just happy to be there. With two of the three top scorers in the NHL in Todd Bertuzzi and Markus Naslund, plus offensive contributions from sources throughout the lineup, the Canucks should be able to match the Wings offensively. Is Dan Cloutier equal to the challenge of facing Hasek?

Prediction: My gut is telling me Vancouver will win this series but logic suggests otherwise. The Wings, stung by a first round exit to LA last year, should be more focused this year. Many on the roster know they are running out of chances to repeat. The ability to frustrate the Canucks with a patient game and having Hasek to back them up should be enough. Detroit in Six.
---
Colorado

(

2) vs. Los Angeles (7)
Avalanche (45-28-8-1, 99 pts); Kings (40-27-11-4, 95 pts)
Season Series: Tied 2-2-0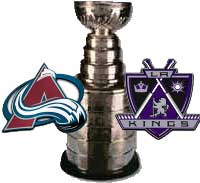 Keys for Colorado: Peter Forsberg is back but has yet to play a game this year. A superb athlete, it would not be a surprise to see Forsberg jump into the fray as though he'd never missed a game. Good thing too because the Avs are going to need all the help they can get against the steady Kings. The play of Patrick Roy, another potential Hart Trophy winner, and a guy who carried the 1993 Montreal Canadiens on his back to a Stanley Cup championship, will be the key in this series for Colorado.

Keys for Los Angeles: They surprised even themselves by beating Detroit this year but now believe they have a legitimate shot to go all the way and, like Vancouver against Detroit, are hardly scared of playing the Avalanche. The Kings have an excellent power play and penalty kill which might well be enough to knock off Colorado so long as the unpredictable Felix Potvin can hold his ground.

Prediction: Forsberg is the wild card in this series, an unknown that neither team can really predict. But the Kings dominating special teams could be the difference.
Kings in Six.
---
San Jose

(

3) vs. Phoenix (6)
Sharks (44-27-8-3, 99 pts); Coyotes (40-27-9-6, 95 pts)
Season Series: 3-2-0 Sharks.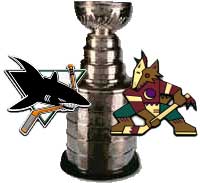 Keys for San Jose: They've finally arrived and, if you believe the rumour mill, a lot of management jobs will be riding on how well the Sharks do this playoff year. But this is a team that seems built for the playoffs. They're anchored by good scoring, are big and tough, have excellent mobility and play a fundamentally sound, abrasive style. The key guy here is Evgeny Nabakov in nets. He's had an excellent season but has yet to demonstrate he's capable in the playoffs.

Keys for Phoenix: You have to admire the work ethic and commitment to the system of Bobby Francis that got them this far but, on paper, they appear to be no match for the Sharks. Except . . . . . . goaltender Sean Burke. The Hart Trophy season provided by Burke was realistically the primary reason the Coyotes qualified for the post-season and, if they are to move on to the second round, without a doubt that success would have to come on his back as well. The rest of the team, however, excepting Claude Lemieux, are relative neophytes to the playoffs and figure to struggle against the imposing Sharks.

Prediction: The Sharks are just too good to lose to the Coyotes.
San Jose in five
---

Blues (43-27-8-4, 98 pts); Blackhawks (41-27-13-1, 96 pts)
Season Series: 3-1-1 Blackhawks
Keys for Chicago: Four things are working against the Hawks. This is their first year in the post-season in many moons and they may be just happy to be there. Secondly, a typical Brian Sutter team is often too exhausted from the regular season to provide much pop in the playoffs. Third, Phil Housley, in spite of playing on some great teams, has been past the second round of the playoffs only twice in 19 years, the last time with Washington as a passenger. Fourth, Jocelyn Thibault has been floundering the entire second half of the year. The best thing the Hawks have going for them is Brent Johnston of St. Louis.

Keys for St. Louis: The Blues are entering the playoffs with a relatively healthy lineup – if you believe Doug Weight is up to snuff which might be a stretch. There is a ton of playoff experience throughout the roster and most on the team went into the third round last year. But it may all come down to Brent Johnston, a goaltender who has played only one playoff game in his life and has zero playoff wins. The Blues will live or die with Johnston.

Prediction: If these two teams weren't playing each other they might both be on the sidelines by the time of the second round. Someone has to go. Chicago is the weakest link.
Blues in Six.
---
Boston

(1) vs. Montreal (8)
Bruins (43-24-6-9, 101 pts); Canadiens (36-31-12-3, 87 pts)
Season Series: 3-2-0 Bruins.
Keys for Boston: Byron Dafoe needs to only play well enough not to lose this series. The Bruins impressive grouping of capable forwards will then have to break through the Montreal trap and overwhelm the Canadiens with chances, playing the percentages that at least some will get by Theodore.
Keys for Montreal: The Canadiens will have to play kitty-bar-the door hockey instead of the firewagon variety of old if they are to have any hope. It would help if the surprising Yanic Perrault can continue to produce offence to help the pop-gun Canadiens get the one goal they need behind the Hart Trophy quality goaltending of Jose Theodore.
Prediction: If Byron Dafoe is anywhere near form the Bruins should blaze through this series in five. Bruins in 5.
---
Philadelphia

(2) vs. Ottawa (7)
Flyers (42-27-10-3, 101 pts); Senators (39-27-9-7, 94 pts)
Season Series: 2-1-1 Senators
Keys for Philadelphia: The Flyers are the better overall team on paper, with an offensive grouping that should scare the bejeebers out of the Senators both for its talent and in particular its difficult to handle size. But these guys have been a peculiarly underachieving outfit all season with John LeClair in particular suspiciously sandwiching a terrific Olympics around a mediocre season. Some question the Flyers goaltending but the recently returned Roman Cechmanec should be up to the task, just as he was most of the season.
Keys for Ottawa: At least they're not playing Toronto. The Sens were classic choke artists last year but figure to have an easier time of it opening on the road for one thing and not against a provincial rival on nationwide television for another. In order to win this series they will need to use their speed advantage to blaze through the Flyers somewhat lumbering defence core. And Patrick Lalime, it pains us to notice, has never won a playoff game in his life so now would be a good time to do the unexpected.
Prediction: Flyers have experienced depth through most positions and an Ottawa victory in this series would have to be considered a classic upset. If Sens win this series their team speed will have been a noticeable factor. Flyers in 6.
---
Carolina

(3) vs. New Jersey (6)
Hurricanes (35-26-16-5, 91 pts); Devils (41-28-9-4, 95 pts)
Season Series: 2-1-1 Devils.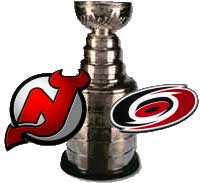 Keys for Carolina: Arturs Irbe, toiling in mystery in Carolina, has proven in the past he is fully capable of stealing a series for a team that has no business winning. And once more he will be called upon to do exactly that. The Hurricane are actually more than the bag of fluff some analysts are describing but they will need a dominating performances from the likes of Ron Francis, Sami Kapanen, Jeff O'Neill and Rod Brindamour plus an epic series from Irbe to have a chance.
Keys for New Jersey: TJust wind 'em up and throw 'em out there. These guys have been around the block so often that they shouldn't have to be told what to do or when to do it. They're 14-3-1 in their last 18 entering the playoffs, including winners of six straight. Even the principle player they picked up at the trade deadline, Joe Nieuwendyk, once the poster boy for the word "choker" in Websters, now has a Conn Smythe Trophy on his mantle. Stir in Elias, Holik, Sykora and Brylin plus Niedermayer and Rafalski on the back line and there isn't a whole lot that should go wrong here. Oh, and they have the Olympic gold medal winning goalie in Martin Brodeur.
Prediction: The Hurricane are a good team but they'll be facing a great team. And that usually has a very predictable result. Devils in 5.
---
Toronto

(4) vs. NY Islanders (5)
Leafs (43-25-10-4, 99 pts); Islanders (42-28-8-4, 96 pts)
Season Series: 3-1 Islanders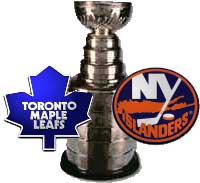 Keys for Toronto: Two seasons ago they went into the playoffs with a grouping of skilled but relatively soft players, a good regular season bunch that was dispatched in rough fashion in the second round. Last year, they got rid of the skill guys, went with grit, barely made the playoffs and, although more competitive, still bowed out in the second round. This year they've gone the combination route, keeping the gritty folks but adding skill in Robert Reichel, Michael Renberg and Alex Mogilny. But a rusty Cujo and the absence of Dmitri Yushkevich makes these guys vulnerable
Keys for New York: Should have a lot of confidence going into this series in spite of this being their first playoff appearance in eight seasons. They were 3-1 against the Leafs through the year. The big question mark is wondering if it's a good or a bad thing that Alexei Yashin might miss the first game of the series. Yashin has done nothing in the playoffs for two straight springs. But the Isles have Mike Peca's intensity to fall back on if nothing else.
Prediction: Probably the toughest series to call in the opening round. Relying on nothing more than a hunch, we'll go with the Islanders in seven. Islanders in 7.