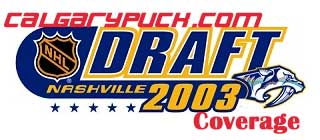 Calgarypuck Draft Coverage
2nd Round - Tim Ramholt
---
June 21st, 2003
Rick Charlton

9th overall - Dion Phaneuf
Phaneuf Profile
39th overall - Tim Ramholt
Ramholt Profile
After taking a strong, menacing, physical defenceman with their first overall pick at the 2003 NHL Entry Draft, the Calgary Flames opted for a dash of skill with Swiss blueliner Tim Ramholt in the second round.
"You can never have enough defencemen," Flames GM Darryl Sutter said a few weeks ago as his scouting staff geared up for the big day in Nashville and Calgary has certainly been following through, selecting blueliners with their first and second picks.
Sutter, via his predecessor Craig Button, spent the final months of the last season auditioning, acquiring or experimenting with getting more speed and offence from his backline.
Ramholt was interviewed by Calgary's Fan960 shortly after his selection, and seemed quite pleased to be coming to the Stampede City.
"I'm happy to be picked by the Calgary Flames, I have been in Calgary and I love the city."
He played in the Mac's Tournament a number of years ago, an experience that left a lasting impression. "I was thee for two and half weeks and it was a great time."
"I love to play hard. Rough game on the small rink. I play an offensive style but I also love to check.
"I love it. (gritty stuff.)"
He was interviewed by a number of teams but was hoping to be drafted by Calgary.
"If I can, I will come to the (Flames) camp 100% for sure."
Ramholt also fits the profile of a Tod Button scouted team, of decent size at 6-1 and 194, probably filling out to 210 lbs or 215 in about five years but also well above average skating.
Given those parameters, Ramholt appeared to be just as obvious a pick in the second round as Phaneuf might have been in the first, The Hockey News describing him as "a big, strong physical defenseman "with "blazing speed."
He's a skill player and "he's really competitive" according to one director of player personnel quoted anonymously in The Hockey News.
"He has good mobility, good size and great hands," added a scout. "He works his butt off."