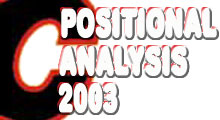 LEFT WING
One Big Question Mark
---
Rick Charlton
August 11th, 2003

The more things change, the more they stay the same.

Last year in mid-summer we were left with the impression left wing was the single position on the Calgary Flames most in need of shoring up even though returnee Dean McAmmond was coming off a career year and Martin Gelinas had just been signed.

Within a few weeks McAmmond was off to Colorado in the Chris Drury deal while the Flames had yet to suffer the uncertainty of Oleg Saprykin's aborted rush to quit North America.

The end result at Calgary's left-wing was an assorted polyglot of candidates rotating in and out of the line-up, many playing out of their normal positions, with only Gelinas scoring more than 10 goals.

In short … a disaster.

With McAmmond back in the fold, Gelinas coming off a 21 goal campaign and a motivated Saprykin seemingly happy now to be in Calgary can we truly say the Flames have the goods on the port side?

Not really.

The road to the playoffs is littered with the wreckage of teams trying to reunite linemates who were hot one year but have little chemistry the next. As much as fans might want to see it, there's no certainty that McAmmond, a career journeyman, can step in and enjoy another successful year on wing with Jarome Iginla and Craig Conroy.

Martin Gelinas was everything he was advertised to be throughout his career - impressively hot at times and stone cold through other long stretches of the season.

That in turn sounds a lot like McAmmond's season in Colorado - as well as much of his career - where he launched out of the gate with seven goals in his first 15 games then scored only three times in 28 starts the rest of the season.

While I don't expect much in the way of miracles from either McAmmond or Gelinas - they are what they are, very fast, competitive, under-sized and inconsistent - there might be hope that Saprykin, now approaching that magical age of 23 where capable young forwards on average seem to put together experience and talent and emerge as the players they'll be for the rest of their careers, begins to dig in and displays the potential Flames fans had hoped to see before this point.

Saprykin is the guy who might tilt left wing from a position of sorrow for the Flames into a strength but that kind of thinking is all to predictable for a team tilting precariously between playoff non-entity and having pretensions of being among the chosen 16.

In Calgary's case, the never-ending rebuilding period, now at least seven years in the making and apparently starting anew, has been all about putting desperate hope on players like Saprykin, usually with fatal results.

Among McAmmond, Gelinas and Saprykin, GM and coach Darryl Sutter must be happy with the speed and general competitiveness he sees but dissatisfied with the size and consistency.

Josh Green and Krzystof Oliwa are the two players most likely to flip-flop in and out of the lineup on the fourth line, with Green a potential occasional fill-in on the top three lines in games where size might be a requisite.

Green is at a perilous point in his career, a guy with the size and tools to be more than he is but seemingly unable to match that package with the requisite desire that separates the pretenders from the contenders. In Sutter's world, he's a dream candidate to step up and bring size, speed and skill to left wing but until he shows us otherwise, we'll call him what he is - a fourth line banger of modest capabilities.

Oliwa will also be exactly what he looks like, the imposing policeman this team hasn't had for many a season. While fighting in the NHL has gone the way of the Dodo in the last decade, the art of physical intimidation and the necessity for occasional retaliation is still alive and well. But fighters these days, unlike yesteryear, have to be able to play the game to be effective and Oliwa is at least capable of that.

In the organization, there appears to be a large gap between the group above and the reliability of those in the minor pro's who might be needed to fill in when necessary.

Robert Dome has all the tools to be one such player - in fact, the tools to be a credible NHL forward - but his continued desultory efforts through training camp last season as well as his brief one game call-up last year, all point to a player satisfied with his lot in life. In other words, a career AHL'er.

Martin Sonnenberg is another live body able to play a few games in desperation at the NHL level while Jason Spence will have to demonstrate in training camp that he's capable of even a cup of coffee.

In short, there's no one pressing the envelope at the minor pro level, meaning the five guys most likely to patrol left wing for the Flames this season have little reason to watch their backs.

Depth Chart

1 Martin Gelinas
2 Dean McAmmond
3 Oleg Saprykin
4 Josh Green
5 Kristof Oliwa
6 Robert Dome
7 Martin Sonnenberg
8 Jason Spence

Organizational Grade

C - Without doubt Darryl Sutter would like to see better size among the top three of this group. McAmmond and Gelinas have spent much of their careers as hot/cold type players which flies like a lead balloon with a guy like Sutter who wants to see the same thing game in and game out. The great hope here is Saprykin steps up and becomes a credible NHL forward with feistiness and a high skill level. The Flames, however, have died innumerable lingering deaths through many seasons waiting for P-O-T-E-N-T-I-A-L to save them.