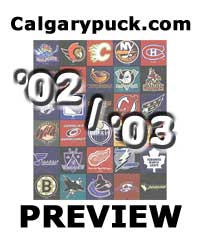 October 8th, 2002
Calgarypuck.com
2002-2002 NHL Preview
---
The NHL's Eastern Conference looks to have some major turnovers at the top this season while the West will continue to provide the best hockey by and large.
While the Flames appear to be stronger on the forward ranks it will actually be their team defence, and their defencemen in particular, who will hold the keys as to whether or not Calgary breaks a six year post-season drought.
Our prediction piece below gives teams like the Canucks the benefit of suggesting younger players improve through time so we'll extend that to the Flames young blueline corps as well but now is the critical time for this group to begin delivering.
Or it could be another longish winter in Calgary.
THE WESTERN CONFERENCE
1 Colorado - They'll need a few young players to step to the plate but that's normal for this organization. So far, they've never been let down.
2 San Jose - the slow, steady approach is working for Dean Lombardi. A team ready to come into its own.
3 Detroit - Newcomer Henrik Zetterberg may help prop up the Winged Wheels of this aging organization. A great four line team.
4 Dallas - Marty Turco is the potential weak link here but a good team made better with quality additions that should bounce back from a poor season.
5 Vancouver - So sue me, I think they're the real deal. Quality young players improving with each season. Goaltender Dan Cloutier blew a tire in the playoffs but he had a quality regular season so he's not the weakest link people are describing.
6 LA - Being anchored by Felix Potvin isn't calming for the nerves but too much firepower up front to miss the post-season.
7 St. Louis - No Pronger for half a season and an aging MacInnis leaves the Blues scrambling for a playoff spot. It wouldn't be a surprise at all to see them punched out of the post-season altogether.
8 Calgary - Our annual eighth place prediction for the Flames might actually have some weight this year. But only if team defence finally matures into the formidable bunch everyone has been forecasting.
9 Phoenix - A wonderful story last year but the bottom line was all about Sean Burke and an MVP calibre season. Even with the addition of Tony Amonte this team will be in a close race for the playoffs.
10 Edmonton - Having to trade some veteran depth and replace them with lesser quality younger players may eventually undermine the NHL's second best defensive team last year.
11 Chicago - They won't be taking anyone by surprise this year, Daze is out for the first month and no one knows if Fleury is a plus or a minus.
12 Anaheim - Shuffling the deck chairs may get Kariya a few more points but still not enough here to challenge.
13 Minnesota - Scary in the pre-season, when it looked like the obstruction crackdown was actually helping them instead of hurting this notorious "trap" team. Gaborik is wonderful but if these guys make the playoffs there oughta be an investigation.
14 Nashville - Did the owner really offer to refund ticket price increases if they didn't make the playoffs? You can take that one to the bank.
15 Columbus - Andrew Cassels will be a significant addition but woefully short in most other areas. Rick Nash has apparently had a whale of a training camp but that simply points out this team is still building in most areas.
THE LEAST OF THE WEST - Theo Fleury might have a major say in the Western Conference playoff race. Whether its positive or negative is still hard to say. The Oiler's strength these last few years has been third and fourth lines among the best in the NHL but that will be stressed with the imminent departure of Todd Marchant via a salary dump. And they had a suspiciously brutal pre-season defensively. The Flames look like a real hockey team for the first time in ages but still aren't a sure thing - but the odds of making it went up significantly with the Chris Drury trade. A tough opening schedule, however.
THE EASTERN CONFERENCE
1 Ottawa - Accused of being a trapping team they're instead just a very good team which scored the fifth best goal total in the league and uses great speed to play excellent team defence. The issue here is the playoffs, not the regular season.
2 Philadelphia - A dysfunctional dressing room will be sitting up and paying attention to taskmaster Ken Hitchcock. This is mostly a fairly talented group who might finally have grown tired of clubbing each other long enough to start winning again. Thin on defence, however.
3 Washington - Jaromir Jagr will get free rein to do what he wants and the Caps, a talented bunch, will recover from a sour year under a rookie coach.
4 Isles - A generally solid team but missing Mike Peca for the first part of the season won't help.
5 Rangers - At $73 million, almost two and a half times the Flames payroll, they'd better make the post-season. Still thin on defence with Brian Leetch's best days well behind him. But they're good enough now in the weak Eastern Conference.
6 Montreal - Theodore is the real deal and that's half the battle in the NHL today. A full year from Saku Koivu (although injury prone) will help. GM Andre Savard is anticipating the obstruction crackdown will be successful in adding one-dimensional threats like Czerkawski.
7 Carolina - Don't overrate them just because they made the Cup finals last year but a decent all-around team nonetheless. They'll go as far as ageless wonder Ron Francis can take them. Amazing, isn't it, that there was a time when Francis was considered soft and weak of heart.
8 Jersey - The wheels are falling off this dynasty. GM Lamourillo is gambling the obstruction crackdown will benefit puck-moving defencemen the most. Maybe he'll be right. Maybe not.
9 Toronto - Ed Belfour? Wow. A major downgrade in net is not what this team needs. Sundin will need to carry them even more. And this is usually about the time Pat Quinn runs out his welcome.
10 Florida - If there's one thing and only one thing you can admire about Mike Keenan its that he generally gets results from even the weakest of lineups. But Olli Jokinen might be their opening night centre. Probably more chaos here before Keenan gets the team he wants.
11 Boston - Joe Thornton is one of the great young stud centres in the NHL, a franchise player, but they lost Guerin and a defensively weak team now has perennial backups Steve Shields and John Grahame as their starters. Big fall just waiting to happen for the goaltending issue alone.
12 Tampa - Thornton is everything the Lightning thought they were getting with Vincent Lecavallier. Until he shows up, they'll probably continue to flounder.
13 Pittsburgh - Any team with Mario has a chance but that's all they have. A chance. Without him there's not much there.
14 Buffalo - Too many off-ice distractions not to impact this moribund franchise. A whale of a second half last year, however, from Chris Gratton caused a few eyebrows to go up.
15 Atlanta - The year Heatley and Kovalchuk learn to play defence. Solid building blocks obviously but they're not climbing out of the celler anytime soon.
THE LEAST OF THE EAST New Jersey, Boston and Toronto all look weaker in the weakest conference this year. For the Bruins and Leafs it may come down to questionable goaltending while Jersey had their heart ripped out when Bobby Holik left.
STANLEY CUP - San Jose over Washington.
ROOKIE OF THE YEAR - Should be a dynamic race but Henrik Zetterberg of Detroit is getting a lot of buzz.
COMEBACK PLAYER OF THE YEAR - An easy call for Saku Koivu of Montreal.
SURPRISE TEAM OF THE YEAR - Not sure you can call the Rangers a surprise team given their payroll and Boston has thrown so much over the side of the boat that they shouldn't be much of a negative surprise either. So we'll go with Vancouver which might do better than even we're projecting. Will I live it down?
THE TEAM THAT WON'T LIVE UP TO ITS HYPE - I try to keep my anti-Leaf bias hidden when I'm writing these things but Toronto is a legitimate target given we're still seeing Stanley Cup rhetoric coming out of southern Ontario. Bow Wow.