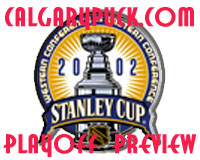 Stanley Cup Final Preview
Marc Ciampa
June 4th, 2002
---
STANLEY CUP FINAL PREDICTIONS
Detroit

(

1st NHL) vs. Carolina (16th NHL)
Red Wings (51-17-10-4, 116 pts); Hurricanes (35-26-16-5, 91 pts)
Season Series: 2-0-0 Red Wings.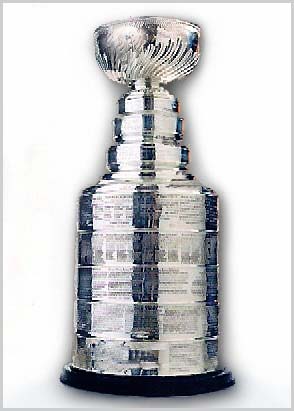 For most, this is an anticlimactic final as the Red Wings are expected to roll through their opposition. Carolina certainly hasn't been tested by a team of Detroit's calibre as of yet but each of the three teams the Hurricanes faced were all on a roll when they faced them in the playoffs and each team fell victim to their stingy defence.
Keys for Detroit:Steve Yzerman is the heart and soul of the Red Wings as he tries to win his third Stanley Cup and first in four years but it's the supporting cast that makes Detroit so dangerous. Shanahan, Hull, Lidstrom, Fedorov, Holmstrom, Chelios have all had solid playoffs. Luc Robitaille has been disappointing for the most part but he's still a threat. The team's fourth line could be their biggest threat. Maltby, Draper and Devereaux combined for six points last round.
Keys for Carolina: If the Hurricanes have any hope, their offence needs to wake up. Bates Battaglia remains the team leader in points despite only having one in the previous round. However, defence does win championships and no defence has been more impressive in recent Stanley Cup playoff memory than Carolina's. In 21 games, they have only allowed 29 goals total and Irbe has only allowed 17 in 13 games played. Their system is airtight to say the least and that gives them a chance as underdogs. Remember 1995 when the Devils stifled the Red Wings? We could see that again.
Prediction: So far in each of the previous three rounds I've gone against the Hurricanes. I'm going to keep up that tradition, but I'm still calling for the upset. The most telling stat is Irbe's .947 save percentage compared to Hasek's .914. Whalers in six.
---
CONFERENCE FINAL PREDICTIONS
Detroit

(

1) vs. Colorado (2)
Red Wings (51-17-10-4, 116 pts); Blues 45-28-8-1, 99 pts)
Season Series: 3-1-0 Red Wings.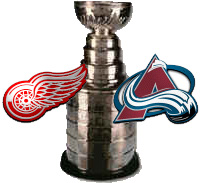 After 82 games and two playoff rounds is anyone surprised that the final two combatants in the Western Conference happen to be the Detroit Red Wings and the Colorado Avalanche? Despite Detroit's 17-point advantage over the Avs, with Yzerman on the limp and Forsberg back terrorizing opposition for Colorado these two teams are pretty much equal. It may just come down to who runs out of steam first.
Keys for Detroit:Aside from the first two games of round one, the Wings breezed through the first two rounds of the playoffs. With Colorado things will get just a little more difficult. Yzerman, Shanahan and Chelios have been on a mission and despite nagging injuries all three need to continue to step it up. Hasek has been good enough in the playoffs so far but he'll need to raise his game to another level to get past the Avalanche.
Keys for Colorado: Patrick Roy, solid defensive play and Peter Forsberg are the three keys for the Avalanche. Forsberg should just now be rounding into mid-season form and as the series drags on and his teammates become fatigued, he'll be looked to more and more to provide offence. When the Avs shy away from their defensive strategy it usually results in a total breakdown as was shown in the San Jose series. Detroit will capitalize if Colorado eases up, without question.
Prediction: In the end, it may come down to the fact that Detroit's first two rounds went 11 games while Colorado's went 14. Expect a great series nonetheless. Red Wings in seven.
---
Carolina

(

3) vs. Toronto (4)
Hurricanes(35-26-16-5, 91 pts); Maple Leafs (43-25-10-14, 100 pts)
Season Series: Tied 2-2-0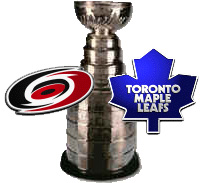 During the regular season, the Leafs were a significantly better team than the Hurricanes, but this isn't the regular season anymore and these aren't the same Carolina Hurricanes.
Keys for Carolina: I would say pick a goaltender and run with him, but their current method seems to be working extremely well. Weekes (1.62/.939) and Irbe (1.95/.932) rank first and second in the league in goaltending. Both should see action in this series and both will shine. Carolina's balanced scoring attack is dangerous. Bates Battaglia leads the team in scoring with 13 points while Erik Cole, Rod Brind'Amour and Ron Francis are each tied for second with nine points. The 'Canes are going to need to continue to keep their opposition guessing which line to check. Eventually their offence overwhelmed Montreal.
Keys for Toronto: Two words: Gary Roberts. He's thrown this Leafs team on his back and carried them into the third round. If he can stay healthy, the Leafs will be in a position to win every one of the games in this series no matter who else gets sidelined. However, Toronto's chances would improve significantly if they could get Sundin, Renberg, Pilar, Valk and Lumme back into the lineup. Sundin's likely looking at a Game 3 return but all other players could be back as soon as tonight or Sunday. The biggest problem with losing all these players to injury is the toll it takes on the rest of the lineup. In Game 7 vs Ottawa, the "St. John's" line (Healey, MacLean, Farkas) combined for a total of 7:40 with Healey playing four minutes. Considering the team has played 14 games in the last 28 days, a short bench like that will eventually result in a burnt out team.
Prediction: Toronto is battered and bruised while Carolina is relatively healthy and on a roll. But the Leafs continue to defy all odds and just might have enough in them to battle through one more series.
Maple Leafs in six.
---
SECOND ROUND PREDICTIONS
Detroit

(

1) vs. St. Louis (4)
Red Wings (51-17-10-4, 116 pts); Blues (43-27-8-4, 98 pts)
Season Series: 3-2-0 Red Wings.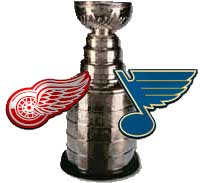 I can see the headlines in the St. Louis Post-Dispatch now. "Johnson gets the job done where Turek couldn't!" Little do they remember that Roman Turek actually carried the Blues to the third round last year and all Johnson has done so far is won a single round (albeit convincingly). Now, instead of looking across the ice and seeing Thibault or Passmore he will see one of the best goalies in the game today—Dominik Hasek.
Keys for Detroit:The Wings did a good job last round of turning around Vancouver's momentum just when it looked like all was lost. Veteran leadership can take you far in the playoffs and Detroit is proving that right now. They will continue to get production out of Yzerman and Shanahan (eight points each) and Hasek is likely to improve upon his 2.41 GAA and .897 save percentage. After all the travel that was involved in the Vancouver series, the Wings can't let fatigue get to them as this series drags on.
Keys for St. Louis: Pavol Demitra has turned things around from last year's dismal postseason and must continue to lead the team offensively. With seven points, he's already surpassed last year's total of six in 15 games. Scott Mellanby is also close to exceeding last year's playoff point total as he sits second on the team with five. The rest of the team needs to pick up their production, especially Doug Weight (one point) and Scott Young (two points). Brent Johnson needs to continue to be steady in goal.
Prediction: Detroit had their stumbling block already with Vancouver in the first round. They're going to cruise to the finals from here on out. Detroit in 5.
---
Colorado

(

2) vs. San Jose (3)
Avalanche(45-28-8-1, 99 pts);Sharks (44-27-8-3, 99 pts)
Season Series: Tied 2-2-0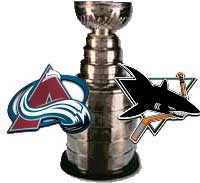 Two teams that needed top-notch goaltending to advance to this round clash head-to-head. For those who have been patiently awaiting a game to boil over into double overtime, look no further than this series. Despite the high-powered offence that appears on both squads, defence will prevail in this one.
Keys for Colorado: Patrick Roy's 1.87 GAA and .926 save percentage was the main reason the Colorado Avalanche are playing in the second round and not the Los Angeles Kings. Players such as Rob Blake, Alex Tanguay and Joe Sakic have not picked up much of the offensive load and all three players feature minus ratings. They need to turn things around. Steve Reinprecht has been outstanding, leading the way with four goals. Peter Forsberg's team-leading seven points has been invaluable. He needs to stay healthy.
Keys for San Jose: In a word, Nabokov. In the two victories this season over the Avalanche, the Sharks won by a shutout. One of the games was a 1-0 score. Patrick Marleau made up for a sub-par regular season by leading the way offensively in the first round with six points (next highest was Ricci with three). Nolan and Selanne were unable to score last round and if they are blanked again in round two the Sharks will not advance no matter how much Nabokov stands on his head.
Prediction: This is the series few people are talking about heading in, but it's going to steal the show before the second round is through.
Colorado in 7. .
---
Carolina

(

3) vs. Montreal (8)
Hurricanes (35-26-16-5, 91 pts); Canadiens (36-31-12-3, 87 pts)
Season Series: Tied 1-1-2.
The Carolina Hurricanes have the second-worst record of all the teams left in the hunt for the Stanley Cup but they have home ice advantage all the way until the finals due to the division they are in. On the outset it looks like Montreal catches a break in having to face the weaker Hurricanes but they proved last round that they are a legitimate threat to make the Finals.
Keys for Carolina: Who will play goal for Carolina in this series? The safe answer is that Kevin Weekes will start Game 1 and the club will play the hot hand from that point on. Weekes or Irbe needs to outplay Theodore and that may be asking for too much. Both have the capability to shine but one of the two will need to steal at least one game for the Hurricanes to have a chance. Beyond goaltending, the 'Canes will have to continue to rely on a balanced scoring attack. Last round, no players had more than three points but eight had two or more.
Keys for Montreal: Jose Theodore outplayed Byron Dafoe last round, plain and simple. The fact that the Habs knocked off the Eastern Conference winning Bruins in six games goes to show how important goaltending is in the playoffs. In the early part of the series, the Habs forwards were very strong offensively with six players scoring six points or higher. If Richard Zednik can return this series, it would give the team an added boost as he had a very strong playoff up until his point of injury. Doug Gilmour needs to continue leading the team both on and off the ice.
Prediction: The Canadiens looked solid offensively in the early going in their series with Boston, but near the end they really started to rely too much on the brilliance of goaltender Jose Theodore. If they can find a balance between the two, they could find themselves in the Finals. They should have enough in them to get by the Hurricanes, though.
Montreal in 6.
---
Toronto

(

4) vs. Ottawa (7)
Leafs (43-25-10-4, 100 pts); Senators (39-27-9-7, 94 pts)
Season Series: 3-2-0 Ottawa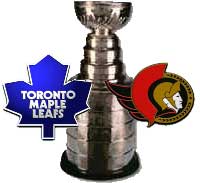 The Ottawa Senators emerged as the biggest surprise of the first round, as they completely shut down the $55 million Philadelphia Flyers to the tune of two goals over the entire series. The Leafs meanwhile were engaged in an epic battle with the New York Islanders. Will they have enough left in the tank for another series?
Keys for Toronto:The good news for the Leafs is that they won the last round without Curtis Joseph playing at the top of his game. The bad news is, they lost their only legitimate scoring threat, Mats Sundin. Kelly Hrudey was correct in saying the antics of Shayne Corson and Darcy Tucker normally hurts the team more than it helps them. Last round was an aberration in that regard. Both players need to keep their emotions in check. Mogilny will need to be at the top of his game as the offensive load is going to be placed on his shoulders. Joseph needs to be much better because Toronto won't be scoring much on Lalime.
Keys for Senators: The Senators need to keep playing the way they did when they completely shut down the Flyers last round. If Lalime stays hot, the Leafs won't be able to touch the Sens. Through the first round he had a 0.38 GAA and .985 save percentage. Alfredsson, Hossa and Bonk shared almost the entire offensive load last round as they had six, five and five points respectively. Magnus Arvedson needs to be better. Last round he was a baffling –1 with zero points—all the more pitiful when you consider the Flyers only had two goals the entire series.
Prediction:The Leafs are a battered and bruised hockey team after the war they went through with the Islanders. They won't have enough left in the tank to topple the well-rested Senators.
Ottawa in 4.
---
FIRST ROUND PREDICTIONS
Detroit

(

1) vs. Vancouver (8)
Red Wings (51-17-10-4, 116 pts); Canucks (42-30-7-3, 94 pts)
Season Series: 3-1-0 Red Wings.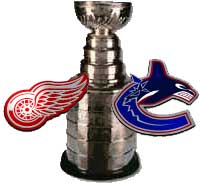 Never before in NHL history has the lowest-ranked team in a conference been as formidable as the Vancouver Canucks this year. With 94 points, the Red Wings can ill afford to take them lightly. In the second half of the season, the Canucks had a 28-9-3-3 record—strong enough for tops in the league. The two teams were also ranked first and second offensively in the league.
Keys for Detroit: The Wings need to draw on their experience to dispose of the younger Canucks. Vancouver has been red-hot throughout the second half of the season while Detroit has been on cruise control. They need to jump on the Canucks early because a Vancouver win in Game 1 will mean a long series. Steve Yzerman and Chris Chelios will both play important leadership roles. Dominik Hasek will have to come up big in the early going while the defence gets their legs back.

Keys for Vancouver: Special Teams and more Special Teams. Down the stretch the Canucks powerplay was, in a word, incredible. With such potent weapons as Todd Bertuzzi and Markus Naslund, Vancouver boasts the fourth-best powerplay in the league at 18.5%. It was also by far the league's best in the final two months of the season. Detroit, at 20.5%, was second in the NHL overall. If Vancouver can't hold the Red Wings off the scoresheet with the man advantage, it's going to be a short series.

Prediction: Vancouver was unbeaten in their final ten games while Detroit was winless in its last seven. What does all this mean? Absolutely nothing. Red Wings in six close, surprisingly low scoring games.
---
Colorado

(

2) vs. Los Angeles (7)
Avalanche (45-28-8-1, 99 pts); Kings (40-27-11-4, 95 pts)
Season Series: Tied 2-2-0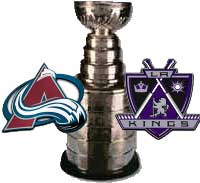 Los Angeles vs. Blake Part II is about to embark. Last year the Avalanche were a team of destiny as they rolled past the Kings in what was arguably the best playoff series of 2001. Both of these teams rectified poor starts with strong finishes to make the playoffs.
Keys for Colorado: Patrick Roy has always been a big key in any Avalanche playoff success. Peter Forsberg is expected to play in the first game of the series and Colorado can't let his presence in the lineup become a distraction. After struggling to score for most of the season, he will be a most welcome sight to his teammates. Behind Joe Sakic's 79 points, the second-highest scoring forward was Alex Tanguay (47 points).

Keys for Los Angeles: Felix Potvin has to be better than just "good." The Avalanche was the best team defensively this season so the goals won't come easy for Los Angeles. If Potvin allows a weak goal or two each game, their season will come to an end very quickly. If L.A. plays sound defensively and uses their league-best powerplay to their advantage, they can win this series.

Prediction: Last season Ray Bourque was destined to win the Stanley Cup. This year it's the Kings' chance to turn the tables on Colorado.
Kings in 7.
---
San Jose

(

3) vs. Phoenix (6)
Sharks (44-27-8-3, 99 pts); Coyotes (40-27-9-6, 95 pts)
Season Series: 3-2-0 Sharks.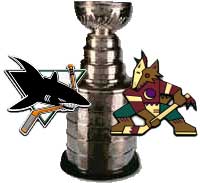 The "White Out" is back in the postseason after taking a hiatus in 2001. Phoenix fans will be decked out in white and cheering on their hockey club in a tradition that dates back to their days in Winnipeg. Another tradition that dates back to the Jets is playoff futility. The Winnipeg/Phoenix franchise has only ever won two playoff series in its history—both against Calgary, in 1985 and 1987.
Keys for San Jose: The Sharks have an explosive offensive attack. The fourth-best offence in the league at 3.02 goals-per-game, they have a number of players that can put the puck in the net. Niklas Sundstrom, Marco Sturm, Scott Thornton, Patrick Marleau and Mike Ricci all have between 39 and 53 points while Selanne, Damphousse and Nolan provide a concentrated front-line attack. Evgeny Nabokov also needs to learn from last year's playoff failure and show that he can step it up when it counts.

Keys for Phoenix: In two words: Sean Burke. Burke was the MVP of the Coyotes all season long and will be counted on to carry them to any playoff success they may have. Daymond Langkow and Daniel Briere also need to carry over their strong NHL seasons.

Prediction: The obvious choice is the Sharks for this series as many see San Jose as potential Cup contenders. There's always a shocking upset in the first round, however, and this could be it. Phoenix is due for a playoff win.
Coyotes in 7.
---

Blues (43-27-8-4, 98 pts); Blackhawks (41-27-13-1, 96 pts)
Season Series: 3-1-1 Blackhawks
This was perhaps the best match-up the Blues could have gotten in the first round. Not only is Chicago inexperienced in the playoffs, they are encountering similar goaltending difficulties as St. Louis. Jocelyn Thibault hasn't been good down the stretch while Steve Passmore has caught fire. For a while Sutter was noncommittal over who he was going to start in Game 1 but he has now indicated that Thibault is his guy. After a strong season, Chicago has come back down to earth in recent weeks.
Keys for Chicago: Brian Sutter needs to find a goalie and stick with him throughout the series. Right now it's looking as if Jocelyn Thibault is going to be his man. If he should falter in the first game, putting in Steve Passmore for Game 2 wouldn't be the best move. Thibault is the biggest reason for Chicago's success this season and if the 'Hawks hope to advance beyond the first round they need to help him gain his confidence back.

Keys for St. Louis: Timely goaltending is so important in the NHL and this is especially true in St. Louis. Brent Johnson won't receive a lot of shots but he needs to consistently stop what he does see. The Blues also need to win each of the first two games of the series. Chicago has been virtually unbeatable at home with a 28-7-5-1 record compared to 13-20-8-0 on the road. If the Blues lose home ice advantage to the 'Hawks it may be difficult to get it back. The Blues also need Pavol Demitra to be at his best and Doug Weight to play a key role after coming back from injury.

Prediction: St. Louis saw last year's conference final appearance as a disappointment and its fans are expecting nothing less than a berth in the Stanley Cup Finals. They won't get their wish, but the Blues have been through the wars and should be able to battle through a first round victory against Chicago.
Blues in 6
---
Boston

(1) vs. Montreal (8)
Bruins (43-24-6-9, 101 pts); Canadiens (36-31-12-3, 87 pts)
Season Series: 3-2-0 Bruins.
After missing the playoffs for three seasons, the Montreal Canadiens are back in the hunt for the Stanley Cup. But for how long? It is fitting that the Habs will be meeting their long-time playoff rivals, the Boston Bruins for an NHL record 29th time in their history but it will be a monumental task for the Canadiens to upset the Bruins.
Keys for Boston: One of the few NHL teams with an actual set of "top six" forwards, if all six are firing on all cylinders the Bruins should breeze by the Habs. Glen Murray (71 points), Sergei Samsonov (70), Joe Thornton (68 in 66 games), Guerin (66), Rolston (62), and Stumpel (50 assists) give the Bruins unbelievable depth. All six players have more points than Montreal's leading scorer, Yanic Perreault. Martin Lapointe, with 40 points, and Rob Zamuner give Boston a strong third line as well. Boston was first in the league, averaging 31.7 shots per game and seventh with 2.88 goals per game. The biggest key will be to maintain pressure on Montreal and simply outgun them.
Keys for Montreal: The Canadiens can win if they ride the momentum of Saku Koivu's return to a couple of early victories in the series to get the Bruins behind the eight-ball early. Jose Theodore's .931 save percentage this season is out of this world. He's going to have to be just as good in the playoffs. Oftentimes, it is the team with the best goaltender who wins the playoff series and the biggest advantage the Habs have going for them is that Theodore (.931) clearly outclasses Dafoe (.907) in that department. Montreal also needs to take advantage of Boston's defence. Sean O'Donnell has had an outstanding season, but beyond that there isn't too much to offer on the Bruins blueline. Don Sweeney has played well at age 36 but is not a 1-2 defenceman in the NHL anymore, if he ever was. Kyle McLaren has struggled this season, mostly due to injury. Montreal's smallish forwards match up well against Boston's defence corps.
Prediction: Jose Theodore and the return of Saku Koivu won't be enough to lift the Habs past the Bruins but Montreal will put up a valiant effort. Bruins in 7.
---
Philadelphia

(2) vs. Ottawa (7)
Flyers (42-27-10-3, 101 pts); Senators (39-27-9-7, 94 pts)
Season Series: 2-1-1 Senators
The Sens faltered down the stretch, winning only one of their last five games and four of their last 13 while the Flyers haven't done much better. Philadelphia is 5-8-4 since March 10, with only five wins in their last 17 outings. The acquisition of Adam Oates has not helped much, as he only has three goals and seven assists in 13 games.
Keys for Philadelphia: For the Flyers to win, they need to come together as a team. There's no question that the talent is there for a run at the Stanley Cup. After encountering some problems with injuries down the stretch, the team is now relatively healthy. Roenick, Gagne, LeClair, Oates, Primeau and Recchi make for a strong top-six up front and Weinrich, Richardson, Therien, Desjardins, Johnsson and McGillis make for one of the best defence corps in the league. In goal, there have been questions on whether Roman Cechmanek can step it up for the playoffs. He needs to be better than 2001 when he had a 3.12 GAA as the Flyers bowed out in the first round. With the second-best average in the league (2.06) and third best save percentage (.921) there's no reason why he shouldn't be.
Keys for Ottawa: The Senators need to forget about their past playoff failures and find a way to put the puck in the net. The past two seasons Ottawa fired blanks at the Maple Leafs en route to early playoff exists. A big reason for that is likely the pressure involved in being a favourite. This year, the Sens have nothing to lose as the seventh seed and this will show in their performance. Ottawa boasts a number of players that could be considered threats offensively. That includes Alfredsson and Bonk, with 71 and 70 points respectively. Hossa, Havlat and White, each with 50 points or greater, also provide depth. Patrick Lalime has to be better than his .903 save percentage during the regular season for the Sens to advance. Redden and Chara need to dominate defensively.
Prediction: Philadelphia hasn't played good hockey in months but lucked out in playing an Ottawa team that has also been slumping. They're too good to be eliminated in the first round and will only get better as the series progresses. Flyers in 5.
---
Carolina

(3) vs. New Jersey (6)
Hurricanes (35-26-16-5, 91 pts); Devils (41-28-9-4, 95 pts)
Season Series: 2-1-1 Devils.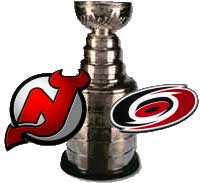 If the Carolina Hurricanes were in the Western Conference, they would have missed the playoffs altogether. As it stands, they have home ice advantage against the New Jersey Devils but are definitely not the favourites in this series. The Devils come into this series on a tear, with six consecutive victories. Since acquiring Joe Nieuwendyk, they have a record of 11-3-0 and overall they are 14-3-0-1 in their last 18 games. For a while it looked like the Devils might miss the 2002 playoffs, but now they have become Stanley Cup contenders once again.
Keys for Carolina: The Hurricanes made a decision when they dealt Tom Barrasso to the Maple Leafs several weeks ago. They determined that Arturs Irbe was going to be their man down the stretch and in the playoffs. Kevin Weekes has only played two games since being acquired by the 'Canes. For Carolina to have a chance, Irbe is going to need to be better than the 2.64 /. 901 he has shown this season. They'll need to see a return to the 2.22 /. 923 form of the 1998-99 season, his first with Carolina. The ageless Ron Francis, with his 27 goals and 77 points will need to be at the top of his game. With two Stanley Cup rings under his belt, players such as Kapanen and O'Neill will need to take guidance from the 39-year-old centre.
Keys for New Jersey: The Devils struggled offensively this season, though it wasn't for lack of talent up front. Elias, Holik, Sykora, Gomez and Brylin have all shown an ability to score consistently in the past. The addition of Nieuwendyk gives the Devils powerplay an added dimension as well. Madden and Langenbrunner round out a strong third line, and Rafalski, Niedermayer, Stevens anchor the blueline quite effectively. A lot is going to be riding on Brodeur's ability to backstop the team. After having won a gold medal for Canada earlier this year, fatigue may play a factor.
Prediction: The addition of Joe Nieuwendyk was by far the most important deadline deal for any team. His leadership will guide the Devils through the playoffs and, eventually, to their third Stanley Cup. Devils in 4.
---
Toronto

(4) vs. NY Islanders (5)
Leafs (43-25-10-4, 99 pts); Islanders (42-28-8-4, 96 pts)
Season Series: 3-1 Islanders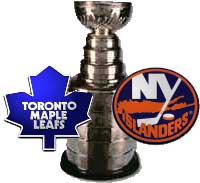 Playoff hockey is back in New York after a five-year absence. Unfortunately for Rangers fans, it's not their team competing for Lord Stanley's Cup. The Leafs and Islanders actually have quite a history when it comes to competing in the playoffs, though most of it dates back to the early 80s and late 70s. A memory forever in the mind of many a Leafs' fan is that of Lanny McDonald breaking in and putting the puck behind Chico Resch in overtime of Game 7 to propel the Leafs past the Isles in the 1978 quarterfinals. The question of goaltending will be a big factor in this series. Chris Osgood has won a Stanley Cup, but behind a team much better than the Islanders. Curtis Joseph will need to shake off the rust to try and carry the Leafs.
Keys for Toronto: During the regular season the Leafs averaged 3.04 goals scored per game, good for third in the league. They accomplished this feat through scoring by committee, as only one player managed 60 or more points (Mats Sundin with 80). However, they had eight with 39 or more. Gary Roberts needs to pick up his play in the playoffs as his 48 points and team-worst -4 rating were below his standards. If Europeans Mogilny, Renberg, Reichel and Hoglund do their traditional post-season disappearing act, the Leafs will be golfing before the end of April. The biggest key is Curtis Joseph. If he can't shake off the rust of his recent injury, or isn't 100%, the Leafs will be in tough.
Keys for New York: Although Alexei Yashin finished with a team-leading 32 goals and 75 points, the true leader of this team is Mike Peca. He has captained a team to the Stanley Cup Finals before and will be called upon by this relatively inexperienced Islanders team to do it again. To accomplish this, he's going to need help from his supporting cast, including Mark Parrish, Shawn Bates, Mariusz Czerkawski, and especially Yashin. Chris Osgood also needs to draw on his previous playoff experience as well as play like he did earlier this season when he was the hottest goaltender in the league.
Prediction: Yashin has a history of disappearing in the playoffs. Without him, the Islanders aren't nearly as effective. Curtis Joseph has a history of stealing games in the first round and despite his injury this year won't be any different. Leafs in 6.