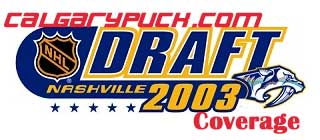 Calgarypuck Draft Coverage
Ciampa-Forget needs, draft the best player
---
June 18th, 2003

Marc Ciampa

It's perhaps the greatest sin committed leading up to draft day in the National Hockey League.

You might hear a scout or beat writer comment, "This team is a little shallow down the middle and should draft primarily centres this year to try and shore up that weakness."

If this was the NBA or NFL draft and the majority of players were 22 years old, just coming out of college and ready to step in and play right away I would say by all means take a team's needs into consideration. But the fact of the matter is, it's not the NBA or NFL and most of these players taken – if not all – will not see the light of day on an NHL club until the 2005-06 season.

An example of a team foolishly drafting to fulfill a need at the NHL draft was the Calgary Flames in 2000. The club was arguably very shallow on young goaltending talent at the time having just traded away Giguere but should not have drafted Brent Krahn with the ninth pick that year. Krahn was projected by most to go in the 15-20 slot of the draft and although the Flames will have you believe otherwise, the team did not take the best player available to them at the time.

Now, three years and a General Manager's lifetime later Brent Krahn is finally ready to step in and play pro. The only problem is, there's nowhere for him to play. With Levente Szuper (also drafted in 2000), Dany Sabourin and J-F Damphousse all battling along with Krahn for a single goaltender's position in Lowell it won't be easy to find a place that will take him.

Now fast forward to the 2003 NHL Draft, where the possibility exists that the Flames might put on the blinders once again. All indications are that the team is for the most part discarding a majority of the top prospects in favour of three defencemen: Ryan Suter, Dion Phaneuf and Braydon Coburn. Granted, all three are extremely solid blueliners and would be terrific prospects if they were selected. However, so was Johnathan Aitken and Richard Jackman once upon a time.

Personally, the player I hope the Flames end up with is Coburn provided the draft goes out as planned. He has a lot of the same qualities that Robyn Regehr currently possesses. He's big, can skate very well and has a real determination to constantly improve his game. The latter quality is perhaps one of the most important when assessing any prospect. Most players selected aren't good enough to play in the NHL right away, and if they don't have a desire to get better they probably won't. If Coburn has a similar development curve to Regehr, he won't be making an impact on the Flames until the 2007-08 season. At that time the Flames' needs will probably be entirely different from what they are today.

Getting back to the team putting on blinders, it's a very deep draft as has been repeated pretty much everywhere you can find newsprint in Canada. The chances are very likely that at least one and probably two of the eight teams in front of Calgary are going to be drafting off the board. This could result in one or two of the more highly coveted forwards in the draft falling to Calgary's position. Darryl Sutter would be very wise to seriously consider one of these players, regardless if Suter, Phaneuf or Coburn is still available.

Who will the Flames select with their first three picks?

9th overall

: Dion Phaneuf

39th overall

: Ryan Stone

47th overall

: Patrick Eaves

Which top prospect will go later than expected?

Pat O'Sullivan won't be taken until the mid-to-late second round. In terms of the cream of the crop, Milan Michalek will fall to the 12-15 range.

Which top prospect(s) will go earlier than expected?

Zach Parise and Dustin Brown will both crack the top ten.

Who will be the best player to come out of the 2003 NHL Draft ten years from now?

Parise – Granted, I had the opportunity to see him regularly with Winnipeg picking up its U.S. ABC affiliate from North Dakota but he is an incredibly talented player who excites fans with his skills. Size is his biggest concern, but he's 5'11" not 5'6".

Crackpot Draft Prediction:

The Florida Panthers will deal their first overall pick and extras to the Philadelphia Flyers in exchange for a package involving Simon Gagne.