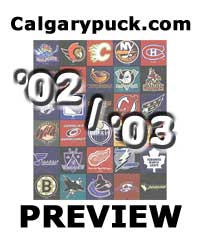 October 8th, 2002
Calgarypuck.com
2002-2002 NHL Preview
---
by Marc Ciampa
EASTERN CONFERENCE
1. NY Rangers - Every year they add the best free agents on the market to their team and every year they miss the playoffs. This year's acquisitions include Bobby Holik and Darius Kaspairitis. Eventually and unfortunately things have to start working out for the high-spending Rangers and this year should be the year.
2. Montreal - In today's NHL, goaltending is everything. Couple Jose Theodore with the fact that the league's obstruction crackdown should help the smallish Habs and they could be one of the biggest surprises of the year.
3. Carolina - Last year's surprise Cup finalists will win their division again by default. Having been to the Final the team should play with more determination.
4. Philadelphia - Goaltending remains a question for the Flyers but their talent up front is undeniable. If they can resolve their goaltending situation they'll be a big threat but otherwise they remain very competitive.
5. Ottawa - The Senators didn't do too much this off-season aside from dealing Sami Salo for Peter Schaefer. That move should be enough to keep them in a playoff spot.
6. NY Islanders - Yashin and Peca were a big help to the Islanders last season and this year if both remain healthy they should continue to help the club.
7. New Jersey - The Devils took a big hit with Bobby Holik going across the river to the Rangers but are still a very deep squad - especially on defence. Martin Brodeur also gives the Devils an edge over most other teams.
8. Toronto - The Leafs look to be in turmoil right now, with Belfour struggling and Roberts out until mid-season.
9. Washington - Not nearly as good as should have been expected last season. Jagr will do much better but they'll still miss out.
10. Boston - Without Dafoe, McLaren and Guerin the Bruins are a below-average NHL team.
11. Tampa Bay - The Lightning are not a good hockey team, but Khabiublin is an exceptional goalie and will make them look better than they are.
12. Buffalo - The Sabres continue their tailspin in the post-Hasek era.
13. Pittsburgh - Mario Lemieux will have a much improved and healthier season, but he has nothing to work with in Pittsburgh - especially if Kovalev remains unsigned.
14. Atlanta - Kovalchuk and Heatley are two of the brightest young stars in the NHL, but the Thrashers have purged some of their older veteran talent which will help the team long-term but short term it will result in some growing pains.
15. Florida - No Pavel, no hope. Heck, they didn't have hope WITH Bure.
WESTERN CONFERENCE
1. Colorado - The Avalanche were a force last season, almost advancing to the Stanley Cup Finals. This year they have added Peter Forsberg and Derek Morris and have some of the best young talent in the league.
2. San Jose - Provided Nabokov and Stuart sign, the Sharks are deeper than practically any other team in the league at every position. If Owen Nolan puts up career numbers the Sharks are Cup contenders.
3. Detroit - The Red Wings are still far and away the best team in their division, but without Bowman the team doesn't have that same strategic edge. Factor in Yzerman lost for half a season and the Red Wings are in danger of experiencing a freefall down the standings.
4. Dallas - Dallas had a disappointing 2001-02 campaign but they won't let it happen again. Their offseason acquisitions show that losing is unacceptable and management will do whatever it can to win. The only question mark is Turco in goal, but he will likely be an upgrade over the erratic Belfour.
5. LA - The Kings started out last season poorly but came on in the end thanks largely to the Jason Allison trade. Losing Boucher on defence will hurt but they should still be competitive.
6. Calgary - Aside from Dallas, the Flames have done the most this offseason among Western Conference teams to improve their squad. Chris Drury is a winner and brings a winning attitude to the team in addition to an offensive infusion. The young defence is ready to step up and the backup goaltending position is solidified with McLennan.
7. Phoenix - Last season's most surprising team made a bold move this summer by bringing Tony Amonte on board. If Burke has a good season again, the Coyotes should make the playoffs again.
8. St. Louis - They keep adding to their payroll but they keep slipping down the standings. A healthy Doug Weight for an entire season would help their chances but in the end the team has too many holes to fill and too many egos in the dressing room.
9. Vancouver - The Canucks were outstanding at the end of last season, but does anyone remember the 1995-96 season when the Flames were the second-best team in the league from December to April? The facts are, the Canucks have the best first line in the NHL but beyond that their depth is suspect in all positions. Druken was projected as the second-line centre this past summer but now looks to be waiver fodder. The defence is weak and will live or die on Brent Sopel repeating his career season.
10. Edmonton - What have the Oilers done this offseason exactly? They've traded Grier, Hecht and brought Dopita on board. Dopita is a very risky move considering he's never produced in North America before. Mike York has never shown he can produce without Lindros. Factor in their thin blueline beyond the top three and it might be a long season in Edmonton.
11. Anaheim - Bringing Oates and Sykora on board will do wonders for Kariya's point total but losing Tverdosky will hurt the team on the back end. They should be much improved from last season but still out of a playoff spot.
13. Chicago - The first sign that this season would be a disaster was when Alexei Zhamnov was named captain. Fleury's suspension quickly followed suit and the Blackhawks are now looking at a return to the sidelines when it comes to the playoffs.
13. Minnesota - The Wild are actually a team that has a good chance of surprising and making the playoffs, but I'm going to go with the save pick here. While the acquisition of Cliff Ronning will help, the team still has far too many holes to be able to compete night-in and night-out.
14. Columbus - Like Minnesota, the Blue Jackets had an impressive preseason. Reuniting Cassels and Sanderson should make for an improved playoff team but Hartford had those two in their lineup for years and rarely made the playoffs.
15. Nashville - Playoff guarantee? When your biggest offseason acquisition is Clarke Wilm, you may as well start writing out those refund cheques ahead of time.
STANLEY CUP - San Jose over New Jersey in 6
ROOKIE OF THE YEAR - Jordan Leopold will be given more and more responsibility as the season progresses and he'll continue getting better. There's a good chance he'll be a surprise Calder winner if he plays up to his abilities.
COMEBACK PLAYER OF THE YEAR - Probably the easiest prediction to make, as it will be Mario Lemieux. Even with all his injury troubles last season, Lemieux still led the league in points-per-game average. He will likely play about 60 games this year and easily win the scoring title.
BREAK-OUT PLAYER - Patrick Marleau will have somewhere between 80 and 90 points.
OTHER PREDICTIONS - Alexei Kovalev will sit out the entire season in a contract dispute with the Penguins ... Robert Lang will have a disappointing season in Washington, along the lines of 40 points ... Mario Lemieux will reclaim the Hart Trophy but Iginla will be among the nominees ...