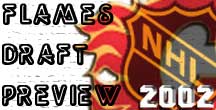 Calgarypuck Draft Preview
Calgarypuck.com Staff
June 20th, 2002
This weekend the NHL officially launches next season with the NHL Entry Draft, just nine days after the Detroit Red Wings put the finishing touches on 2002 Stanley Cup.
As of today all 30 NHL franchises have yet to lose a game, and everyone starts from square one by selecting the youth that will help build each team's future.
Calgarypuck.com takes a look at the draft in Toronto by suggesting a strategy for Craig Button, making some wild stab predictions on trades, and picking the top ten selections.
Within and around the analysis from the four writers you'll find two tables. The first table shows the results of mock drafts from The Sporting News, Hockeysfuture.ca and TSN, as well as an average of the three sites. Further down you'll see another table that summarizes the Calgarypuck writers picks, finds an average, and compares the average of both lists as a variance.
---
Expert Predictions
Team
Selection

Avg.

SN
HF
TSN
Jay Bouwmeester
1.0
1
1
1
Kari Lehtonen
2.0
2
2
2
Rick Nash
3.0
3
3
3
Joni Pitkanen
4.7
4
4
6
Ryan Whitney
5.0
5
5
5
Joffrey Lupul
6.3
6
6
7
Scottie Upshall
7.0
9
8
4
Pierre-Marc Bouchard
9.3
12
7
9
Steve Eminger
10.0
11
11
8
Petr Taticek
10.3
7
14
10
Jiri Hudler
12.0
15
9
12
Anton Babchuk
12.3
10
10
17
Alexander Semin
13.3
13
12
15
Martin Vagner
14.0
14
17
11
Jeff Deslauriers
15.0
8
23
14

SN - The Sporting News
HF - Hockey's Future
TSN - The Sports Network
D'Arcy McGrath
Regardless of your level of faith in scouting and sports entry drafts, it's pretty much a given that the focus for this day entirely tomorrow.
Roll the dice, make your selection and then put the whole event out of your mind; check back in four seasons to see how your horse is fairing in the race to make it to the show. That is ... if you've managed to sign your horse and it hasn't run off to join another stable.

For Calgary GM Craig Button, this year's draft in Toronto will likely have a focus distinctly more present than in the future.
Patience is an important virtue for general managers to have. If you think too much about the "now" you are quite likely to find the team with a very abysmal "later". Having said that, if ever there was a time to put more stock in the needs of the day, that time is now.
Labour Armageddon is now only two seasons away, and given the speed at which 18 year old enter the National Hockey League, the system and playing field may be entirely different by the time the 2002 draft class makes their mark.
Recently the Flames have been learning the hard knocks of the draft system in contract dealings with Jarret Stoll and Chuck Kobasew, meaning small market teams take their licks on the bottom end of the player market as well as the top.
Toss in the fact that the Flames have missed the playoffs for six straight seasons and it would be easy to understand a shift in thinking from the traditional build through the draft ideology.
Still when the weekend comes to a halt on late Sunday afternoon the Flames, like every other organization, will have carried out a draft strategy, encompassing today and tomorrow's needs.
Short Term Needs:
If the Flames had their choice they'd likely move the pick, or trade down in order to shore up some holes on the squad's current roster.
The draft is considered weak by comparison to other years, therefore the chances of 9th overall pick jumping into the lineup sits somewhere between slim and none.
If the Flames could secure a roster ready player for the upcoming season they'd have to take a good long look at it.
The team is fairly set in goal though they need a capable backup for Roman Turek. On the blueline things are quite deep with Jordan Leopold hoping to step in for the departing Igor Kravchuk. The big holes lie in the forward rank where the Flames could use at least two and possibly three top six forwards.
Jarome Iginla, Craig Conroy and Dean McAmmond all set personal marks in goals, and points this past season and it's seems unlikely all three will be able to keep up the pace. Conversely, two of the team's other high end forwards; Marc Savard and Rob Niedermayer, had awful seasons and are quite likely to improve. No matter how the chips fall, the team needs more offence. Now!
Long Term Needs:
Assuming NHL hockey is ever played again past 2004 the Flames will have some long-term holes to fill as they go along.
The team has a stable of interesting prospects in goal, but not a clear cut, blue chip player in the wings to take the reigns from Roman Turek down the road. Levente Szuper is making the largest strides with the Saint John Flames, but his unorthodox style may be a hindrance at the NHL level. The other two top prospects; Brent Krahn and Andrei Medvedev are both fighting physical limitations that may see their progress stopped or their careers ended.
The team is basically set on the blueline for the next decade. A stable that features a solid core of current Flames and a mix of emerging talent bode well for the future. A view into a crystal ball would see Robyn Regehr, Derek Morris, Denis Gauthier, Toni Lydman and Jordan Leopold all holding down a very solid fort. Unless of course one or more are traded, a possibility for this weekend.
Just like today, the future of the team's forwards can't hold a candle to the other areas on the depth chart. In Chuck Kobasew the Flames have a young, exciting scoring prospect, that is if they can ever get his name on a contract. Oleg Saprykin has signed a contract, but has done very little since, casting doubt on the abrasive young player's chances of ever making the grade. Recent draft picks like Andrei Taratukhin, Igor Shastin, Yuri Trubachev and Tomi Maki are intriguing but largely unknown to the North American audience. The Flames will have to focus much of their scouting and selecting on this area in the next few years to better balance out the future look of the Flames.
Top Ten Picks:
1. Jay Bouwmeester - Florida. The Panthers need forwards with size, but they can't pass up on the three time Canadian World Junior.
2. Kari Lehtonen - Atlanta. With Kovalchuk and Heatley in the fold, the Thrashers could be a powerhouse with the best goaltender to be drafted since Roberto Luongo. That is ... if they make the selection.
3. Rick Nash - Columbus. If they had their choice they'd likely select Lehtonen, but will be happy to take the third of three can't miss players.
4. Joffrey Lupul - Tampa Bay. Tampa will likely move this pick, but whoever selects four will have a tough time turning their back on natural scoring talent.
5. Joni Pitkanen - Pittsburgh. Given the current state of the Penguin blueline they may as well start from scratch with a top defensive prospect.
6. Pierre-Marc Bouchard - Nashville. Another team unlikely to make the call when their name comes up. Nashville's playoff or else promise to their fans should see the pick dealt, but if not look for them to take the ultra offensive Bouchard.
7. Scotty Upshall - Anaheim. The Ducks are very thin up front, and even thinner in the character department. They help to solve both issues with one pick.
8. Ryan Whitney - Minnesota. The steady as she goes Wild opt for the hulking American defender.
9. Eric Nystrom - Calgary. Button opts for a sure thing NHL player in a weak draft, nabbing some bloodlines in a large left wing prospect.
10.Peter Taticek - Florida. Having taken Bouwmeester with their pick, Dudley takes a risk on the enigmatic Czech forward.
Calgarypuck Predictions
Team
Selection

Avg.

DM
MC
AM
RC
Var.
Jay Bouwmeester
1.0
1
1
1
1
0
Kari Lehtonen
2.5
2
2
2
4
0
Rick Nash
3.3
3
4
3
3
0
Joni Pitkanen
3.5
5
3
4
2
0
Joffrey Lupul
5.5
4
7
6
5
(1)
Ryan Whitney
8.0
8
6
8
10
1
Pierre-Marc Bouchard
8.8
6
5
--
9
(1)
Scottie Upshall
9.5
7
9
7
--
1
Jiri Hudler
11.5
--
--
10
6
(2)
Alexander Semin
11.8
--
--
9
8
(3)
Petr Taticek
10
--
--
7
1
Anton Babchuk
--
--
5
--
0
Eric Nystrom
9
--
--
11
(3)
Jeff Deslauriers
--
8
--
--
(1)
Steve Eminger
--
10
--
--
6

DM - D'Arcy McGrath
MC - Marc Ciampa
AM - Aaron McCracken
RC - Rich Charlton
Var. - Difference in spot between CP and Experts
-Players not selected given a placement of 15th for averaging
Predictions:
With so many teams looking to move down in the draft or out of the first round altogether a logger head forms leaving most teams selecting with their own choices, much to the surprise of the fans. ... Craig Button makes two deals on draft weekend. First he moves Marc Savard to Buffalo for Chris Gratton, a move that takes some salary off the NHL run Sabres, and a problem out of Calgary. On Sunday he moves a fourth round pick to the Islanders for backup goaltender Garth Snow. ... Mike Milbury in a fit of panic once he realizes he is no longer the focal point of the draft jumps into action, moving the Islanders up into the top ten, likely grabbing the Predators pick, fifth overall. ... Kevin Lowe trades at least one of Todd Marchant, Mike Grier and Ethan Moreau before the dust settles, in an effort to make room for Jason Chimera. ... The Washington Capitals name Glan Hanlon their next Jagr victim ... er ... head coach. ... Flyer GM Bobby Clarke has to be physically restrained in each of the first three rounds when the Capitals parlay their Adam Oates spoils into two prospects and a deal for NHL ready talent.
---
Marc Ciampa
We've been hearing it now for well over a month. The 2002 NHL Entry Draft is the weakest class in years.
However, this draft is still full of anticipation as the date Flames fans have had circled since early April is quickly approaching. Speaking specifically about Calgary's point of view, the team needs to make a number of moves this summer to ensure a higher finish next season.
The biggest question is what will the Flames do?
"We'll look at all the options," Button told the Calgary Sun earlier this week. "We'll look at trading up, trading down, trading it away ... whatever we feel is the best option for us."
The choice that is most intriguing to Flames fans is trading it away. In the franchise's 30-year history, they have only not drafted in the first round four times (1974, 1977, 1982, 1989) so why this year? This answer is because the team needs to win now. In a week this Flames team is going to look very different up front.
Calgary Flames 2002 Draft Action Plan
Short-Term Needs: Scoring up front. Relying on Conroy, McAmmond and Iginla to each repeat his career year is a cause for disaster. The team didn't score enough with those three firing on all cylinders and any sort of substantial decrease would see the team plummet down the standings. Unfortunately, drafting in the ninth position will not result in a player who can step in right away which is why Craig Button needs to consider other options.
Long-Term Needs: With no short-term help in sight, the team needs to look further ahead into the future to assess the draft. Once Leopold steps in next season, the team's prospect pool gets real thin on the blueline. The Flames are lacking in both the offensive Jordan Leopold type of rearguard as well as the bone crushing Denis Gauthier type. In goal the team is set with Medvedev, Krahn, Sabourin and Szuper all currently in the system but with Matt Underhill likely cast away, the Flames will almost assuredly use one of their picks on a netminder. Up front the Flames have an abundance of prospects—although most of them are not of the offensive variety. Scoring forwards are difficult to find in the best of drafts but the Flames will likely give it a shot and use a late pick on either a European or a project with potential. Look for them to play it safe up until the sixth round, however.

Strategy: If I could sum up Craig Button's strategy in one sentence, it would be Trade if you can. Button knows the team needs to improve substantially this offseason to make up the 15-point gap between themselves and the 8th-seeded Vancouver Canucks. With all the league's general managers together in one building, there's a good chance a concerted effort could result in a deal in Calgary's favour. Not to mention, teams may be likely to overpay to scoop up that ninth pick if they really like a certain prospect.
NHL 2002 Entry Draft Predictions
The Flames will once again be among the biggest wheelers and dealers of the day. One of the "fab four" defencemen will be dealt, along with Marc Savard and the team will not pick in the first round. … Tampa Bay will also deal their first round pick. … Washington will trade at least one of its three picks. … Jarret Stoll will be taken early in the second round.
Jay Bouwmeester (Florida) – A no-brainer. The only question mark surrounding the first overall pick is whether or not it will be Florida stepping up to the podium.
Kari Lehtonen (Atlanta) – The Thrashers look set for the next ten years up front with Kovalchuk, Heatley and Stefan among others but have yet to acquire their franchise goalie. Lehtonen is a great choice for a young Thrashers team.
Joni Pitkanen (Columbus) – Columbus is looking for a defenceman who can step in right away and help make the team better. Pitkanen has been playing with men in the Finnish league for two years and would be the natural choice.
Rick Nash (Tampa) – Nash falls to fourth as everything falls into place for the Lightning. Tampa trades this pick
Pierre-Marc Bouchard (Pittsburgh) – The Penguins are looking for a star to fill Lemieux's shoes when he retires again. Bouchard has star power written all over him and rumour is several scouts have said he's a cinch to go in the top ten because "you don't pass on the next Gretzky."
Ryan Whitney (Nashville) – Nashville is a strong possibility to trade this selection given their playoff promise given to season ticket holders. If they don't, they'll likely select Ryan Whitney as he would be the best player available at this point in the draft.
Joffrey Lupul (Anaheim) – Last season the Mighty Ducks were abysmal in the scoring department, ranking 29th in the league. They'll be looking for an offensive catalyst with their selection, even if he can't step in right away.
Jeff Deslauriers (Minnesota) – The Wild don't have a goaltending prospect in their system and will use their first round pick to acquire one.
Scott Upshall (Calgary) – If the Flames do end up picking, they will select the player they deem to be the best available. Upshall fits the bill.
Steve Eminger (Florida-2) – This pick is very likely to be traded by the Panthers if they don't deal the first overall. Choosing Eminger followed by Bouwmeester would set their blueline for years to come. It is a greater concern with Weiss and Shvidki ready to step in at forward.
Will be picked shortly: Taticek, Hudler, Babchuk, Nystrom
---
Aaron McCracken
Strategy
It's been six years since the Calgary Flames have made the playoffs, and coincidentally, it's been six years since they've had a first round pick who has gone on to big league success. But that's unlikely to change the Calgary Flames focus at this weekend's NHL Entry Draft.
While the annual event is a hardcore fan's dream thanks to numerous trades and the drama of selecting the next major superstar, the reality for most teams is that the players selected this weekend won't play a major role in their organization for at least two or three years, if ever.

With that in mind, Calgary general manager Craig Button will likely stick to a plan and select players that fit his style. It's no secret that he likes strong skaters, size down the middle, and places a premium on defensive zone play.
Although it's difficult to predict anything beyond the first round, history has shown that Calgary prefers Western-Canadian and European forwards, and selecting goaltenders early in the draft. Calgary has only taken one overage European in recent years (Jukka Hentunen), but this is one area in which Button might try to find a diamond in the rough, especially if he's looking for a back-up goaltender or a veteran penalty-killing forward.
One thing to remember is that Craig Button hasn't been shy in the past about moving and exchanging draft picks in order to acquire current NHL players. Roman Turek, Dean McAmmond, and Rob Niedermayer were all acquired on draft day 2001. While the Flames aren't likely to make trades of a similar magnitude this weekend, there is a very good chance that the team will have a few new NHL-ready bodies on Monday morning. It may not be much, but for a team that has missed the playoffs for six consecutive years, any sign of improvement is a good thing.
Predictions
At the Flames draft table...
Calgary will select a winger, either Alexander Semin at #9 or Eric Nystrom in a trade-down to the middle of the first round.
Marc Savard will be traded for veteran winger.
Despite receiving several offers, Craig Button will not trade any defensemen.
The Flames will acquire a back-up goaltender for a 3rd or 4th round pick.
Around the league...
Florida, Atlanta, and Columbus will all keep their top picks due to a lack of offers containing current players. Tampa Bay will be the first team to trade their pick.
The biggest name player to move will be Sean Burke, who will go to either the Blues or the Rangers.
The Nashville Predators will be the surprise team of the draft, as they attempt to build a playoff team in 2002-03.
And finally, Jarret Stoll will end up going to the Toronto Maple Leafs, who will trade up in the 2nd round to acquire him.
Top Ten
Jay Bouwmeester
- Florida will receive a few legitimate offers for the #1 overall pick, but will balk at trading and select the most hyped defensive prospect in a decade.
Kari Lehtonen
- If Atlanta keeps the pick, and as an expansion team they should, they'll likely go after the best goaltender in the draft. If they trade the pick, Lehtonen will fall to #4 or #5.
Rick Nash
- The only "sure thing" forward in the draft. Should he last to #3, Columbus will snatch him and likely give him a chance to play in the NHL this fall.
Joni Pitkanen
- Finland's version of Jay Bouwmeester is likely to go 4th overall. Who selects him, however, is probably the bigger question. It's no secret that Tampa Bay wants to trade the pick, and there are a number of teams (Capitals, Rangers, Coyotes, and Maple Leafs all come to mind) that might be interested in moving up.
Anton Babchuk
- Pittsburgh's weakness is on the blueline, and they won't pass up a 6 foot 4, strong-skating defenseman.
Joffrey Lupul
- It's amazing what one season can do for your draft stock. The Predators are short on snipers, and the best one in the draft will likely be available when they select at #6.
Scottie Upshall
- Anaheim likely won't have access to any 'stars' of the draft, but they should be able to pick up a sure-thing NHLer in Upshall. He's not likely to be a first-line player, but his intangibles and attitude make his a valuable pick.
Ryan Whitney
- A smart defenseman with excellent size. A good pick for Minnesota #8 and a likely candidate to forego his NCAA career and jump to the AHL.
Alexander Semin
- Assuming Craig Button doesn't trade the pick (and that's a big assumption), he'll likely look to take a forward with skating ability. Jiri Hudler might be the best player available, but the speedy Semin will be his choice. He's at least two years and 15-20 pounds away from the NHL, but has the tools to be a first or second-line winger.
Jiri Hudler
- With their second top-ten pick, the Panthers will likely look to take a forward. Jiri Hudler is an exceptional offensive centre, who has proven that he can play with the big boys. He could be ready to make the jump to North America in 2003.
---
Rick Charlton
You can tell a weak NHL draft year by the number of teams trying to trade their picks.
Leading into Saturday's events in Toronto that group appears to be pretty much everyone from Florida (number one), Atlanta (number two), Tampa (number four), Nashville (number six) to finally Calgary at number nine.
Strangely, it might be the Flames that have the best chance of converting their pick into something tangible.
At the top end of the pecking order, the price required to extract a pick from the likes of Florida is naturally fairly lofty and usually centers round a significant player already in the NHL.
With the difference between winning and losing razor thin these days, few teams are likely to be willing to part with such a price tag. Particularly in a year when scouts from all sides are constantly reminding us this draft is a weak one.
In addition, teams which are at the top of the draft order often have little in the way of credible "today" assets (that's why they're in last place) to package around their pick to lessen the blow for those on the other side of the negotiation.
Further down the draft order, however, there is more room to negotiate for both sides. The Flames have Marc Savard and a number of credible defencemen to throw into the mix or, in a weak draft year, might consider only a modest warm body to move from their ninth spot to the middle of the order in a swap of picks.
There are only a few times in year - a pressure point - when most GM's are in a mood to wheel and deal. This weekend will probably reveal most of the trading activity we will see - aside from the early July flurry created by unrestricted free agents - between now and the start of training camps in September.
For teams such as the Flames, desperate to return to the playoff scene after an interminably long absence, the pressure will be on to get better and do it in a hurry.
SHORT TERM NEEDS - Substitute the term "short term" with "immediate" and you might be closer to the mark as the Flames, like most teams, will be seeking desperately to upgrade their scoring in order to abate pressure on All Planet Jarome Iginla. The fact that Iginla was able to score pretty much from start to finish last year - with little collective help from the rest of his teammates - was remarkable.
With questions surrounding the status of Savard and rookie Chuck Kobasew, it might be that Button needs to emerge from the summer, and probably this weekend, with two or three scroing forwards, preferably wingers.
Calgary is also likely to place a high priority on improving its penalty killing for next season. A few lesser deals that might not seem significant on the surface might also make an appearance.
While improving the Flames scoring possibilities seems obvious, eliminating 30 goals through better penalty killing and improved defensive play will be just as important.
LONG TERM NEEDS - If we were being clinical in this analysis we would say the Flames lack a truly premium goaltending prospect. Local favourite Brent Krahn was drafted tenth overall two years ago but two injury riddled seasons have brought expectations for his long term prospects down significantly. Levente Szuper is a gamer but a number one netminder to anchor a team through a decade? Probably not. Andrei Medvedev is an interesting prospect but also carries a lot of baggage (sic) that may inhibit his chances down the road as well. But we've stated before that, more than any other position, drafting and developing a goaltender is about as hit and miss as it gets. Yes, the Flames will take a goaltender in this draft, but somewhere in the middle rounds. If Button follows true to form he will continue to place a premium on finding solid veteran netminding when he needs it.
Craig Conroy has only a few more years on his contract and replacing him might be the priority of this draft. A crafty playmaking centre with speed to keep up with Iginla would be an ideal target.
But, in a weak draft, expect the Flames to place a priority on taking a player they are confident will play in the NHL rather than taking a chance on another potential bust.
THE TOP TEN GUESSES
1) Florida - Jay Bouwmeester - Rick Dudley yesterday said he wouldn't trade his first overall pick. And, if you believe Dudley, you should expect to see Bouwmeester playing in a Florida uniform this fall.
2) Atlanta - Joni Pitkanen - A strong puck moving defenceman to feed those two other kids, Kovalchuk and Heatley.
3) Columbus Blue Jackets - Rick Nash - The un-dynamic Blue Jackets get a dynamic player for their front lines.
4) Tampa Bay Lightning - Kari Lehtonen - Not exactly what the Lightning need but, considering the time it takes to bring a goaltender along, Lehtonen would be arriving just as Nikolai Khabibulin is moving on to greener pastures.
5) Pittsburgh - Joffrey Lupul - Pittsburgh Chief Scout Greg Malone saw Pierre Marc Bouchard 15 times last winter but it would be hard to believe the Pens would pass over Lupul.
6) Nashville - Jiri Hudler - The Predators are starved for scoring and this little dynamo has as good a chance of perking up their anemic front lines as anyone in the draft.
7) - Anaheim - Peter Taticek - They'll view this player as the best forward available in their slot.
8) - Minnesota - Alexander Semin - Picture this wizard alongside Marion Gaborik and suddenly the Wild don't look so boring anymore.
9) Buffalo - Pierre Marc Bouchard - Sabres and Flames swap places so Buffalo can take Bouchard, a dynamic creatively inclined offensive talent, overlooking size and quickness deficiencies.
10) New Jersey - Florida will trade this pick when the Devils, aging on the back line, see Ryan Whitney available in this slot.
11) Calgary - Eric Nystrom - Where did Flames coach Greg Gilbert recently see a glowing report on his old teammate's son? How about peeking over the shoulder of the Flames scouting staff.
PREDICTIONS – Any general will tell you that his best-laid plans are usually rendered useless in the opening moments of a battle. Conversely, it might take only one unlikely trade to set off a chain reaction of others at the draft, requiring all GM's to be quick on their feet. It figures that pretty much everyone is eyeing the Buffalo Sabres as a potential trading partner given their deteriorating financial position. Salary dumps such as Chris Gratton are probably on the table. Could the Flames expand the deal to include other players and prospects? The New York Islanders and the Flames can see players on their respective rosters that might help their situations. Its been said before that Brad Isbister is on Button's radar screen while Dave Scatchard could well be on his way out of New York after a poor season. It took only one year for ex-Flames Val Bure and Cory Stillman to wear out their welcomes in Florida and St. Louis respectively. Boston, it has been pointed out before, floundered badly in the playoffs due to a sub-par defence core but can they sacrifice the forwards they would need to surrender with Bill Guerin probably leaving town? Toronto needs to upgrade their defence but whom but Darcy Tucker would you want? The Blues need help down centre ice. Detroit has a defence core that could use a younger facelift but would they be willing to sacrifice Pavel Datsyuk? New Jersey says they have some young defencemen coming along but realistically they wouldn't balk at looking at a Derek Morris consideration. A situation that probably won't involve the Flames but might make a splash could be a trade involving Vincent Lecavalier. They might get an offer they can't refuse.