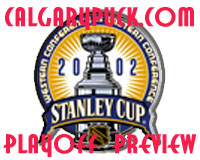 2002 Stanley Cup Final
Aaron McCracken
June 4th, 2002
---
STANLEY CUP FINAL PREDICTIONS
Detroit

(

1st NHL) vs. Carolina (16th NHL)
Red Wings (51-17-10-4, 116 pts); Hurricanes (35-26-16-5, 91 pts)
Season Series: 2-0-0 Red Wings.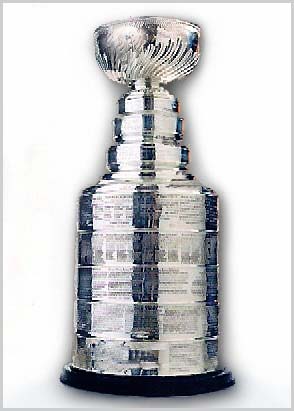 It's a classic "David vs. Goliath" battle in the 2002 Stanley Cup finals. The immensely talented and heavily decorated Red Wings face a team that 26 out of 26 Calgarypuck.com regulars predicted to lose in the first round. Here's how I break down the match-up:
Keys for Detroit:
Out depth the 'Canes
- Detroit is deeper than Carolina at virtually every position. If the Wings' third and fourth lines can continue to produce a few timely goals, this will likely be the difference.
Put Carolina on the ropes -
This will be the first series where the Hurricanes haven't had home ice advantage. If Detroit can win early, they'll put Carolina on the ropes for the first time this playoffs.
Do it for Dominik -
It's an old storyline after watching Ray Bourque hoist the cup, but the Red Wings would love to help the NHL's best goaltender in the last decade add the missing ring to his already impressive trophy case.
Keys for Carolina:
Find a Hero –
Someone, be it Ron Francis, Arturs Irbe, or some surprise player, must elevate their game and single-handedly carry the Hurricanes to a few wins.
Even-strength hockey –
So far in the playoffs Carolina is +13 in even-strength situations, but a disappointing –2 on special teams. If they are to compete, they'll need to stay out of the penalty box and continue to win the 5-on-5 battles.
The Underdog Role
– Carolina is a prime example of a team that has thrived by openly accepting their underdog role. In the past year, we've seen the Arizona Diamondbacks, the New England Patriots, and even the Calgary Stampeders win major championships against the odds. If the Hurricanes can keep their wits about them, anything can happen.
Prediction: I think this series will be closer than many people think. Carolina has played exceptionally well since the Olympic break and has done all the right things to win three playoff series. I believe they're capable of winning against Detroit, but likely not four times in a seven game series. The Red Wings are one of the deepest and most talented teams in recent NHL history, and have 13 players, not including Scotty Bowman, who have already won a Stanley Cup. The Canes should win a game or two early, but Detroit will get stronger as the series goes on and will win the Stanley Cup in six games.
---
CONFERENCE FINAL PREDICTIONS
Detroit

(

1) vs. Colorado (2)
Red Wings (51-17-10-4, 116 pts); Blues 45-28-8-1, 99 pts)
Season Series: 3-1-0 Red Wings.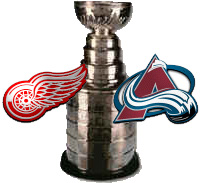 Keys for Detroit:
Outplay the team, not the individuals
– Hasek vs. Roy, Sakic vs. Yzerman, Chelios vs. Blake. This series has several great individual match-ups, but the Wings shouldn't focus on beating the individual stars, but rather beating the team as a whole.
Win the Special team battles –
On paper, Detroit's biggest advantage may be on special teams. They've got an excellent power play, and two of the best penalty-killing defencemen in hockey. One-goal games are often decided by special teams, and the Wings need to capitalize on this.
Keys for Colorado:
Roy –
In Colorado's last six playoffs wins, they've allowed a total of four goals. No player, perhaps in NHL history, is able to single-handled win playoff games like Patrick Roy. If he plays well, the Avalanche are unbeatable.
3rd and 4th lines –
With Sakic, Forsberg, Reinprecht, Tanguay, Drury, and Hejduk, the top two lines are almost guaranteed to produce. But there's a noticeable drop-off in talent on the checking lines, and the Red Wings will likely attempt to take advantage of this. Colorado's checkers don't need to produce goals, but they will need to do an excellent job of prevent them against the deepest team in the NHL.
Prediction: Before the playoffs started (actually, before the season started) I picked Detroit to win it all, and I'm sticking with my gut reaction. This is a battle of a couple excellent teams, arguably the two best in the NHL this season, but one has won eight of their last nine games, while the other has survived two seven-game scares. For that reason, I'm picking. Detroit to win in six
---
Carolina

(

3) vs. Toronto (4)
Hurricanes(35-26-16-5, 91 pts); Maple Leafs (43-25-10-14, 100 pts)
Season Series: Tied 2-2-0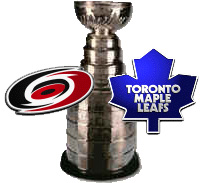 Keys for Carolina:
Depth Scoring –
Carolina's top line accounted for 13 of the team's 21 goals during the 2nd round series. It's unlikely that they'll continue their domination against the Leafs, so guys like Ron Francis, Sami Kapanen, and Jeff O'Neill will need to step it up.
Shut down Gary Roberts –
The former Hurricane has arguably been the best player in the 2002 playoffs and almost single-handedly eliminated the Senators. If Carolina's checkers can shut down Roberts, the Leafs will have a tough time generating offense.
Find the Hot Goalie –
It goes against conventional hockey wisdom, but the 'Canes have successfully juggled their goaltenders to win playoff games. If Irbe gets in trouble, they shouldn't be shy about using Weekes.
Keys for Toronto:
Make it a Long Series –
It's hard to believe, but the battered Leafs have actually look better and better as their playoff series drag on. With Mats Sundin possibly returning within a week, the Leafs should get stronger as the series progresses.
Discipline –
Toronto is, by far, the most penalized team in the playoffs and has one of the worst penalty-kill percentages (76.4%) to boot. But they've also been successful antagonizing the opposition and capitalizing on the ensuing power plays.
Production for the Blue line –
Toronto's biggest edge over Carolina is the offense generated from their defenceman, especially Bryan McCabe (8 points) and Tomas Kaberle (7 points). The Leafs simply cannot match the Hurricanes' depth at forward, but they might be able to make up for it with a goal a game from the blueliners.
Prediction: I didn't expect either of these teams to be here, but one of them will have to advance to the Stanley Cup Finals. Based on what I've seen so far, the Hurricanes have proven themselves as legitimate playoff performers at both ends of the ice. Toronto deserves a ton of credit for getting this far with their injury situation, but I think it will finally catch up to them. I'm going to pick
Carolina in six.
---
SECOND ROUND PREDICTIONS
Detroit

(

1) vs. St. Louis (4)
Red Wings (51-17-10-4, 116 pts); Blues (43-27-8-4, 98 pts)
Season Series: 3-2-0 Red Wings.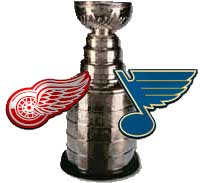 Keys for Detroit:
Put Johnson to the test
– The Red Wings were able to solve Dan Cloutier late in Round 1 by opening games with lots of shots and pressure in front of the net. They'll likely employ a similar strategy to get Brent Johnson off his game.
Show up for Game One
– Detroit was able to rebound from a slow start against Vancouver, but St. Louis may not be as forgiving of an opponent.
Keys for St. Louis:
Goaltending – Is Brent Johnson for real? He'll need to be to beat Dominek Hasek. Remember, Roman Turek was always strong in Round One for St. Louis too.
Defense –
Pronger and MacInnis can't play 60 minutes a night. The supporting cast needs to be strong against the deepest team in the NHL.
Prediction:Detroit showed signs of vulnerability against Vancouver, while St. Louis silenced their critics with a strong series. However, the pressure is on Brent Johnson to repeat his heroics, and I don't see that happening against the veteran Wings. Detroit was very impressive in their four victories and I don't see any reason why that won't continue this series. I'll take Detroit in five.
---
Colorado

(

2) vs. San Jose (3)
Avalanche(45-28-8-1, 99 pts);Sharks (44-27-8-3, 99 pts)
Season Series: Tied 2-2-0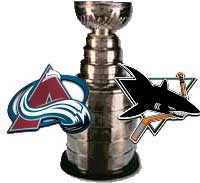 Keys for Colorado:
Play Physical
– The Avalanche showed why they're always a force in the post-season with their hard-hitting play against the Kings. They need to make the Sharks pay the price each night.
Conditioning
– Clearly, Colorado is at a disadvantage after coming off a tough seven game series to face a rested San Jose team. Fatigue may be a factor for the Avs, but they will need to deal with it.
Keys for San Jose:
Special Teams – The Sharks were brilliant on the penalty kill, but awful on the power play against Phoenix. This will be vital if they hope to beat the defending champs.
Match Lines –
San Jose may have a deeper group of forwards than Colorado, and can capitalize on this if they are able to match lines to their advantage against the Avs. Their checking line must be able to shut down Sakic and the first line.
Prediction: The toughest series, by far, to predict in the second round. The Avs narrowly escaped a first round upset, while the Sharks were easily able to dispose of the Coyotes. My gut reaction was to take the experienced Avalanche, but I think they're going to be in for a surprise against a very deep and well-coached San Jose team. I'll with the upset and take
San Jose in six.
---
Carolina

(

3) vs. Montreal (8)
Hurricanes (35-26-16-5, 91 pts); Canadiens (36-31-12-3, 87 pts)
Season Series: Tied 1-1-2.
Keys for Carolina:
Find the hot Goalie –
Both Irbe and Weekes saw action in the first round buth neither has proven to be a viable long-term starter this season. They Canes need to roll the dice and pick the hot goalie.
Scoring –
The 'Canes scored only nine goals in the first round and several of their key offensive weapons struggled. They'll need to do a better job if they want to beat the Habs.
Keys for Montreal:
Momentum – The Habs are on a roll and need to continue their inspired play when they open the series in Carolina.
Cycle the puck –
Montreal's forwards did an admirable job on cycling the puck in the offensive zone to create scoring chances and draw penalties. This will be the key to their offensive strategy.
Steal at least one game in Carolina –
The Hurricanes have played well at home all season. Jose Theodore will likely need to steal at least one game in Raleigh if the Habs hope to advance.
Prediction:I don't have much confidence in a team that advanced to the 2nd round while scoring nine goals (and allowing 11) in six games and has a goaltender controversy. The Habs looked awfully solid against the Bruins, and Theodore gives them a chance to win every night.
Montreal in six.
---
Toronto

(

4) vs. Ottawa (7)
Leafs (43-25-10-4, 100 pts); Senators (39-27-9-7, 94 pts)
Season Series: 3-2-0 Ottawa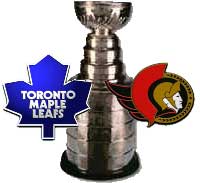 Keys for Toronto:
Less Penalties, better PK
– The Leafs took several bad penalties against the Islanders and were only able to kill 71% of them.
Depth Scoring
– 13 different players scored for the Leafs in Round One, and this was a big help in overcoming their injuries. The Leafs need this to continue against Ottawa if they are going to be successful.
Intimidation
– The Leafs have had their way with the Senators in the past and are clearly a more physical team. If they can continue to win at home, they'll be tough to beat.
Keys for Senators:
Focus on the Present, Forget the Past – The Senators were nothing short of dominant against a very tough Flyers team. By rights, they should have no trouble with the Leafs… but will they be able to overlook their past disappointments?
Stick to the system –
Ottawa must play its defensive-oriented game and not get into a hard-hitting, shoot-em'-up contest with the gritty Leafs.
Prediction:The Leafs are battered & bruised and coming off a tough series, while the Senators are rested, healthy, and confident. I don't think it will be a cake-walk however, as the Leafs have played very well at the ACC and have home-ice advantage in the series. Still, the Senators looked extremely good against Philadelphia, and I think they'll win in six.
Senators in Six.
---
FIRST ROUND PREDICTIONS
Detroit

(

1) vs. Vancouver (8)
Red Wings (51-17-10-4, 116 pts); Canucks (42-30-7-3, 94 pts)
Season Series: 3-1-0 Red Wings.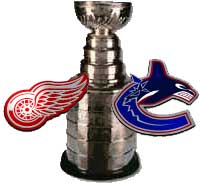 Keys for Detroit:
Show up for game one
– The Red Wings haven't played a meaningful game in a while and have looked disinterested at times. They can't afford to take the Canucks lightly and lose the first few games.
Shut down the big line
– The key to stopping the Canucks is to shut down the NHL's best line of Morrison, Bertuzzi, and Naslund. Detroit has the guns to do so in the like of Chris Chelios, Nicklas Lidstorm, Sergei Federov, Kirk Maltby, and Kris Draper.

Keys for Vancouver:
Skate hard –
If Detroit has a falling, it has been against hard-skating, tenacious checking teams. The Canucks have got to be aggressive and put the Wings on their heels.
Get traffic in front of Hasek –
The best way to beat the six-time Vezina winner is to crowd his crease with traffic and anger him. Of course, that's easier said than done with Chris Chelios standing on guard.
Play smart –
The Canucks cannot afford to take penalties against the 2nd best power play in the league. They must play a disciplined game both before and after the whistle.

Prediction: Quick… hurry and jump on the Canucks' bandwagon! Several high-profile sportswriters have picked the Canucks to score a huge upset over the Red Wings, based on each team's play in the last few months. I won't be one of them. The Wings are too experienced and Scotty Bowman is too smart to take the Canucks lightly. Vancouver will improve over last year and win one game, but that's it. Detroit in 5.
---
Colorado

(

2) vs. Los Angeles (7)
Avalanche (45-28-8-1, 99 pts); Kings (40-27-11-4, 95 pts)
Season Series: Tied 2-2-0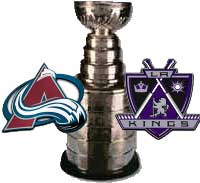 Keys for Colorado:
Health
– Peter Forsberg and Milan Hejduk could be the difference for the Avs if they are healthy enough to contribute, but could also be a detriment if they're less than 100%.
Defence
– Defence wins championships and the Colorado is the top defensive team in the league. The Avs finished 2nd in the West because of this, and can't abandon their strategy now.

Keys for Los Angeles:
Do the little things –
Andy Murray has the Kings trained to do the little things right: win face-offs, kill penalties, and score on the power play. They won't be able to dominate the Avalanche, but if they beat them on the draw and in special teams situations, they'll have a shot at upsetting the defending champions.
Frustrate Colorado's Forwards –
It's no secret that the Avalanche had trouble scoring goals this year, and for LA to win, this trend needs to continue. If they can shutdown Sakic, this should be a very low-scoring series… and anything can happen then.

Prediction: This is a re-match of a great 2nd round series from last year. On paper, the Kings have gotten better since then, and the Avalanche have regressed. But Colorado has found a way to win all season long, while the Kings almost missed the playoffs due to a late season slide. I tend to favor strong goaltender and defence when picking playoff winners, and that's why I'm going with
Colorado in 6.
---
San Jose

(

3) vs. Phoenix (6)
Sharks (44-27-8-3, 99 pts); Coyotes (40-27-9-6, 95 pts)
Season Series: 3-2-0 Sharks.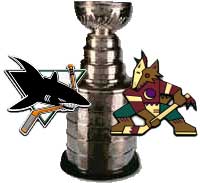 Keys for San Jose:
Experience
– The Sharks aren't newcomers to the playoffs, and if they're able to learn from past mistakes, they should be a smart team.
Leadership –
An on-ice leader, be it Owen Nolen, Teemu Selanne, or Mike Ricci, needs to step up and become the go-to guy.
Depth –
The Sharks had six 20-goal scorers and feature a line-up without many weak spots. They are a deeper team than Phoenix and need to use this to their advantage.

Keys for Phoenix:
The Underdog Advantage –
Phoenix has thrived so far this season by playing the underdog role and taking the opposition by surprise. There's no reason to change now…
Win on the Road –
The Coyotes won just 13 games on the road this season. Without home-ice advantage, they'll have to steal a couple games in the opposition's building to have a chance.
Synergy –
No... not the stick, but the output of the team. Former Saint John coach Bobby Francis has had success by ensuring that his players are accountable and play relatively mistake-free hockey.

Prediction: This should be a good series. I think Phoenix is a pretty good team and would have beaten either St. Louis or Chicago. But San Jose has become one of the better teams in hockey and are ready to take the next step in the playoffs. I look for the
Sharks to win in six.
---

Blues (43-27-8-4, 98 pts); Blackhawks (41-27-13-1, 96 pts)
Season Series: 3-1-1 Blackhawks
Keys for Chicago:
Penalty Kill – The Hawks' PK was 28th in the league, and will need to be significantly better against the Blues if they want to be successful.
Pick a Goaltender –
Mid-April is not the time to have a goaltending controversy, but that's exactly what Steve Passmore has created with his solid play in the final two months. Chicago needs to name a #1 keeper and hope he gets hot.
Win the physical battles –
Chicago needs to be the harder hitting, more aggressive team against the talented St. Louis squad. This is Brian Sutter's mantra as a coach, but will the players be willing to pay the price?

Keys for St. Louis:
Johnson's Confidence –
Brent Johnson can be a very solid goaltender if he gets into a groove, but hasn't shown a whole lot of confidence when he's been faced with adversity this season. The Blues will only go as far as their goaltending takes them.
Stars need to Shine
– The Blues are loaded with high-priced talent, but evidently $9 million doesn't buy much these days. Doug Weight, Keith Tkachuk, and Chris Pronger all need to prove their worth by stepping up their play.

Prediction: If this was the Price is Right, I'd pick them to both overbid. Neither team has been that impressive in the latter stages of the season, and both teams have suspect goaltending. But someone has to win, and I think the Blues' past playoff experience will be the difference.
St. Louis in six.
---
Boston

(1) vs. Montreal (8)
Bruins (43-24-6-9, 101 pts); Canadiens (36-31-12-3, 87 pts)
Season Series: 3-2-0 Bruins.
Keys for Boston:
Score early
– The Bruins need to get to Theodore early and force the Habs to play on their heels.
Win the first two games
– Montreal plays awfully tough at home and Boston cannot afford to give them a chance to take a series lead in Games 3 or 4.
Team Defence –
Boston can be successful if all five skaters make a commitment to team defence and take the pressure off their slow-moving defencemen.
Keys for Montreal:
Someone other than Theodore
– Montreal has ridden goaltender Jose Theodore this far, but will need veterans like Saku Koivu, Joe Juneau, Doug Gilmour, and Bill Lindsay to step up as the competition gets tougher.
Win Faceoffs
– The Habs are clearly superior in winning faceoffs and need to use this to their advantage during special team and late-game situations.
Wear down the Bruins defence
– Boston's weak spot is its defence, and the Canadiens' forwards will need to cycle the puck well and shoot often against the worst shot-blocking team in the league.
Prediction: Hot goaltending can steal a series, and poor defensive play can cause a favored team to be upset. I think this series is a whole lot closer than a #1 vs. #8 should be, and the return of Saku Koivu should give the Habs a mental edge. I'm going out on a limb and taking Montreal in 7.
---
Philadelphia

(2) vs. Ottawa (7)
Flyers (42-27-10-3, 101 pts); Senators (39-27-9-7, 94 pts)
Season Series: 2-1-1 Senators
Keys for Philadelphia:
Play Physical
– Ottawa's forwards have had success when they aren't challenged physically and are allowed to play their 'European" style of hockey. The Flyers need to outmuscle the Senators at both ends of the rink.
Get the PP working
– At 13.2%, the Flyers' Power Play was 28th in the league. This won't be acceptable if they hope to make a playoff run this year.
Keys for Ottawa:
Don't listen to Don Cherry
– The Sens have gained a reputation for being soft and Don Cherry recently called them "gutless". Ottawa needs to prove him wrong with an inspired, hard-fought series.
Make Cechmanek Choke
– Ottawa has got to score on Roman Cechmanek early and not allow him to become confident. If the Flyers have a weak point, it's the lack of proven playoff ability from their goaltender.
Prediction: The Senators have become a better playoff team since last season and would probably beat a team like Carolina. Unfortunately, they lost their last game and have to face most physical team in the East. I think the Flyers are tougher, deeper, and more prepared to win, and since goaltending isn't a strong point for either team, I'll takePhiladelphia in 5.
---
Carolina

(3) vs. New Jersey (6)
Hurricanes (35-26-16-5, 91 pts); Devils (41-28-9-4, 95 pts)
Season Series: 2-1-1 Devils.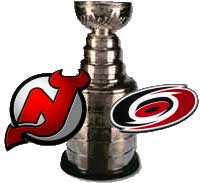 Keys for Carolina:
Win at home
– The 'Canes have home-ice advantage because of their 3rd seed and must take better advantage of this. They won just 15 of 41 games on home ice this season.
Depth Scoring
– The Devils are masters at shutting down the opposition's top line. Therefore, the Hurricanes will need production from their 2nd and 3rd lines to stay in the hunt.
Goaltending
– Arthurs Irbe hasn't inspired a whole lot of confidence this season, but he is capable of getting hot and stealing a few wins every now and then.
Keys for New Jersey:
Experience
– The Devils have much more playoff experience and will need to us this to their advantage against the younger, untested Hurricanes.
Momentum
– Jersey won 14 of their final 18 games, including their last six in a row. They've picked a good time to get hot, if they can keep it up.
Intimidation
– Scott Stevens is always a factor at this time of year, and Carolina players will likely remember his crippling hits on Ron Francis and Shane Willis one year ago.
Prediction: The Devils have fallen a bit this season, but have really started to pick up the pace in the last six weeks. They have the edge in experience, depth, and goaltending, and I think they'll walk over the Hurricanes, who probably wouldn't be in the playoffs if they played in any other division. New Jersey in 4.
---
Toronto

(4) vs. NY Islanders (5)
Leafs (43-25-10-4, 99 pts); Islanders (42-28-8-4, 96 pts)
Season Series: 3-1 Islanders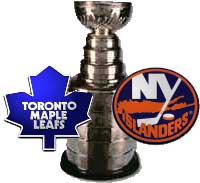 Keys for Toronto:
Stay Healthy
– The Leafs aren't 100% going into the playoffs and can ill-afford a serious injury to a key player.
Defensive Forwards
– The line of Sundin, Hoglund, and Renberg has both created and given up a ton of goals this season. They've got to be "plus" players if the Leafs are to be successful.
Special Teams
– Toronto's PP and PK have been mediocre this season, but are capable being much better.
Keys for New York:
Rattle CuJo
– The Isles need to create traffic and get in Curtis Joseph's face. Although he's an elite goaltender, he has shown difficulty handling pressure situations in the past.
Pound the D
– Toronto's defence has exceeded expectations so far this season, but they can be beaten by a strong, physical forecheck.
Win the line-matching –
Michael Peca will see plenty of ice-time against Sundin, while Pat Quinn will counter with Shayne Corson against Alexei Yashin. Something has got to give here, and this could be the determining factor in the series.
Prediction: I don't think the Leafs are as good as their 100 points might indicate, but I do think that they've gelled as a team in Joseph's absence and should be able to match up well against the Islanders. I expect this to be closer than most Leafs would like, but Toronto will win in 6.