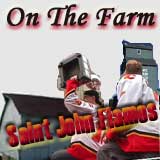 'Crack on the Farm: Mid-Season Report Card
Aaron McCracken
January 2nd, 2002
It's report card time for the Saint John Flames. Overall, it's been a disappointing season for the reigning Champions. After winning their first three games of the year, the Flames have gone 9-15-5-2 and find themselves last in their division and 2nd last in the conference. The major problem for the team has been goal scoring, with just 77 markers in 34 games. It's hard to blame the players for this ineptitude, however, as most of the team would be considered checking-line or defensive players on most other teams in the AHL. A quick glance up and down the line-up shows that most players are scoring near their career professional average – with some notable exceptions in Oleg Saprykin and Daniel Marois. Perhaps the most telling statistic is the opposing goaltenders' .936 save percentage against the Flames – the AHL average is .905. To put this is perspective, the Flames score on 6.4% of their shots, well below the league average of 9.5%, while division rival Hamilton scores on 12.4% of their shots. Is it any wonder why this team is in last place?
There have been some positives for the Flames. Goaltending has been very strong so far this year and the Flames have allowed the 2nd fewest goals in the league (86). Team defense, although unspectacular, has done a good job of limiting opposing shots on goal and keeping the Flames in virtually every game.

But the bottom line is that the Flames have generally played unexciting, uninspired hockey. After a very successful season ticket drive, the Flames have won just 6 of 20 games on home ice, and just 3 of 17 since October 12th - not exactly encouraging for new season ticket holders. If the Flames hope to grab one of the ten Eastern conference playoff spots, they'll have to improve significantly over the final 46 games.
Player Ratings
Players have been rated based on their current performance, their outlook, and how they've met my expectations. The full methodology is listed below – it outlines the criteria and significance of each grade. I've left out players that are currently on the Calgary roster and those that haven't played 10 games with Saint John. I've also left off Nick Smith, a recent addition to the team under contract with the Florida Panthers.
Player

Performance

Expectations

Outlook

Comments

Forwards

Kevin Baker

C

Below

2

Used sparingly in 2nd pro season. Has shown occasional signs of being a goal-scorer, but is still inconsistent.

Garrett Bembridge

C-

Below

2

Disappointing start for the 2001 draftee. Still adjusting to new position (RW) and professional game.

Blair Betts

A

Above

4.5

Arguably the team's best player. Solid performer at both ends of the rink and an excellent face-off guy.

Jason Botterill

B+

Meeting

3

Uses his size well in front of the net. Probably the best 'power forward' on the team.

Dwayne Hay

B

Meeting

3

The team's best defensive forward. A speedy, tenacious forechecker, but limited offensive skill with the puck.

Daniel Marois

C+

Below

2.5

This guy once scored 39 goals in the NHL? Obviously talented, but very streaky and inconsistent.

Jeff Mitchell

C

Meeting

2

A solid checking winger with limited skills. Can score an occasional goal when he uses his size.

Jason Morgan

B

Meeting

2.5

Had shown flashes of offensive talent. A good defensive center on a team loaded similar players.

Rob Murray

B-

Meeting

3

The AHL's all-time penalty minute leader has shown some reluctance to play physically. A good leader and steady center otherwise.

B-

Below

3.5

After a horrible start, has begun to play with confidence and agitate the opposition. Should be an offensive star in the AHL, but that hasn't happened yet.

Shaun Sutter

D

Below

2

Has seen limited icetime in his 11 games. Should be in the ECHL.

Jamie Wright

A-

Above

3.5

One of the team's best players when with the club. If he stays for the rest of the season, the Flames have a chance at success.

Defencemen

Micki Dupont

B+

Meeting

4

Confident defender and excellent passer. Lack of size hasn't hurt his professional career yet.

Burke Henry

C+

Below

3

Poor decision-making and inconsistent play are his barrier to a NHL career. This was the knock against him in Hartford too.

Dave Huntzicker

F

Below

1

Slow, doesn't use his size, and hasn't been able to keep pace in the AHL. Should be in the ECHL.

Jason Lawmaster

C

Above

2

Call-up on a 25-game tryout has played physical and has chipped in on offense.

Alan Letang

B-

Meeting

3

Good puck-handling defenseman, but hasn't been overly impressive in his own zone.

Mike Martin

B+

Meeting

3

Team's best all-around blueliner. Was named captain, but will likely miss most of the season with a serious injury.

Steve Montador

B+

Above

4

Tough, physical and fearless defender. An accurate passer and shooter, but not a great puck-handler.

Rick Mrozik

B

Meeting

3

A quiet, steady stay-at-home defender. Leads the team at +6, but has yet to record an assist.

Goaltenders

Dany Sabourin

B

Meeting

3

Has shown excellent poise in his limited playing time. Every appearance with Saint John has been in a key situation, and he deserves a chance to play in the AHL full-time.

Levente Szuper

B+

Meeting

4.5

Has overcome a slow start with an excellent month of December. Unorthodox, but very effective. A willing learner with a bright NHL future.

Kay Whitmore

A-

Above

3

Arguable the team's MVP. Has kept the team in almost every game he's started. A confident leader in the AHL. Hasn't been as strong since returning from Calgary.
Methodology
I. Grade for Performance
This measures the player's overall performance this season. It is an absolute grade in comparison to other players on the team and in the AHL, regardless of age, experience, or history.
A – Excellent overall performance in all aspects of the game. Top 10-15% of AHL players.
B – Good overall performance. Top 30-40% of AHL players
C – Satisfactory overall performance. No more than an average AHL player.
D – Minimally acceptable performance. Below average AHL player.
F – Unacceptable performance.
II. Expectations
This measures how the player has performed relative to my expectations. Veteran players and high draft picks are expected to be top-notch performers, while low-draft picks, rookies and ECHL call-ups can be expected to make their share of mistakes.
III. Overall Outlook
This measures the player's likelihood of reaching the NHL and his projected role. It takes into consideration age, experience, size, and history.
Star (5+) - A future NHL star.
Solid NHLer (5) – 1st or 2nd line forward, Top 4 defenceman, or starting goaltender
Average NHLer (4) – 3rd or 4th line forward, 5th or 6th defenceman, back-up goaltender
Fringe NHLer (3) – Depth player, career "call-up".
Stretch NHLer (2) – Would only see NHL action in extreme cases (injuries, etc.)
No chance (1) – Minor leaguer, at best.
Aaron McCracken can be reached at aaron@canoemail.com .