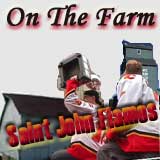 'Crack on the Farm: Changes in Saint John
Aaron McCracken
January 14th, 2002
The Saint John Flames are an inexperienced team in a developmental league, but after a half-season with little success, the time for excuses has passed.
Following a 5-2 loss to rival St. John's a week ago, coach Jim Playfair made several changes. Jason Botterill was named team captain, Rob Murray and Jason Morgan were named assistants, and veterans like Burke Henry and Kay Whitmore watched from the sidelines as younger players were given a chance to play. The on-ice message was clear – skate hard and shoot often. The Flames subsequently pelted 45, 47, and 48 shots respectively in their last three games, and while they only scored 5 times, they were able to walk away with a pair of wins thanks to a commitment to team defence and some excellent goaltending by Dany Sabourin.
The 21-year old Sabourin was called up to replace sophomore Levente Szuper, who is on the sidelines with a minor knee injury. Sabourin allowed 1 goal on 32 shots in a 2-1 overtime win last Sunday, stopped 21 shots in a 3-1 loss on Friday, then recorded his first professional shutout in a 2-0 win over the Lowell Lock Monsters on Saturday. With Szuper due to return as early as this week, Sabourin has created a bit of a goaltender controversy in the Port City. It will be interesting to see how the Flames manage the situation in the coming weeks.
Up front, the results are still discouraging. The Flames have scored just seven goals in their last four games and remain last overall in the AHL with 86 goals scored (in 39 games). If the Flames hope to improve during the second half, they'll simply have to find more ways to score goals.
The team currently sits 12th out of 13 teams in the Eastern conference with a 15-17-5-2 record (37 points), but are only 4 points out of a playoff spot.
Who's Hot…
Sabourin - His numbers speak for themselves: a 1.79 GAA and a save percentage of .935, not bad for a young goalie that is still learning the professional game.
Jamie Wright – Scored the overtime winner last Sunday and the lone goal on Friday.
Who's Not…
Burke Henry – A healthy scratch for two games, a non-factor when dressed.
Virtually every other Flames forward –Dwayne Hay (3 goals), Jeff Mitchell (4 goals), Garrett Bembridge (2 goals), and Oleg Saprykin (3 goals) are guys that have to light the lamp more consistently in the 2nd half.
By the Numbers…
Blair Betts leads the teams in goals, assists, and points (12G, 15A, 27 Pts).
Rick Mrozik is a team-best +8, Alan Letang is a team-worst –12.
Roster Notes
The Flames added RW Jeremy Brown, who won a Calder Cup with Providence in 1999. He recorded an assist in Saturday's win. The Flames also called up rugged defenceman Jeff Sullivan from Johnstown.
The Flames released RW Daniel Marois, RW Kevin Baker, and D Steve Cheredaryk. They assigned C Shaun Sutter to Johnstown.
Around the league…
Dallas Eakins has 9 points (2G-7A) in 26 games with Chicago. New teammate Kurtis Foster, recently traded by the Flames, has 3 goals and an assist in 11 AHL games.
Rico Fata continues to light up the league with 35 points in 25 games and a +14 rating.
The Week Ahead…
The Flames play in Lowell and Manchester on Tuesday and Wednesday, then return home Friday and Saturday night against division rival St. John's.
Aaron covers the Saint John Flames for Calgary Puck / Fire on Ice. He can be reached at aaron@canoemail.com.