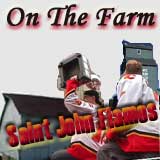 'Crack on the Farm: Injuries, Illness, and Bad Luck hurt the Flames
Aaron McCracken
February 11th, 2002
The Saint John Flames have made significant improvements over the last month, but that came to a crashing halt this weekend as the team was forced to deal with injuries and a flu epidemic that affected several key players.
The Flames entered the weekend riding a streak that saw them lose just once in six games, thanks in large part to outstanding goaltending by sophomore Levente Szuper. However the team managed to record just a single point in its three weekend games.
The Flames were without Blair Betts (shoulder), Dwayne Hay (flu), Oleg Saprykin (flu), Jeremy Brown (thumb), Jason Lawmaster (knee), Mike Martin (knee), Jamie Wright (Calgary), and Jason Botterill (Calgary). The weekend line-up was littered with ECHL-caliber players such Kevin Baker, Jeff Sullivan, David Bell, Eric Schnieder, Jamie Brown and Ben Stafford. In fact, the Flames came very close to dressing assistant coach Ron Wilson on Saturday night, but he was also under the weather with the flu.
Despite the depleted line-up, the Flames put forth a decent effort on the weekend, losing 3-2 to Lowell on Friday, tying top-ranked Philadelphia 2-2 on Saturday, and losing 3-1 to Manchester on Sunday. The Flames actually dominated the play on Friday and Sunday, but as has been the case many times this season, couldn't score enough goals to win.
The Flames are 20-23-9-2 record (51 points), which places them last in their division and 12th in the Eastern Conference.
Who's Hot?
Jason Morgan – Bothered by the flu, Morgan refused to sit out and scored twice during the weekend, including the team's lone Sunday goal on a 2nd period penalty shot.
Garett Bembridge – Scored in three consecutive games and has finally shown some confidence on the ice.
Steve Montador – has become the team's #1 defenceman and has logged a ton of ice time since his return from Calgary.
Who's Not?
It's tough to blame anyone in particular for this weekend's defeats, however I will point out that Kay Whitmore has recorded just one win since November 16th. He actually has recorded ties in his last three outings, but as a veteran keeper he's expected to win close games.
By the Numbers…
Blair Betts continues to lead the team in goals (14) and points (32).
The Flames have the fewest goals allowed (2.35) and the fewest goals scored (2.19) per game in the AHL.
Levente Szuper is 3rd among AHL goaltenders with a 2.17 GAA. He's tied for the league lead with 4 shutouts.
News and Notes…
The AHL takes its all-star break this week. Wednesday's skills competition and Thursday's game can both be seen live on Rogers Sportsnet starting at 7:00 EST (5:00 Mountain time). Flames coach Jim Playfair and his staff will guide the Canadian team, which will feature Micki Dupont are the Flames' lone representative. Former Flames Derrick Walser and Mark Greig will also play on Team Canada.
The Flames return to action next Friday night and expect to have Betts, Hay, and Saprykin back in the line-up. There is also a strong possibility that Jamie Wright and Jason Botterill will be returned to the club, and a small possibility that Calgary will assign a couple players (Chris Clark and Steve Begin) on conditioning stints.
Playoff Watch
The Flames sit 12th in the Eastern conference, 4 points behind Providence who hold the 10th and final playoff spot. The Flames will need roughly 83 points to secure a playoff spot, which means they'll need at least 32 points in their remaining 26 games. Clearly, the Flames need to start winning games in a hurry if they want a chance to defend their championship.
Aaron covers the Saint John Flames for Calgary Puck / Fire on Ice. He can be reached at aaron@canoemail.com.