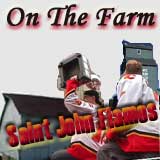 'Crack on the Farm - Free Falling
March 25th, 2002
Don't say they didn't have a chance.
The Saint John Flames have sealed their destiny this month by winning just once in the last ten games. Despite their March futility, the Flames actually had a chance to redeem themselves one week ago with back-to-back games against the division rival Manitoba Moose. A pair of wins would have put the struggling Flames back into a playoff spot, setting up an exciting finish with the majority of the remaining games on home ice.
But it didn't happen. The Flames lost 5-2 and 6-0 in their mini-series with the Moose, effectively ending any hopes of defending their Calder Cup championship. To their credit, the Flames were very competitive in their return home this past weekend, but still only managed to record a single point after tying Manchester 2-2 on Friday night, and losing to Quebec 5-3 on Saturday.
The Flames (26-31-12-4) sit in 13th place in the Eastern Conference, and are eight points out of a playoff spot with seven games remaining. They'll play back-to-back games with both Quebec and Hamilton this coming week, and will finish the season with a pair of games against St. John's and a home-date against Lowell.
Who's Hot?
Tough question. Oleg Saprykin had a pair of assists Friday in his return from a foot injury, but wasn't as strong on Saturday night. Sophomores Steve Montador and Micki Dupont have been the two bright spots on the Flames' blueline down the stretch, and Dupont taken over 2nd place in team scoring with 39 points (7G, 32A).
Who's Not?
Take your pick. Blair Betts has one goal in his last twelve games, Garrett Bembridge is a team-worst –19, Levente Szuper has dropped from 1st to 11th among AHL goaltenders in Goals Against Average, and veteran Burke Henry has recently been scratched to make room for ECHL call-ups. When it rains… it pours.
News and Notes
Matt Doman, the Flames 5th round pick in 1999, made his professional debut on Saturday night, but was used sparingly.
6 foot 7, 250 pound Mitch Fritz has assumed the enforcer's role for the Flames and will likely remain with the team until the end of the season.
Blair Betts, Jason Botterill, and Ryan Christie are tied for the team lead with 18 goals apiece.
Micki Dupont leads the AHL with 295 shots on goal.
Around the AHL
Former Flame Eric Landry scored four times against Saint John on Saturday night, and leads the Citadelles with 31 goals and 70 points. Landry will likely receive some consideration for the AHL MVP award.
Rick Dipietro leads AHL goaltenders with 26 wins.
Rico Fata leads the AHL in plus/minus (+28).
Aaron McCracken can be reached at mccracken@calgarypuck.com.