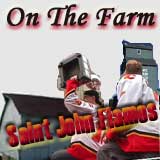 'Crack on the Farm - End of Season Awards
April 5th, 2002
The champions have been dethroned.
The Saint John Flame's slim playoff hopes ended abruptly on Tuesday night after a disappointing loss to the St. John's Maple Leafs. Needing to win their final three games, the Flames dug themselves an early hole by allowing goals on the first two shots of the game, en route to a lackluster 5-0 loss. The Leafs completed the mini-series sweep by defeating the Flames 4-2 on Wednesday, in a game that saw Saint John dress only 15 skaters due to injuries to Jason Botterill and Matt Doman, and the NHL call-up of Blair Betts.
The Flames complete their season tonight at home against Lowell, and have signed Saint John native John Jarvis and pint-sized St. Thomas University star Jason Sands to try-outs. The Flames aren't the only team playing meaningless games -- each of the twenty AHL playoff participants have already been determined entering the final weekend of the season.
Team Awards
The Flames will hand out their hardware in an on-ice ceremony this evening. Here are my selections for the official (plus a few miscellaneous) awards:
MVP – Blair Betts. The team's leading scorer has been a fierce competitor night-after-night. He's developed into a solid performer at both ends of the ice and should compete for a NHL job next season. Jason Botterill receives honourable mention for his on-ice leadership and strong physical play.

Top Rookie – Garett Bembridge. Only Bembridge and Dave Huntzicker qualify for this award and neither have been impressive for any length of time this season. Based on his 9 goals, Bembridge gets the nod over Huntzicker, who has made notable improvements in the 2nd half of the season.
Top Defenceman – Steve Montador. A tough choice, considering that Micki Dupont is the team's 3rd leading scorer, but Montador has been strong at both ends of the ice since day one.
Unsung Hero – Rick Mrozik. A smart, stay-at-home defenceman, Mrozik led the team in +/- at +4. He's not flashy and he doesn't put many points on the board, but Mrozik plays the system very well and makes very few mistakes.
Most Improved – Levente Szuper. The 2nd year goaltender struggled in the early part of the season, but saw his goals against average improve steadily from December onward. Szuper carried the team throughout most of January and February and kept them in a position to compete for a playoff spot. Honourable mention to centre Jason Morgan, who has developed into a gritty, two-way centre.
Biggest Disappointment – Burke Henry. It's ironic that he was acquired for his puck-handling skills, and yet he will likely end the season as the only regular without a goal. His season was full of mental lapses, poor pinches, and brutal giveaways. Now we know why the Rangers gave up on him so quickly.
Best ECHL call-up – Jason Lawmaster. A tough utility player who saw action on the wing and the blueline for the Flames. And he's second to only Rocky Thompson for the "best enforcer name" in hockey.
Aaron McCracken can be reached at mccracken@calgarypuck.com.