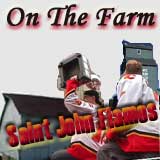 On the Farm: Szuper strong; Flames chase .500
Aaron McCracken
December 11th, 2001
Sophomore goaltender Levente Szuper will be the first to admit that he struggled throughout the first two months of the season, winning just once in eight games. December is a new month, however, and the Hungarian goaltender looks to be back on track, as he backstopped the Flames to 3 wins in 4 games during the past week.
Szuper had his best outing of the season a week ago on Sunday as the Flames played the last of three games in three days, a 2-0 shutout over the Portland Pirates. Coach Jim Playfair gave Szuper another start on Wednesday night, and he delivered with a solid 30 save performance, including a late penalty-shot stop, in a 4-3 overtime win. With Kay Whitmore on recall to Calgary, Szuper won his third consecutive game on Friday night in Lowell, despite battling a case of the flu. While, the winning streak was halted on Saturday night as the Flames lost to Daniel Tkaczuk and the Worcester IceCats by a 3-2 margin, Szuper had yet another solid game and kept the home team close throughout the entire contest.
With the wins, the Flames improved to 9-10-5-1 (24 points) on the season, one point out of the 10th and final playoff spot in AHL's tough Eastern conference, where 11 of the 14 teams are at .500 or better.
Who's Hot…
Levente Szuper – Won three straight games on Sunday, Wednesday, and Friday, then played well in a 3-2 loss on Saturday.
Jason Lawmaster – ECHL call-up played two strong games and was rewarded with a pair of assists.
Jamie Wright – 2 points in his return to the AHL on Saturday. No doubt that Wright is working hard towards career NHL call-up #20.
Jason Botterill – Steady play has allowed him to move into 2nd place in the team scoring lead (7G-9A, 16 Pts). Don't be surprised to see him called-up at some point during the season.
Who's Not…
Dave Huntzicker – Don't mean to keep picking on the guy, but he's just not ready for the AHL.
Shaun Sutter – A "long-term" project… hasn't contributed much this season.
By the Numbers…
Blair Betts leads the teams in goals, assists, and points (8G, 14A, 22 Pts).
Kay Whitmore remains 4th among AHL goaltenders with a 2.33 Goals Against Average. Szuper has crept up to 19th at 2.74.
News and Notes…
Mike Martin remains out of the line-up with a knee injury, while Rick Mrozik should return the to line-up this weekend after missing the last three games.
The Hamilton Bulldogs (Oilers' AHL affiliate) continue to tear up the league on a nightly basis. The 'Dogs scored five times in a span of twelve minutes on Sunday en route to their 17th win of the season. Hamilton has scored 109 goals in just 27 games, and center Brian Swanson leads the league with 40 points and +21.
Alumni Watch…
Rico Fata has 18 points in just 14 games with the Wolf Pack, and is a surprising +6.
Right-winger David Roche has been recalled by the New York Islanders after an excellent start with Bridgeport. Roche leads the team in goals (14) and power play goals (7).
Travis Brigley has been successful in his comeback with the Cincinnati Mighty Ducks. The former 2nd round pick has 17 points in 17 games thus far.
The Week Ahead…
The Flames are on their Christmas break this week, and return to action on Saturday on the road against Springfield.
Aaron covers the Saint John Flames for Calgary Puck / Fire on Ice. He can be reached at aaron@canoemail.com.