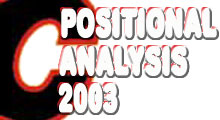 LEFT WING
Left with some questions ...
---
Aaron McCracken
August 11th, 2003

There won't be much competition this season to play on the left side in Calgary. The Flames have five NHL-caliber left-wingers, all of whom will likely make the club out of camp.

But after that, it's anyone's guess what will happen.

There are a number of questions that still need to be answered:
Who will play on the top line alongside Iginla & Conroy?
Can Dean McAmmond become the offensive threat that he was in 2001-02?
Can Oleg Saprykin play with intensity for an entire NHL season?
Can Josh Green & Krzysztof Oliwa contribute on the checking line?
The biggest constant on the left side is 33 year-old veteran Martin Gelinas, who has quietly scored 52 points in two of the last three seasons. Gelinas will be expected to maintain that production this season, likely spending most of his time on the 2nd line.
Dean McAmmond, based on his success a season ago, is likely the best candidate to play on the top line. However, the reality is that he's best suited for 3rd line duty and cannot be counted on to repeat his 20-goal, 50-point season.
Oleg Saprykin has come a long since last October, when he suddenly left the organization and threatened to return to Russia. However, his 2nd half resurgence proved that he can play regularly in the NHL. The question now is whether he'll remain an agitating, two-way forward or whether he can take the next step and be a consistent offensive threat in the NHL.
The enigmatic Green and the veteran enforcer Oliwa will likely occupy the final left-wing spot. Green, a "power forward" who once played on the top line with the Islanders, is with his sixth NHL organization in six seasons and still needs to prove that he belongs in the big leagues. The Flames would like to see Green chip in offensively (he has twice scored 10 goals in a season), although they would be content with a physical and defensively responsible presence. Oliwa's job description is very clear. He'll play against the other teams' tough guys and ensure that no one takes liberties with the Flames' more talented players.
There isn't a whole lot of depth on the farm, although Robert Dome was a point-a-game player in Saint John last season and has some NHL experience (albeit just one game in the last three years). Martin Sonnenberg and Jason Spence, neither of whom can be considered "prospects", won't see NHL action unless there's a bevy of injuries with the big club.
Depth Chart
Martin Gelinas
Dean McAmmond
Oleg Saprykin
Josh Green
Krzysztof Oliwa
Robert Dome
Martin Sonnenberg
Jason Spence
Organizational Grade:

C+. The Flames have some talent on the left side, but are still without a legitimate top line left-winger. Regardless, McAmmond, Gelinas, and Saprykin should be able to combine for 50 goals and 125 points, which isn't all that bad, while Green & Oliwa will take care of things at the bottom of the line-up.