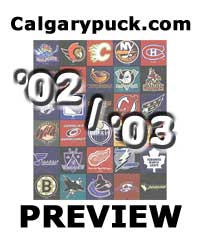 October 8th, 2002
Calgarypuck.com
2002-2002 NHL Preview
---
The West
1. Colorado - Everyone is healthy, and with Derek Morris, the Avs have three excellent defensemen. And then there's Patrick Roy…
2. Detroit - Even without Bowman and Hasek, they're a great team.
3. Dallas – The Stars have something to prove this season. They've added a ton of scoring talent, which will take the pressure off of Turco and Tugnutt.
4. San Jose – Deep, well-rounded, and well-coached. Good enough to win without holdouts Nabokov and Stuart, which is more reason for them to sign.
5. Vancouver – They proved a lot last season, and Brian Burke made all the right moves. If Cloutier can keep the games close, they could go a long way.
6. St. Louis – The Blues are far from a given to make the playoffs, and could struggle early with Pronger out. But they've got the money to patch any holes as the season goes on, and that could be the difference.
7. Edmonton – Jiri Dopita isn't the answer, but they've got a sound defensive team and solid goaltending, which should be enough to get them into the playoffs.
8. Calgary – The acquisition of Drury is the key. The team played great in their final two preseason games, and should overcome their young defense and sneak into the eighth playoff spot.
9. Los Angeles – The Kings took the summer off while their main competitors all made significant moves. It will cost them…
10. Phoenix – Sean Burke and Daniel Briere need to repeat their outstanding seasons.
11. Chicago – Goaltending controversy + Theo Fleury = bad news.
12. Anaheim - Adam Oates is a great set-up man. But if he didn't get Jagr and the Capitals into the playoffs last season, he won't get Kariya and the Ducks there this season.
13. Nashville – Still a tough team to play against, but haven't done anything to become winners.
14. Minnesota – Don't let their pre-season record fool you – the Wild still have a few years left before they can compete on a nightly basis.
15. Columbus – Rick Nash, Rostislav Klesla, Pascal Leclaire: the future looks bright. The present is still bleak, though.
The East
1. Philadelphia – A team that could boom or bust, depending on their start. Talented enough to finish first in the East… the playoffs could be a different story.
2. Ottawa – They quietly go out and win games by playing fundamental hockey. A top team in a weak conference.
3. Carolina – Someone has got to win the Southeast division, and there's no reason to doubt the 'Canes. Svoboda will replace Gelinas, and Carolina will record their usual 90 points.
4. NY Rangers – It's disgusting how much money they spend – but they'll finally be rewarded with a post-season appearance.
5. NY Islanders – They'll miss Michael Peca in the first-half, but should be able to recover quite quickly.
6. Toronto – Belfour and Kidd? Toronto lost out on the goalie sweepstakes, but should be able to score enough goals to get by.
7. Montreal -- A good balance of young talent, middle-aged stars, and veteran leaders. And having reigning Hart trophy winner can't hurt either…
8. Tampa Bay – It's easy to forget about them. But they have two good scoring lines, a couple of young stud defensemen, and a great goaltender. They'll be the surprise of 2002-03.
9. Boston -- If you lose your top goal scorer, your #1 goaltender, and a good young defenseman, can you really expect to make the playoffs?
10. New Jersey -- A team on the decline. Losing to Carolina last season was the first big sign.
11. Washington – Mike Grier isn't the answer to this team's troubles. They need leadership…
12. Pittsburgh – Internationally-recognized distress calls: "Mayday", "Pan Pan Pan", and "We've signed Alexandre Daigle".
13. Florida – A good, young back-end with Luongo, Bouwmeester, Ference, etc. But still too many malcontents on the team that aren't focused on Keenan's system.
14. Atlanta – They are fun to watch, but will still allow the most goals in the NHL.
15. Buffalo – It's a sad situation really – and the Sabres are more focused on survival than winning at this point.
Stanley Cup – San Jose over the Rangers, with the Red Wings and the surprising Habs rounding out the final four.

Teams on the rise – Tampa Bay and Calgary. Both have made moves and are building on relatively young teams.
Teams on the decline – Chicago and Boston will be the two biggest disappointments this season. Both have lost goal scorers and have questionable goaltending.
Trophies:
Hart: Mike Modano – will benefit from the Stars' new offensive system.
Vezina: Nikoli Khabibulin.
Art Ross: Joe Sakic.
Norris: Lidstrom – it's becoming automatic.
Calder: Henrik Zetterberg – will play on a line with a lot of talent.
Selke: Craig Conroy – with Peca out, he'll finally get his due.
Comeback Player of the Year – Koivu is the easy choice. Honourable mention to Lemieux or possibly Alexander Daigle.

Breakout Player – Vincent Lecavalier. Also watch for Patrik Stefan and the Sedin twins.
Other Predictions: -- Byron Dafoe's holdout will last until Mike Richter suffers his first injury of the season, and the Rangers will cave and sign Dafoe to a long-term deal. Valeri Bure will last until November in Florida, and be shipped out for a draft pick. Vancouver will pick-up another defenseman by trading away forward depth as they continue to solidify their team. Marc Savard will rebound in Calgary with a 50+ point season and will still be traded by the deadline. Rob Niedermayer will find himself in the doghouse, while Blair Betts will be recalled to take his spot. The Flames will suffer injury problems on their blueline and will to trade for a veteran defenseman, who will subsequently help them get into the playoffs. The Saint John Flames will return to the Calder Cup finals…