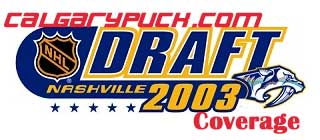 Calgarypuck Draft Coverage
1st Round Musings
---
June 21st, 2003
D'Arcy McGrath

9th overall - Dion Phaneuf
Phaneuf Profile
39th overall - Tim Ramholt
Ramholt Profile
The first round of the 2002 NHL Entry Draft was somewhat more quiet than expected this afternoon in Nashville.
Jaromir Jagr wasn't traded, and neither was John Leclair or Eric Lindros. The reported log jam to move up into the top ten picks didn't transpire, and much to his chagrin, Mike Milbury had less than 30 seconds of face time on television.
There were some interesting comments and happenings on the draft floor however.
Pierre, Lay off the Sauce!
One of the oddest things to watch or listen to was the constant bizarre ramblings of TSN analyst Pierre McGuire. I've watched a lot of draft coverage in my time, but I've never seen an analyst literally heckle and scold teams for not picking a certain player that was falling down the charts - in this case Zach Parise. Pierre, get over it, the kid lacks size.
Where you from Gord?
Speaking of TSN, I couldn't help but chuckle when TSN's Gord Miller dumped on the Flames 1998-2002 draft history while piling up acclaim on the Oiler's picks in that same time period. While I'll be the last one in line to defend the Rico Fata pick five years ago, I'm not so sure I'd label Oleg Saprykin, Brent Krahn, Chuck Kobasew and Eric Nystrom mistakes at this point. The point gets driven home twice as had when you notice the Oilers have their own Fata in Michael Henrich, plus some serious unknowns in Jani Rita, Alexei Mikhnov and Jesse Niinimaki. Clearly Ales Hemsky is doing just fine. Could it be that Gord's Edmonton routes bounced to the surface?
Hurry Hard!
Just what and why took the LA Kings so long to draft Anthony Stewart 26th overall, late in the first round? Great player slipping, back to back first round picks and you get a stall, a time out, another stall, and then a pick?
Where to Magic Jr?
Now that the most enigmatic general manager in recent National Hockey League history has drafted former Flame star Kent Nilsson's son, I'm left wondering where young Robert will be traded in the next 12 months?
Scratch, Scratch, Scratch?
Have to feel for the Edmonton fans that must have felt they won the lottery when both Anthony Stewart and Zach Parise fell to the Oilers at 17 only to have Kevin Lowe deal the pick to the Devils. I for one have no idea how Parise will turn out, or that he'll be a better pick than M. A. Pouliot, but to have a guy that you think could have gone in the top 10 fall to you then deal the pick? Ouch. In the end however, I think a team should stick to their list, and never, ever deal the draft's fastest falling prospect.
Phaneuf in Red and White?
Now that the Calgary Flames have bagged their rugged defenceman Dion Phaneuf, one has to wonder if the young blueliner has a shot to represent our country at this Christmas' World Junior Championship? The reigning silver medallists had six of seven defencemen with 1983 birth dates last year suggesting a complete turnover on the blueline. Perhaps Phaneuf and fellow top ten pick Braydon Coburn, one of the last cuts last year, may make the grade.
ESPN? TSN? ESTSPN?
Kind of an odd mix to see the regular TSN panel members broadcasting under the ESPN2 banner this year. I noticed in the first round when Canadian went one, two and three, they posted a "North American Sweeps Three" graphic showing the times when North American players took the top three spots. Would they have said North American if US viewers weren't tuning in? The only American in the four years of swept top three's was Nashville's David Legwand.