Behind the Numbers: In Search of Goals
D'Arcy McGrath
May 6th, 2002
First off ... having the National Hockey League's highest scoring player can only be a good thing.
However, when said player basically becomes a team's total offence, it's pretty easy to guess how a season can come to a screeching halt.
And so begins the challenge confronting Craig Button, and many of his counterparts including Edmonton Oiler GM Kevin Lowe.
Where can one find offence?
Oh wait there's a catch ... it has to come without giving up any current offence, and their contract shouldn't be too large.
Good luck.
NHL Goal Scoring
| | | | |
| --- | --- | --- | --- |
| # | Team | Goals | Payroll |
| 1 | Vancouver | 254 | 17 |
| 2 | Detroit | 251 | 5 |
| 3 | Toronto | 249 | 8 |
| 20 | Edmonton | 205 | 19 |
| 22 | Calgary | 199 | 23 |
| 28 | Tampa Bay | 178 | 25 |
| 29 | Anaheim | 175 | 13 |
| 30 | Columbus | 164 | 27 |
The best way to measure output by NHL franchise is to take a gander at total goals scored at the end of the season.
The table to the right depicts a sampling of the goals scored by the top three teams, bottom three teams and the Alberta teams for reference.
With the exception of the Vancouver Canucks at the top of the list and the Anaheim Mighty Ducks at the bottom, it becomes clear that you pretty much get what you pay for in today's NHL. In fact 17 of the 30 teams have their ranking in goals scored within five of their ranking for total payroll.
Simply put ... to find additional goals scoring a general manager has to be very creative and very lucky, especially if said general manager is operating on a shoe string budget. With goal scoring at such a premium it's easy to see why a "defence first" mentality is dominant in hockey circles today, with traps and neutral zone interference the only way to a level playing field.
Scoring Dependency
Given the above numbers, smaller market clubs would be best served aiming for the right balance, not the overall team total.
A sextet of above average contributors is much more difficult to keep in check than a team built with only one or two real threats.
When the league is analyzed in terms of dependency on a handful of players a few interesting trends begin to stand out.
10 players
The average franchise had their top ten goal scorers account for 79% of the team's scoring, or 171 of 215 goals.
The Flames and Oilers were right in line with these statistics, with Calgary having exactly 79% of their production from their top ten players, and Edmonton coming in just above at 80%.
That isn't to say that both clubs have the league's average offence, Edmonton sits 18th while Calgary sits in 21st, but the teams are at least uniform in terms of leaning on their top ten scorers.
As the core tightens up however, the glaring holes on both clubs second lines become very, very clear.
7 players
When the analysis is trimmed to each team's top seven goal scorers the Flames begin to show cracks in their armour.
The league average shows that each team should rely on their top seven for 66% of their output. Calgary had 69% of their goals scored by their top seven, while the Oilers maintained the league average.
5 players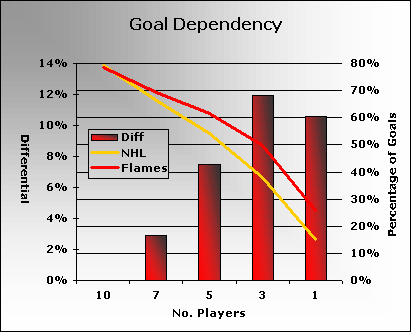 Summary: The table above shows scoring balance of the Flames and the league average. The bars show the difference (left axis), while the two lines show the percentage dependency (right axis) for the league and Calgary.
The margin between the Flames and the league average widens again when the numbers are run for only the top five players on each club.
League-wide the dependency average should be 54%, but the Flames sit 8% above that at 62%. A scary thought when this top five technically includes a player like Chris Clark.
Edmonton maintains the league average once again, sitting at 55%.
3 players
As you'd expect, the difference between the NHL average and the Flames continues to widen when just three players are analyzed on each team. Jarome Iginla, Craig Conroy and Dean McAmmond make up 50% of the Flames goal scoring compared to only 38%, the league's average.
The Oilers have 40% of their goals scored by their top three players.
1 player
The Jarome Iginla factor.
The Flames and Iginla ranked number one in this study in terms of dependency on just one player.
Iginla netted 26% of the Flames 201 goals this season, an incredible number when compared to the league average of 15%. The next closest player was Eric Daze in Chicago, who managed to score 18% of the Blackhawk's goals.
Mike Comrie of the Oilers scored 16% of Edmonton's 205 goals this season.
Great, but what does this all mean?
Both the Flames and Oilers sit in the lower half of the league when it comes to goal scoring.
How each team should approach this situation may differ greatly however.
When a team is analyzed in terms of it's top two lines the Flames and Oilers show some marked differences in where they come up short.
The Flames "top six" forwards are ten short of the average playoff team in the 2001-02 season.
| | | | | |
| --- | --- | --- | --- | --- |
| Player | Goals | % of Total | NHL Avg. | Diff |
| Mike Comrie | 33 | 17% | 34 | 1 |
| Anson Carter | 28 | 14% | 29 | 1 |
| Mike York | 20 | 10% | 24 | 4 |
| Jochen Hecht | 16 | 8% | 21 | 5 |
| Ryan Smyth | 15 | 8% | 18 | 3 |
| Todd Marchant | 12 | 6% | 16 | 4 |
| | 124 | 62% | 142 | 18 |
The Oilers top six are a full 18 goals short of that same measuring stick, suggesting the Oilers have more off-season work to do?

Guess again.

The Oilers, one through six are each within a maximum of five goals of their individual targets. Considering the very poor season by Ryan Smyth (injury, recovery) is included in these totals, they may actually achieve the playoff average by leaving their team as is. Mike Comrie, having only played a season and a half of pro hockey would represent their biggest threat of a slide, though his dominant play down the stretch would in fact suggest the opposite.

As it stands their variance is driven primarily from the three through six spot. Of their top six the only player that stands out as a third line or below player is Todd Marchant, the Oilers checking line center.
| | | | | |
| --- | --- | --- | --- | --- |
| Player | Goals | % of Total | NHL Avg. | Diff |
| | 52 | 26% | 34 | -18 |
| Craig Conroy | 27 | 14% | 29 | 2 |
| | 21 | 11% | 24 | 3 |
| | 14 | 7% | 21 | 7 |
| Chris Clark | 10 | 5% | 18 | 8 |
| Scott Nichol | 8 | 4% | 16 | 8 |
| | 132 | 66% | 142 | 10 |
The Flames are a very different story.
Though they have eight more goals from their top six players, the lion's share (as shown above) comes from one player, Jarome Iginla. Iginla outscored the average playoff team top scorer by 18 goals, allowing the remainder of the sextet to be outscored by 28 goals, and still come up ten short.
Like the Oilers a Flame optimist could point to very poor seasons by Marc Savard and Rob Niedermayer (who doesn't even make the list) as sources for internal improvement, but that would only be telling half the story.
The Flames top three goal scorers all set career marks for goal scoring. Will Iginla, Conroy and McAmmond be able to repeat this success next season? Possibly, but quite likely one of these players if not two will fall off the mark.
The Flames have two players in this group that are clearly third or even fourth line players.
Building A Winner
It will be interesting to readdress the rosters of both Alberta clubs when the dust settles on the summer activity, and training camps open.
Will Kevin Lowe add another top six forward, pushing Marchant out of this group and giving Mike York a winger to play with? Or will he rely on an improvement from the disappointing Jochen Hecht, or possibly a farm hand like Jani Rita?
The work in Calgary may be more complex.
Two top six forwards are needed in Southern Alberta, a fact that gets even more dicey when you consider that Marc Savard may be on his way out. How does a general manager turn up three top six forwards from one exiting without tearing apart a blueline that he's deemed untouchable?
He can't.
A player like Chuck Kobasew, the Flames top pick last summer, could possibly punch into the top six and relieve a lot of pressure, but counting on such is a very dangerous game for the Calgary executive group to play.
The Oilers struck gold in this area however, when Mike Comrie emerged just as Doug Weight's career in Edmonton was winding down. Can you imagine the unpleasant picture in Edmonton with their 33-goal scorer not coming through this past season?
In a month's time the search will begin ... with Alberta's two GMs jostling for that one needle in the very same haystack.