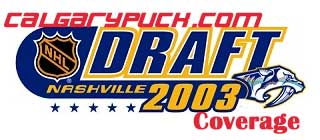 Odds and Ends
Darryl Sutter Comments on All Things Flames
---
June 12th, 2003
D'Arcy McGrath
You can't fit everything into a draft article.
But just so we don't leave any morsel of information out for a hockey mad off season crowd, this morning we offer up some odds and ends that either didn't fit the draft article yesterday, or wound up on the cutting room floor.
Make sure you check out the draft article (Pouring the Foundation)
More Draft Notes
When pressed a little on the topic of what type of player he was looking for Sutter continued to come back to the player that fit the team the best, but when it came to attributes he had this to say.
"Lets just say you can't teach size ... especially on the wings".
That would suggest that at least one of the club's top three picks will surely go to a winger with size.
He mentioned that he'd like to move up in the draft, but felt that it was going to be next to impossible because a lot of teams were looking to do the same. Additionally he hinted that a lot of clubs are looking to get into the Marc Andre Fleury sweepstakes.
Restricted Free Agents
The Flames have pushed themselves out in front of the pack, signing five of their restricted free agents before or just after the completion of this year's playoffs.
"We've been able to have some success, we've cut into half of our group", Sutter stated.
One has to wonder why the Flames have been out of the blocks this early. An out and out effort by the Flame's staff or a serious softening on stance on the side of the average player agen?
"We just try to get things nailed down, three to four days at a time. We've done a lot of work ... talked to a lot of agents, we've done a lot of paperwork."
The Game's A Changing
With the Collective Bargaining Agreement on the horizon, and more teams now aligning themselves on the "this is doesn't work!" side of the line, expect some serious changes to how NHL teams run their business.
We've seen the first move on this front in Calgary where the Flames have nixed their AHL affiliate and chosen to share a team in Lowell with the Carolina Hurricanes.
"We will have fewer players under contract ... all teams will", stated Sutter.
"In fact we will have a much smaller training camp this year".
The thinking goes; what's the point in signing an entire farm team, plus inviting 20 additional bodies to a training came when the most a team may gain from a flyer (player that exceeds expectations) is an additional depth player - the type of player that will soon become a dime a dozen in a reduced contract league.
"Darn rights there will be some lost jobs".
"The key is to nail your guys down, and it really helps that I've coached here for four to five months. I have a pretty good idea what these guys can do".
The Ongoing Development Camp
Some young Flames are two thirds of the way through a development camp, a camp that has seen a good mix of experienced minor league pro hockey players, drafted players, and walk- ons.
"It's a good mix", said Sutter, "I wished some of the European guys could have come over, so that I could have seen them".
"A guy like Medvedev is signed for another year over there ... he's only allowed to leave for tournaments".
Speaking of Andrei Medvedev the Flames rather rotund prospect is one of a handful of goaltenders with some serious promise in the organization, but one the only player in the group that isn't attending this week's camp.
"With Krahn, Damphousse and Sabourin all there, it's a shame we could have seen how Medvedev stacks up."
When pressed by Calgarypuck.com for who in his mind has stood out so far, Sutter just smiled.
"Sure some players have stood out ... I won't tell you who though."
Water cooler talk after the press session indicated a very solid development camp from both Damphousse and Sabourin setting up a serious battle for the goaltender spot open to Calgary in Lowell.
Many seem to think Calgary may have as many as three good options for a future starter in net, a figuere that doesn't include Brent Krahn, a former 1st round pick that has made some big strides in the last six months.
As for the rest of the players at camp, it seems that the young NHL players have shown they have NHL time on their resume for a reason.
Signing Young Russians
With the Oleg Saprykin threat to go home for "big money" last fall, there has been some concern as to whether the young winger will attempt a similar move this off season.
There's been a lot of talk in the media over the changing Russian climate; more money, better opportunities and a rising threat that more Russian players may come home, with some Russian prospects never actually crossing the pond.
The Flames have an interest in this climate not only because of Saprykin, but also because three of their top prospects; Andrei Medvedev, Andrei Taratukhin and Yuri Trubachev all need to be lured to Calgary to play.
"Those Russians are three of our top six prospects", offered Sutter.
"But you know what? We're all creating something that isn't. Too much has been made about the Russian system by the media. Sure there are million dollar contracts being offered, but the truth of it is that only five have been offered and the rest get considerably less".
"At the end of the day 99% of Russian hockey players want to play over here. They want to be the next Fedorov".