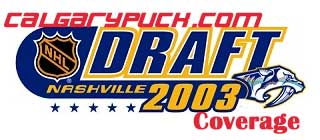 Calgarypuck Draft Coverage
1st Round - Dion Phaneuf
---
June 21st, 2003
D'Arcy McGrath
The Calgary Flames needed only to look 100 miles up the highway when they made Dion Phaneuf their first pick in the 2003 NHL Entry Draft.
"I've seen that team play so much, with my brother Brent in Red Deer", Darryl Sutter told ESPN after making the selection.
"He really wanted to come to Calgary too".
TSN's Pick Comments
"Compares himself to Scott Stevens"
"He's bigger than Barrett Jackman but plays a similar style"
"The Flames were worried that he may have been gone when they picked"
"Sutter couldn't be happier"
The fact that Phaneuf fell to Calgary was somewhat of a surprise given the rumours swirling that all three bluechip defencemen were slated to be taken 6th, 7th and 8th, one agonizing spot before the Flames were set to pick.
"Sutter told me if Phaneuf is still on the board when they pick, they're taking him", TSN's Gord Miller uttered shortly after the pick was made.
With Brent Sutter, Darryl's brother, owning, managing and coaching Phaneuf's Red Deer Rebels, the Flames clearly had a good book on the 6'2" 205 pound defenceman.
With Robyn Regehr and Jordan Leopold already thrust into key roles with the parent club, the team's prospect cupboard was looking somewhat bare on the blueline, a fact that has now been rectified with the club's first round selection.
Now that the Flames have their bluechip defenceman in the fold, look for Calgary to head to the forward ranks and draft a big center or winger with at least one of their two second rounds picks.