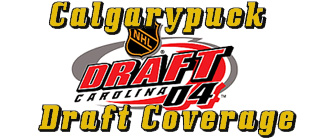 2004 Draft Coverage


Day One Recap
---
D'Arcy McGrath
June 26th, 2004



Well Darryl you did us in.

For weeks Calgary media, having not scouted more than a handful of 18 year old hockey players themselves, have busied themselves reading all they could find on a range of prospects expected to fall to the Flames with their first pick, 19th overall.

Clearly the opinion of said journalist, Calgarypuck.com included, would be a regurgitation of what was seen, and heard from an assortment of "experts", served up in summarized form for readers in the Stampede City.

So, with the picks winding down and three to five names still left to go on the estimated Flames list all scribes were ready when Darryl Sutter was next to step the podium and make the Flames first round pick.

Then a trade.

The Flames, shrewdly if you want my opinions, parlayed the 19th overall pick into the 24th and 46th picks in the draft while the Rangers took the 19th choice. At that point there were still a half dozen names still left that many would be happy to see in a Calgary uniform, so a club devoid of picks until Sunday after 19 made a heck of a move to bolster their pick count.

Then at #24 the Flames did it again, this time picking a player well off the mark in winger Kris Chucko from the Salmon Arm, Tier 2.

Chucko wasn't listed in the TSN top 50, sat at 49 in the Hockey News and was the last name in mind for many onlookers who, at this point, felt they had this draft thing figuered out.

Later in the day Sutter struck again when he then turned that newly minted 46th pick into the 70th and 98th picks, both in the third round.

Those picks were used to secure over age London Knight winger Brandon Prust, and Moose Jaw Warrior center Dustin Boyd.

Grading the Day

Through my draft analysis done last summer it became quite obvious that quantity in the entry draft can quite often trump quality. The Devils and Avalanche, both draft giants in the last decade seemed to always have more than the expected nine picks each year, and with these numbers have managed to build deep and formidable depth.

So ... in turning one 19th overall pick into a 24th, 70th and 98th, the Flames did a a great job on Saturday.

What they did with said picks could be a different matter altogether.

Frankly, I don't know.

A team that just did a number on the Western Conference through hard work, speed, and size seemed to forget the latter two attributes and focus almost solely on that hard work thing.

Chucko is a talent, though I have to wonder how much of his break through Tier II season was due to the play of his centerman Travis Zajac who was taken a few picks earlier by the Devils.

Prust seems to be a minor league filler, and Boyd has some upside, but all in all the Flames didn't add a whole lot of glitz to their prospect roster on day one.

But ... as we've seen time and time again with Sutter in his regime, they seem to know what they're doing.

Time will teall.