They're In!
Calgarypuck Projects the Flames Playoff Bound
December 13th, 2005
Remember the 80's?
Big hair, acid wash jeans, techno bands, the Rubix Cube, Cabbage Patch Dolls, and a Flames club that made the playoffs most seasons without breaking much a of a sweat.
A decade with one Doug Gilmour controversy inspired playoff misstep, marring a run of many a season where it wasn't "if" you made the playoffs, but "who" you will play when you get there.
Really .. that was the norm, honest. It's understandable that seven nasty seasons can leave a big thick pink blob of scar tissue on a hockey city's collective psyche, but the Flames were money in the bank at one time.
A dab of out of control finances mixed in with a healthy serving of expansion made those heady days a thing of the past as big league inferiority complex made it's way into the local hockey scribes.
But forget all that. The Flames have made the playoffs already this season.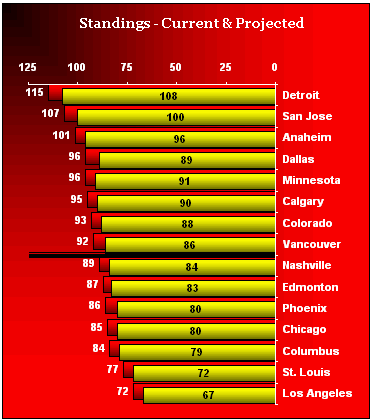 OK, I admit, when you open the paper or check out your favourite internet site standings page you won't see a little "y", or "x" besides the Calgary Flames, nor any other team for that matter. That little annoying classification of official or mathematical may not be sewn up as of yet.
Don't let that stop you from resting easy, though, trust me it's a done deal. They're in.
The Numbers
For each of the past three seasons, Calgarypuck.com has walked out a game in game out projected standings feature to help add perspective to the ongoing hockey season. It's premise combines games played both at home and on the road with the relative success to that point in each case, and then projects those results over the rest of the season.
No subjectivity, no spin, no magical formulas, but a step beyond the typical standings seen in most newspapers.
But does it work? How accurate is it?
The graph up above shows the 2005-06 Western Conference standings unfolding based on our model as of Sunday nights' games. The Flames are projected to finish with 107 points and finish 5th in the west. Detroit loses their perch on top to Dallas, and the Flames lose their division title to the Canucks based on the home/road winning percentage combination.
It is, however, only mid December, with a lot of real estate left on the schedule with many twists and turns yet to come. So essentially this is meaningless right?
In a word … no.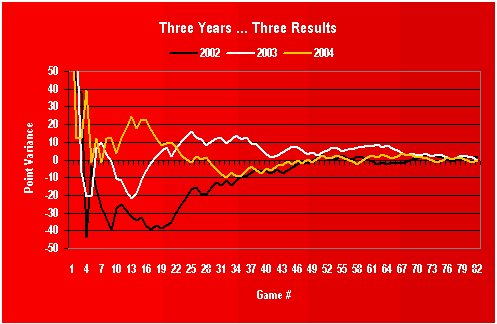 At least if the past three years are any indication.
The current season has a 9th place team (Phoenix) on pace for 93 points and an 8th place team (Edmonton) on pace for 96. With the Flames on a pace for 107 points that suggests a margin of acceptable error in our analysis of somewhere between 11 and 14 points to secure a playoff spot.
Charting the math through the past three seasons with a margin of error in that range has a pretty safe landing point achieved by mid December in all three instances. What's more remarkable is that this trio of seasons includes that ill fated campaign where the Flames were world beaters for the first six weeks of the season only to fall completely out of it by New Year's Even.
Take out 2001-02 and the numbers are even more tight.
The Flames were never more than ten points off their finishing total in 2002-03 after game 37, a December 17th matchup with the Nashville Predators.
During the 2003-04 season things were settled much earlier, with a ten or less margin achieved and maintained on November 20th, ironically a 2-1 victory over the Montreal Canadiens that featured Mikka Kiprusoff's first start as a Flame.
Even more incredible is the fact that the 2004 Calgary Flames were never more than five points from their projected finish of 94 points from December 13th on, or exactly the publish date of this article.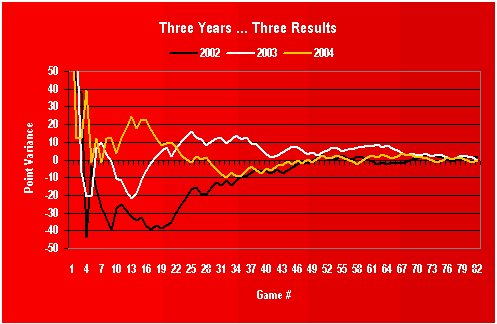 Put a five point band on the 2005-06 Calgary Flames and you see a range of 102-112 points to finish the season. At 102 you can pencil the Flames in for a top five spot in the West and perhaps home ice in the first round with a team movement or two. At 112 points they easily win their division and could challenge for the conference crown.
So sit back, put your feet up and enjoy the holiday season; in fact give up nail biting as your New Year's resolution in two weeks, it's a rare resolution that you can keep. Very little to worry about on the Flames front anyway.
Numbers can't lie, … can they?