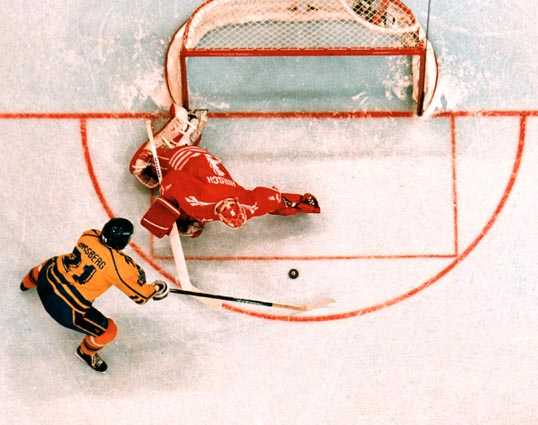 Fredrik's Olympic Hockey Take
Fredrik Swensson
February 13th, 2002

Calgarypuck.com regular Fredrik Swensson offers his opinions on the 2002 Salt Lake City Olympic hockey tournament, which commences on Friday. He'll take you through the make up of Team Sweden, and predict the final medal standings in a competition that essentially has six favourites. Canada and Sweden meet this Friday at 4:00 p.m. (mountain standard).




Fredrik Swensson


Favourite NHL team: Calgary Flames
Favourite Swedish Elite League Team: Farjestads
Hometown: Outside of Karlskrona in Ramdala, in southern Sweden
International Archenemy: Finland
Greatest Swedish Hockey Moment: Olympic gold 94
Greatest Swedish Hockey Disappointment: The Nagano Olympics, the first Canada Cup 1981


Handicapping the Swedes

Revenge. "Foppa". Scoring.

There you have it. The three things that have dominated Swedish media prior to the Olympics.

The three little things that have been the obvious talk around the table at Joe Average´s lunch-break.

Scoring

Sweden has one of the better defences in Salt Lake City. With Edmonton's Tommy Salo, and last year's talk of the NHL playoffs, Johan Hedberg in goal, there is little or no chance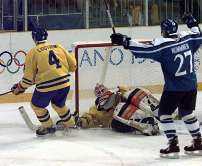 of Sweden getting pasted. Defensive specialists like Marcus Ragnarsson and Mattias Norström will do their part to keep the scoring down with help from hard-working centres Ulf Dahlén, Magnus Arvedsson, Per-Johan Axelsson and Mathias Johansson
With Fredrik Olausson, Nicklas Lidström and Kim Johnsson, who is having the same breakthrough year with the Flyers as we see Derek Morris having here in Calgary, Sweden can offer up a strong blueline.
Add to the mix forwards Tomas Holmström, Mats Sundin, Daniel Alfredsson and Mikael Renberg and Sweden has a powerplay to rival any team.
But beyond the blueline the problem starts. Players such as Niklas Sundström and the former prospect of Calgary, Jörgen Jönsson know how to score, but it is their defensive play that has taken them to the Olympics.
The fact is - Sweden will play the most offensive system, the torpedo system, with one of the most defensive-oriented squads in the Olympic Hockey Tournament. The system isn't as offensively oriented as when coach Hardy Nilsson
invented it, (or stole it from the Russians of the 1970's as his critics say) so perhaps the fear Team Canada's GM Lanny MacDonald, expressed during Sweden Hockey Games late last year, was uncalled for.
In fact, another Swedish team has invented an even more offensive system. With 20 points to the second team in the league, Färjestads Shackal-system may be the next big thing in hockey. The team has five players in Salt Lake City (Mathias Johansson and Jörgen Jönsson of Sweden, Dieter Kalt of Austria, Martin Gerber and Marcel Jenni of Switzerland, plus the assistant coach for Austria, ex-Capital Bengt-Åke Gustaffson), something not many NHL-teams can boast.
Foppa (Peter Forsberg)
Peter Forsberg's timeout/injury/comeback was the headline for every big newspaper for over six months. Will he, will he not, he will, he won't. Once it was determined he wouldn't play, the focus shifted to his replacement. Many people wanted ex-Flame Jonas Höglund to fill in for him. A line with Höglund - Sundin - Rehnberg was already "gunning" in Toronto. Andreas Johansson looked good on a line with Jörgen Jönsson and Mikael Rehnbeg last time they played together. Kristian Huselius, a young player with offensive skills, something the team was desperate for. Would it be him?
Every newspaper worth its name had a poll with who would fit best as Forsberg's replacement. In all polls, ex-Calgarian Michael Nylander won. But it was still a shocker when GM Anders
Hedberg and Coach Hardy Nilsson announced his name. After Nylander's benching in the World Championship in Russia, Nilsson and Nylander didn't see eye to eye, it was said. Though both said at a later date "not at all", the two parts replayed. "We are all adults, and can handle the things in a mature way". We will see about that…
Revenge
After the miserable departure in Nagano, the Swedish nation wanted revenge. Losing to Finland is hard at any time, doing it in a quarter final at the Olympics is a disaster. Especially with the play Sweden showed.
Flames Connection
The biggest surprise in the squad is Flames-prospect (at what age do you stop being a prospect?) Mathias Johansson. Perfect as a torpedo, he is one of Coach Nilsson's favourites - a very solid defensive player, who's able to reach higher levels in international competition. "There's not many players like Mathias Johansson in North America", coach Hardy Nilsson said after being criticized for the selection.
But don't expect Mathias Johansson to place himself atop the scoring list. "No line will get the instruction to play 0-0", Hardy Nilsson has said. But a line with Johansson at center, you won't see beautiful play, but a lot of hard work and a "no retreat, no surrender-mentality".
Look out for
Detroit draftee Henrik Zetterberg. He may have a big breakthrough at the Salt Lake games. Good at both sides of the rink, the Red Wings have let him grow at his own pace.
With Team USA getting older, the Czechs won't be able to surprise as they did in Nagano, the Russians as always, having problem with their egos, and the fact that the game is played on a big ice surface, without the red line. Sweden can be the big surprise in a one game final against the expected winners Canada. A bronze-medal, coming in third after Canada and the Czech is more realistic, though.
Fredrik's Calgarypuck Swedish Pronunciation Guide
Having problems with the å:s ä:s and ö:s in the swedish language? Follow Calgarypucks pronunciation-school:
Mattias Nor StrÖm, Tomas HolmstrÖm, Niklas SundstrÖm, Niklas LidstrÖm, JÖrgen Jönsson, Kenny Jönsson: The Ö is pronounced like in, for example, burn, or Hedberg. Example; Hedberg saves and Sweden burns out the light on the following break away.
The same goes for Mattias ÖHLlund. The importance of knowing how to pronounce ÖL can't be said enough, since it means beer in Swedish.
Ulf DahlÉN. Not Dahlen, like American commentators like to say, but Dá leeeeeen
Mikael Renberg, Johan Hedberg. Not like in burn, but as in beg. (Example: Canada begged for Hedberg to let one in.)
Kim JohnssOn, not Junsen, but Joooonsoon, with the first "o" being pronounced like in boast and the second as in boring.
MaGNus ArvedssOn - The GN is not pronounced after each other, they float together. See above for the -son.