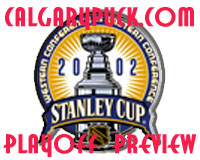 Calgarypuck.com Staff
April 16th, 2002
Though the Calgary Flames to a player will likely staff far, far away from their television sets over the next two months - unable to watch others go through the Stanley Cup chase - don't expect the average hockey fan to look away.
Tomorrow night the 2002 NHL playoffs kick off in four locals, with four Canadian entries set to wave the Canadian flag high representing the fallen Alberta squads.
The Calgarypuck.com staff will offer up their fearless playoff predictions; beginning today with a look at the East, and tomorrow with a look at the west.