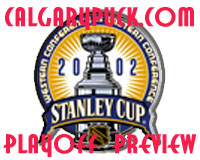 Calgarypuck.com Staff
June 4th, 2002
And then there were two ...
Twenty eight teams are now looking forward to next season as the Stanley Cup Finals kick off in Detroit, Michigan this evening. The finals feature one team that most expected to see in the final two, against another than literally no one could have expected, in one of the most mismatched final since Washington was swept away by Detroit five seasons ago.
The big question? Who will be watching, as the final appears somewhat anticlimactic to two interesting conference finals. At least if you are watching you should be able to avoid the word "we" from Hockey Night in Canada's crack staff with the Maple Leafs watching from the sidelines.