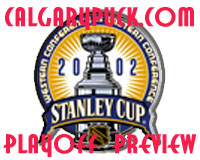 Calgarypuck.com Staff
April 17th, 2002
May 1st ... the Calgary Flames season just a distant memory, as die hard Flame fans focus more on off-season change and the entry draft.
Meanwhile, in eight North American cities the Stanley Cup Playoffs continue to steam roll ahead, and this spring there are actually more than just a token Canadian team carrying the flag. The upstart Canadiens have provided all the playoff dreams one could ask for and a all Canadian second round in Ontario means a Canadian club is guaranteed to advance to the semi-finals.
The Calgarypuck.com staff will offer up their fearless playoff predictions; by looking at both conferences in a preview today by looking at the second round.