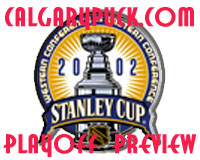 Calgarypuck.com Staff
May 16th, 2002
One month later and only one Canadian club remains ... Canada's Team ... the Toronto Maple Leafs, or at least that's the rallying cry in pockets all over the country.
The first round's crazy upsets gave way to sanity in the second round as four of the playoff's eight top seeds have advanced to their respective conference finals.
The next question to be answered? Who goes to the Cup final? That question gets answered today by Calgarypuck.com's crack staff (sarcasm ... just look pack at prior picks to get an idea of just how "crack" these fellows are). Conference Finals.