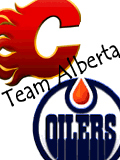 Calgarypuck.com Poll - TEAM ALBERTA
August 11, 2001
A couple of weeks ago fans were asked to pick their own Team Alberta from the current rosters of the Calgary Flames and Edmonton Oilers.
I say "Fans" and not Calgarypuck readers because many an Oiler fan perused the poll and tossed their opinions in, making the results interesting.
Below is the roster build from the poll results, with each position sorted by the number of votes received.
Ryan Smyth led all players with a high of 75 votes, followed by Jarome Iginla, Tommy Salo with 71, Marc Savard with 70, and Derek Morris with 69.
In the end, the twenty player squad rounded out with 11 Oilers and 9 Flames.
Notable players absent from the squad would include Bob Boughner and Toni Lydman on the blueline, Craig Conroy up the middle, and Georges Laraque and Dan Cleary on the wings.
Ryan Smyth - 75

Oleg Saprykin - 63

Dean McAmmond - 43

Ethan Moreau - 43



Marc Savard - 70

Rob Niedermayer - 64

Todd Marchant - 53

Mike Comrie - 44


Jarome Iginla - 73

Anson Carter - 67

Mike Grier - 53

Jochen Hecht - 51

Derek Morris - 69

Janne Niinimaa - 67

Jason Smith - 65
Robyn Regehr - 61

Eric Brewer - 60

Denis Gauthier - 44

Tommy Salo - 71

Roman Turek - 64