September 9th, 2002
Rate the Flames: Camp 2002
Center Ice
---
AP Photo
Pivotal: Can Craig Conroy repeat his break out season of 2001-02?
A few weeks ago, Calgarypuck.com asked its readership to assign a rating to each and every player on the Flames perceived 23-man roster.
Over the next five days, position by position, we'll take a look at the results, and then on Saturday (the commencement of this fall's training camp) the analysis will look at the team on a whole.
Today's feature ... Center Ice.
Flame Pivots
Sometimes things don't work out as planned.
This statement could never be truer than the Calgary Flames center ice position.
Flip the calendar back a full year, September 2001.
The Flames were opening training camp in Banff Alberta, a scant few days before the world's attention was to be diverted to the tragic events south of the border. The camp roster featured four clear cut NHL centers in Marc Savard, Rob Niedermayer, Craig Conroy and Clarke Wilm.
Little was left to be decided.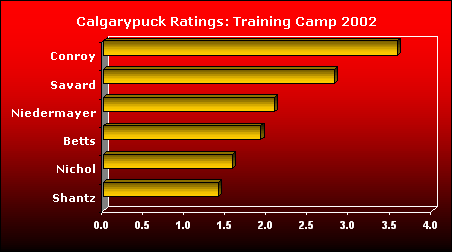 The Flames had two acceptable second centers in Savard and Niedermayer, one of the game's best third line centers in Craig Conroy, and dependable Clarke Wilm to hold down the fourth line.
At least on paper.
Less than two months later, the whole depth chart found itself turned upside down. An injured Marc Savard had lost his job to the suddenly dynamic Conroy, leaving Savard and Niedermayer to struggle through disappointing campaigns.
The events of last year are clearly evident in this year's ratings.
---
Craig Conroy

Rating:

3.6
Position Rank: 1st
Team Rank: 3rd

Craig Conroy has come a long, long way.

The three time Selke Trophy finalist, had a career season last year for Calgary, and judging by the ratings received from Calgarypuck readers, that break out season wasn't done with mirrors.

Conroy vaults into the first position with a rating of 3.6, a full 0.8 ahead of the second place finisher, Marc Savard.

His rating suggests Craig Conroy to be an above average center, not a star, but a solid contributing NHL player.
---
Rating:

2.8
Position Rank: 2nd
Team Rank: 9th

Last year's lead center has fallen a long way in the eyes of Flames fans, but luckily he had fellow whipping boy Rob Niedermayer to break his fall.

With a rating of 2.8, the writing is on the wall for Savard this season. Can he rebound to the 60 plus point center of two years ago, or will his lack of speed and defensive play continue to plague him.

His rating places him under the "average" point of NHL players according to our key.
---
Rating:

2.1
Position Rank: 3rd
Team Rank: 16th

If a player doesn't live up to expectations while gobbling a significant portion of the team's tight financial budget he's bound to catch the ire of hockey fans.

This is very true in the case of Rob Niedermayer.

Last summer the Flames acquired two hockey players, and both were schedule to make 2.1 million.

If the other addition, Bob Boughner, went on to score just six goals all would be well. But when a well paid center iceman comes up that short, it's impossible to dismiss his season as anything other than a huge disappointment.

With a rating of 2.1, Niedermayer is not only slipping below average in terms of talent, but he's approaching the cast off category. As it stood, Niedermayer was only able to hold off the inexperienced Blair Betts by 0.2 points.
---
Blair Betts

Rating:

1.9
Position Rank: 4th
Team Rank: 20th

Low expectations have a way of taking a lot of pressure off a player.

Expectations are the bulk of the reason behind Blair Betts' ability to leap frog a veteran like Jeff Shantz, and come within striking distance of Rob Niedermayer.

Betts has a shot at securing the fourth line center role this season with the departure of Clarke Wilm. His combination of size and two-way skill fit well with his age and his price tag, a combination that gives him a fighting chance.

His rating of 1.9 is fitting, in that it suggests he may be ready but shouldn't get too comfortable should he make the grade.
---
Scott Nichol

Rating:

1.6
Position Rank: 5th
Team Rank: 26th

How's that for a slap in the face?

Everyone's lovable hometown Cinderella story to be shown the door after one season? That's the take of the Calgarypuck.com readership. While it's understandable that Scott Nichol might slip in terms of center ice, his move to 26th on the roster overall is the biggest concern for a forward hoping to nab the 13th forward position with the Flames.

His rating of 1.6 puts him on the underside of the NHL bubble, which is very indicative of his battle at camp next week.
---
Jeff Shantz

Rating:

1.4
Position Rank: 6th
Team Rank: 27th

The distaste of Jeff Shantz in Calgarypuck.com readers' eyes likely has more to do with his contract and the direct ties to past horrid rosters, than the player himself.

Jeff Shantz is a NHL hockey player, his skills and experience make that abundantly clear.

However, one can't blame Flames fans for shuddering when thinking back to Flame rosters counting on Shantz to hold down the second line spot. Shantz playing over his head does not a playoffs make.

He'll be in a fight for his life to nab a top three line position with the Flames this fall. Look for a waiver wire claim to send Shantz to another NHL club in need of more veteran depth.