September 5th, 2002
2002 Flames Positional Analysis
The Boys on the Blue
---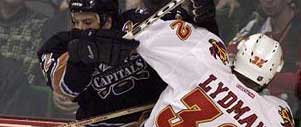 AP Photo
D-Fence! Toni Lydman and crew will have a big say in the Flames on ice success this season
by Calgarypuck.com Staff
August represents the dog days of the hockey year.
The playoffs have been completed.
The NHL draft has come and gone.
Free agents have largely been signed, rosters set, and each team begins to look ahead to training camp full of enthusiasm and hope.
Mid August also marks the end of Calgarypuck.com's creative hibernation, and a kick start into a new season with our first major feature of the season.
Today we kick off part one of a five part series that looks at the Calgary Flames team this year (as it stands) position by position.
Each Thursday, look for the next chapter in the series.
We'll look at the position's strengths and weaknesses, look at changes from this year to last, and provide an organizational depth chart.
Today's focus? Defence.
---
The Time Is Now
Rick Charlton

Are they all hype or the real deal?
Calgary's young defence core has been widely considered for a few years one of the best such groupings in the NHL, but the wait for potential to be fully realized is beginning to collide with the need to produce a winner.
Flames finished 13th defensively in 1996-97, the last year they qualified for the playoffs, and have been in the bottom two-thirds of the league in goals against ever since and not coincidentally, the bottom-two thirds of the standings as well.
There is more to defence, of course, than just defencemen. It's a total team effort, right from back checking forwards slowing attackers to strong goaltending propping everything up.
Then there is the issue of experience with defence admittedly the hardest skating position to master, years of accumulated servitude often needed to assist even the most talented of young rearguards to realize their full potential.
More often than not the confused state of Calgary's defensive zone coverage these last few years could be attributed to its still raw grouping of young defencemen.
But don't expect the Flames to give up on this group just yet. Although the name of Derek Morris has been floating in trade rumours throughout the summer, Flames GM Craig Button enthusiasm for deal-making might be tempered by his earlier observation that the NHL roadside is littered with the corpses of GM's who traded defencemen under the age of 25.
Among Calgary's young defencemen Denis Gauthier, still only 25, experienced something of a coming out year, his penchant for leaving the safe play for a big hit now more controlled and his all around game considerably improved.
Morris, 24, whose progress seemed to have flat-lined the previous two seasons, began the year with a remarkable first few months, but was never the same player when returning from a serious wrist injury. If there is one player in this group who will be under the bulls-eye this winter it will be Morris, the Flames needing him to move up several levels in his development and offer a consistent effort throughout the campaign.
Robyn Regehr, still a baby at 22, had what could only be described as a disastrous campaign, finishing the season at minus 24 while more often than not looking overmatched and outwitted. But this will be Regehr's fourth full season at the NHL level and he too needs to show consistently the promise that made him a first round draft pick.
Toni Lydman, now 25 and in his third full season, may have supplanted Morris as Calgary's best puck-rusher while also improving his all-around game to the point where coach Greg Gilbert came to rely on him in key situations. There should be more improvements in this package as well.
Petr Buzek, 25, a mid-season acquisition, was brought along slowly but remains a disjointed project, albeit with considerable upside.
All of the above will be one year older and presumably one year wiser as we enter 2002-2003, all but Regehr nearing or crossing that 25 year age barrier referred to by Button, the age when it should become apparent if inexperience has been holding them back or they were never meant to be more than they already are.
Supervising this mix is one of the best free agent acquisitions the Flames have made in a long time, veteran Bob Boughner, pulling down some $2 million U.S. per year for only two goals and nine points but probably worth every penny as a tutor for the young charges mentioned earlier.
A newcomer, supplanting veteran Igor Kravchuk, is Jordan Leopold, fresh from winning the Hobey Baker Award as the top player in U.S. College hockey last season. At 22, Leopold is likely stronger physically and emotionally more mature than a typical draftee entering his first pro contract. He will be given every opportunity to make the team but could also be spending time in Saint John for an introduction to the pro game. But all indications are that Button has high confidence Leopold will be with the team full-time by season's end.
If Leopold fails to stick in the early going, and assuming veteran Brad Werenka will continue to languish on the sidelines with a long-term concussion injury, then Steve Montador may finally advance to the big club. Montador had his moments in his brief call-ups to Calgary but also lacked the consistency he'll need to be more than a simple spare part.
And therein lies the enigma that we see with Calgary's defence.
The waiting, waiting, waiting for young defenceman to develop the consistency to play a regular shift at the NHL level versus the need of a franchise six years removed from the post-season to finally start winning.
And what if this is all they are?
One thing is certain. Unless Calgary moves back into the top half, if not the top third of the NHL defensively, as was coach Gilbert's stated goal before last season, a seventh year out of the playoffs is almost a foregone conclusion.
ORGANIZATION - It would figure either Montador or Leopold will join the wily but diminutive Micki Dupont in leading Saint John this winter. Dupont has the skills to be a very good offensive defenceman at the NHL level but the size, only 5'9" and 180 lbs., is something that can't be ignored, no matter how big his heart might be. Dupont has a chance at the NHL level, but most probably as a power play specialist.
Depth Chart
Denis Gauthier
Bob Boughner
Petr Buzek
Steve Montador
Micki Dupont
Rick Mrozik
Brad Werenka
Jesse Cook
Organizational Grade

(C) - It's no longer enough to grade this group on potential. This is the year of accountability, the year they need to prove they belong among the elite groups in the NHL.
---
Time to Shine
Aaron McCracken

"One of the best young bluelines in hockey."
It's a phrase that has been uttered for the last few years about the Flames' quartet of young, up-and-coming defenders. Sure, they've made mistakes. They've consistently been in the bottom third of the league defensively. And sometimes, you even wonder if they've improved at all. But they're still young, and they'll still get better, right?
Think again. With the group of Morris, Lydman, Regehr, and Gauthier all approaching their mid-20's and all having multiple seasons of experience, the time for excuses has passed. It's been six long years without the playoffs, and the Calgary fans' patience is wearing thin. This needs to be the season that the "Young Guns" prove their worth and lead this team into the playoffs.
And if not, a new wave of young defencemen are on the perimeter ready to take their jobs. Players like Jordon Leopold, Micki DuPont, Steve Montador, and maybe a surprise or two from across the pond (Roman Rozakov or Dmitri Kokorev) are looking for a chance to showcase their talents in the NHL. Hopefully, at least for Flames' fans, the incumbents will step up their play and remove any doubts about their abilities.
Here's how things shape up for the 2002-03 season…
Derek Morris is the undisputed #1 defenceman in Calgary, despite coming off a somewhat disappointing year. It could be an interesting year for the 24-year old, who is approaching restricted free agency after a summer of trade speculation. If he can remain healthy, a career year of 10 goals and 45 points is not out of the question.
Toni Lydman enjoyed an excellent sophomore season with the Flames, seeing increased ice-time and responsibility. A 30-35 point season should be in his sights.
Denis Gauthier and Bob Boughner provide a physical presence on the Flames' blueline and leadership on and off the ice. Gauthier became a much more reliable and error-free player last season and also chipped in occasionally on offense. Boughner played a huge-role on the penalty-kill and gives the Flames a fearless, crease-clearing defender who sticks up for his teammates.
Robyn Regher is hoping to improve upon a disappointing season where he finished with a team-worst -24 in the plus/minus column. Although this will be his 4th NHL season, he's still only 22 years old and hasn't fully developed into an NHL defender. The Flames are hoping that he makes big strides, especially in his defensive and physical game, this season.
The much-heralded rookie Jordon Leopold was the top college hockey player in the USA last season, and has been penciled in by many for a roster spot in Calgary. While Leopold is truly an impressive athlete, leader, and person, it's important to remember that virtually no NCAA defenceman in the last decade has made the jump to the NHL without spending some time in the minors first. Leopold may have all the tools to become a great NHL player, but don't be surprised to see him spend a month or two in Saint John adjusting to the professional game.
If Leopold does need some seasoning, the Flames will call on Petr Buzek, a former NHL All-Star (Ok, Ok… he probably didn't deserve it!) to fill-in. Buzek didn't make a major impact last season, but is very capable of playing 15-20 responsible minutes per game, exactly what Calgary needs from a #6 defender.
A trio of farm hands provides Calgary with adequate blueline depth, an issue that always seems to be important to the Flames. Steve Montador played some impressive games in Calgary last season was a top defenceman in Saint John. Mike Martin is a reliable veteran who is itching for his chance to make his NHL debut after six professional seasons, and Micki DuPont keeps proving critics of his five-foot-nine frame wrong with his spirited, athletic performances.
Depth Chart
Denis Gauthier
Bob Boughner
Petr Buzek
Steve Montador
Mike Martin
Micki Dupont
Rick Mrozik
Dmitri Kokorev
Jesse Cook
Rail Rozakov
Dave Huntzicker
Organizational Grade:
B- This is a solid, well-balanced group of defencemen that still have to something to prove. On the bright-side, most of the group is in their mid-20's (the age at which defencemen commonly start to peak) or younger, which brings hopes for improvements in the near future. Of course, the story about the great young Calgary defence corps is starting to get a little old… Clearly, the time has come for the young guns to start to shine.

The major concern about the group is with their performance on the Power Play, especially in the absence of Igor Kravchuk. After Morris (13th in the league with 21 PP points), the only player who had much success on the man advantage was Lydman (10 PP points). That means that Leopold (if he makes the team) and at least one of Regher, Gauthier, or Boughner (who together combined for 3 PP points) will have to chip in if the 2nd Power Play unit is to have any success.

Overall, if they stay healthy and improve as expected, these guys are good enough to help the Flames reach the post-season.

(Brad Werenka has been excluded due to the uncertainly of his injuries).
---
Must or Bust
D'Arcy McGrath

Talk in hockey circles always seems to gravitate to the Calgary Flames blueline.
Pundits point to the position as the team's strength, and the foundation for the rebuild and rebirth the team is trying to accomplish.
These pundits wouldn't be wrong.
Unfortunately, they'd also be a long way from right.
With a core that includes Derek Morris, Denis Gauthier, Toni Lydman, Robyn Regehr and Bob Boughner, clearly the pieces are in place, but the key is getting these same pieces to fit.
On paper the group should be the Flames most dominating attribute, but on the ice things just haven't worked out that way.
Derek Morris shot out of the gate last season and appeared to be well on his way to a plateau setting, break out season. Then he got hurt and his season went literally up in Flames.
Steady young defender Robyn Regehr, found his game taking a sizeable step backward last year, finishing with a an abysmal plus minus rating of -24.
Denis Gauthier was hurt; Toni Lydman was inconsistent ... you get the picture.
The Flames best chance at making it back to the post season lies at the feet of these five blueliners. If each player can fill the role designed for them the team takes a serious step forward. If the group suffers through another injury ravished inconsistent campaign the team simply doesn't have a chance.
The Big Club:
A well-designed hockey club should have a mix of different styles at each position, and this is even more critical on the blueline. To win a club needs a handful of hard hitting defensive defenceman, some puck rushing defencemen, and a powerplay quarterback, oh and plenty of depth.
The Flames have a very sound mix of these styles, but continue to suffer through the youthful, "on the job training" years of many of their players.
Derek Morris - It's September and Derek Morris is still a Calgary Flame. Seriously. The young rearguard spent the entire season in the eye of the trade rumour hurricane, but once again landed safely on his feet in Calgary colours. At least so far. Why he is still here is anyone's guess, but a betting man would suggest the offers were numerous, but maybe not up to the level of action for general manager Craig Button. Morris' contract is up after this season, a headache that will likely come close to the Jarome Iginla migraine this summer so this is a key season for Morris in Calgary. When on top of his game, Derek Morris is a throw back mix of offence and defence, finesse and power, gamesmanship and hostility. But like many of the Flames young defence Morris just doesn't bring his "A" game on a nightly basis.
Denis Gauthier - Denis Gauthier is the pulse of the Calgary Flames. Bob Boughner and Craig Conroy alternate the captain "C" but Gauthier is likely the most woven into the team's psyche and off ice persona. The hard-hitting defenceman came out of arbitration this summer with a new two year deal and will hope to add to a career best performance of last season. As with any year, the key for Gauthier is staying healthy, the team needs him on the ice.
Toni Lydman - Calgary's most under rated defenceman, there's a feeling that many a fan have yet to realize what lies under their collective nose in Toni Lydman. The Flying Fin is the club's best skater, and the only defenceman that can beat a defender one on one while carrying the puck up ice. The departure of Igor Kravchuk should give Lydman more powerplay time, giving the Lydman a serious shot at besting Morris for the team's lead in points from the back.
Bob Boughner - Few unrestricted free agent signings have the immediate and positive impact that Bob Boughner had on the Calgary Flames. He proved the perfect mentor to Calgary's two bruising proteges; Denis Gauthier and Robyn Regehr. By season's end he found himself as the team's co captain and will once again figuere prominently in the Flame's direction on and off the ice.
Robyn Regehr - NHL teams don't give up on 6'3" 235 pound defencemen. At least they shouldn't. Regehr has all the tools to be a sound physical, defensive defenceman, including size, strength and attitude. His shortcomings to this point have come in the form of consistency and a lack of hostility on the ice, both elements that Regehr will have to get in check if he wants to continue his rise up the Flames depth chart. A solid season from Regehr could shave as many as 15 goals off the Flames bottom line.
Petr Buzek - Transactions like the one that landed Petr Buzek in Calgary can go a long way in building a hockey team - a classic example of low risk and potential high reward. Buzek has never taken the easy approach to his hockey career. A major injury in his draft year had his star fall and with it his draft position. An amazing comeback had his life back on track before concussion troubles and contract squabbles had him shipped out of Atlanta. Now in Calgary, with little in the way of pressure to lead the blueline, Petr Buzek is a player to keep an eye on. If he doesn't make it ... hey ... the risk was Jeff Cowan.
Jordan Leopold - Flames fans will be keeping an eye on the two most intriguing prospects to take the ice at a Flame's camp since Joe Niewendyk left Cornell in 1988. For that reason Chuck Kobasew and Jordan Leopold will forever be locked in comparison, but for one major difference. Pressure. While Kobasew is expected to make the mark as a scoring winger on the club's second line, quite a bit less is expected from Leopold with the Flames deep blueline. In his rookie season, look for Leopold to either wrestle the sixth position away from Petr Buzek, split the time evenly, or spend a lot of the winter in Saint John. But ... be aware that the fortitude and talent of Leopold could change the Flames plans and expectations over night, Joe Niewendyk didn't spend a lot of time in the press box.
Should the Flames decide the farm is the best start point for Jordan Leopold's career, look for steady defender Steve Montador to fill the seventh spot in Calgary to start the season.
On the Farm:
Steve Montador is the rock on the Baby Flames blueline, and most likely recall to the big club, a role he also filled last year.
But that isn't to say the cupboard is bare.
Micki Dupont, pint sized blueliner from Calgary, and Mike Martin are both players that could get a look or two depending on injuries and performance in Calgary.
Depth Chart
Denis Gauthier
Bob Boughner
Petr Buzek
Steve Montador
Micki Dupont
Mike Martin
Rail Rozakov
Jesse Cook
Rick Mrozik
Dave Huntzicker
Dmitri Kokorev
Organizational Grade:

(B) The Flames will only go as far as this blueline will take them. Should this young group of defenders gain the game in game out consistency and mental maturity needed to play the position the team improves in all facets of the game. Their special teams will improve, their defensive coverage will improve, and the club's five on five offence will improve. If however, they suffer through another hard season of injuries and disappointments, the Flames post season plans will be put off yet another year.
---
Fab Four Swan Song?
Marc Ciampa

Perhaps the biggest question mark surrounding the Calgary Flames defence is whether or not the top six will remain intact by the end of training camp.
Since the conclusion of last season, rumours have been swirling regarding the departure of Derek Morris from the Calgary Flames. With those talks have come much discussion. Who could the Flames realistically get for Morris? And how good is the rest of the blueline? Can they afford to lose a defenceman of Morris' calibre?
The answer is; we don't really know how good the rest of the defencemen could be when thrust into that type of situation. Clearly, the Flames would benefit up front from a trade involving Morris but question marks abound on defence. For instance, Toni Lydman made tremendous strides last season. If he were to improve by the same amount again this year he would be a definite candidate to replace Morris as the power play quarterback. There are no guarantees anyone will improve, though, which makes it such a difficult situation.
As for Morris himself, this is the season he begins to be paid as an elite defenceman ($2.5 million versus $1.4 million last year). The last several years has seen a plateau in his development while 2001/02 was an injury-filled campaign that saw him start the year showing what he could be capable of on a regular basis. But the fact is, even though he's not quite where the Flames had hoped he would be by this stage in his career he was still chosen as the first defence alternate for Team Canada at the 2002 Olympics. Couple that with the fact that he's playing for a contract next season and he's likely to not disappoint.
Denis Gauthier has finally come into his own in the NHL. Last season, Gauthier was consistently Calgary's best defenceman on the ice and his presence struck fear in the hearts of forwards rushing down the ice. The emergence of Gauthier coupled with the off-season acquisition of Bob Boughner has given the Flames a strong physical presence that had been lacking throughout most of the past six years.
When the Flames inked Boughner last summer, many felt he was overpaid for what he brought to the table. In retrospect, he could be seen as one of the steals of the 2001 unrestricted free agent market. Boughner has brought strong leadership to the dressing room in addition to quietly and consistently playing tough physical hockey night in and night out.
Another enigma last season for the Flames was Robyn Regehr. When Morris was healthy at the start of the season, Regehr was outstanding. He was building on his strong 2000/01 season and developing in the mould of Adam Foote. Unfortunately, Regehr never seemed to recover after Morris went down with an injury last November. With a renewed focus and an even plus/minus rating, Regehr should be able to put last season behind him.
Aside from Derek Morris, one of the biggest questions on the minds of Flames fans (and perhaps Flames management) is how well is Jordan Leopold going to do? Winning the Hobey Baker award is by no means a guarantee of stardom in the National Hockey League, just ask Robb Stauber, but the fact that Leopold threw the University of Minnesota Golden Gophers on his back and lead them to a National Championship speaks volumes about his character and ability to play the game. Whether or not he follows in the footsteps of Gary Suter or Chris O'Sullivan remains to be seen but he likely won't go through training camp without turning at least a few heads.
Petr Buzek's role on the team will largely depend on the play of Leopold. If it's decided Leopold needs some time in Saint John to learn the pro game, Buzek will likely be asked upon to play more often. Either he or Leopold will be replacing the departed Igor Kravchuk. He provides the Flames with many options as he can capably fill in on the power play as well as play a smart defensive game.
On the farm, the Flames are as deep as they've been in quite some time. Steve Montador was proven very capable filling in from time to time last season, and if Mike Martin recovers fully from injury, he should be solid if called upon as well. Micki Dupont played well at the end of the season last year and the Flames won't hesitate to call him up again this year should injuries force their hand.
The years gone by of Glen Featherstone, Kevin Dahl, Bobby Dollas and Stu Malgunas seem to be behind the Flames now. With a number of solid prospects on the farm that can capably fill in, plus a strong core up in Calgary, the defence is looking good for 2002/03.
Depth Chart
Denis Gauthier
Bob Boughner
Petr Buzek
Steve Montador
Mike Martin
Micki Dupont
Rick Mrozik
Jeff Sullivan
Roman Rozakov
Dmitri Kokorev

Organizational Grade:

B Defence is definitely one of the strong points of this organization, especially the top six or seven. Their real strength lies in the fact that as a group, they're already above average but each one of them, save Boughner, will only improve.