September 12th, 2002
Rate the Flames: Camp 2002
Defence
---
A few weeks ago, Calgarypuck.com asked its readership to assign a rating to each and every player on the Flames perceived 23-man roster.
Over the next five days, position by position, we'll take a look at the results, and then on Saturday (the commencement of this fall's training camp) the analysis will look at the team on a whole.
Today's feature ... Defence.
Defenders.
A very deep group.
A very inconsistent group.
So goes the flow of Calgary Flames defencemen.
As we've stated before, promise and potential are great things to have within your organization, but if these players are on your every night roster they need to fulfill this promise now.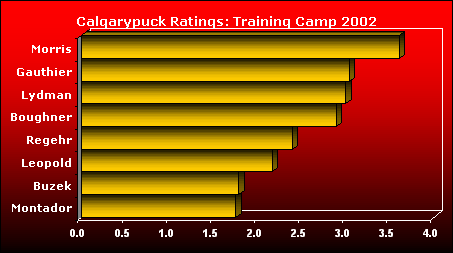 A defenceman needs more time in the icubator, we've seen this time and time again, but when a player approaches his mid twenties it's time to shave the peach fuzz and become part of the solution, not the problem.
Having said that ... the Flames best chance at advancing to the post season this year is their defence.
Development moves from Derek Morris, Robyn Regehr, Toni Lydman, and to a lesser extent Jordan Leopold could vault this team up the standings.
The individual abilities of the Flames blueline group was quite evident in the rating results with defencemen finishing 2nd, 5th, 6th, 8th and 11th on the team overall.
---
Rating:

3.6
Position Rank: 1st
Team Rank: 2nd

Derek Morris was traded to New York this summer.

He was also dealt to Toronto, Colorado, and possibly Dallas.

Funny thing is ... he's still wearing the Calgary Flames red, black and gold. Calgary fans may be thanking their lucky stars that this is the case.

Derek Morris has the table set for a break out season. Coming off an injury he wants to prove last year wasn't a fluke - the first half anyway. Secondly the player is in a contract year, and can seriously jack his contribution up by blowing the doors off with his best season.

Reports have Morris arriving in camp in the best shape of his career, showing the importance of the season wasn't lost on the young defender.

Calgarypuck fans had Morris rated as the team's second best player, but best defenceman at 3.6.
---
Denis Gauthier

Rating:

3.0
Position Rank: 2nd
Team Rank: 5th

Other than veteran Bob Boughner, no other Flame defenceman came as close as Denis Gauthier to fulfilling is potential last season.

He set new personal marks for goals and points, managed to stay somewhat healthy, and vastly cut down on the mistakes he previously made in his own zone.

Over the summer Gauthier was rewarded with a new two year arbitrated contract, almost doubling his 2001 pay.

Calgarypuck rated Gauthier 2nd on the blueline, and 5th on the team with a 3.03 rating. The second decimal is provided to show how close he and Toni Lydman finished in the results.
---
Rating:

3.0
Position Rank: 3rd
Team Rank: 6th

Could the Flames most underrated defenceman finally find himself noticed?

The results of the Calgarpuck Rate the Flames feature suggest as much.

Toni Lydman finished just .03 back of mainstay Denis Gauthier for 2nd on the club at his position, a far cry for the consensus "Trade Him!" cry from fans earlier last season.

Lydman is the Flames best, and arguably only puck rushing defenceman, able to beat a defender one on one with his speed and anticipation.

Don't count out Toni Lydman for the team lead in scoring from the back end.
---
Bob Boughner

Rating:

2.9
Position Rank: 4th
Team Rank: 8th

Two million well spent?

It would be hard to argue that the Flames didn't get full value for their money with Bob Boughner last season.

The hard nosed blueliner provided an excellent mixed bag of contributions to the Flames cause including; solid play in his own zone, jumping in with the fists when needed, momentum altering body checks, and then was name captain to cap the whole season off.

The Flames hope the mentoring that Bob Boughner is providing to his young position mates continues this fall with a new pony in the stable to guide.

Boughner finished a hair behind Gauthier and Lydman, coming in at 2.9, good for 8th on the club.
---
Rating:

2.4
Position Rank: 5th
Team Rank: 11th

The Calgary defenceman with the most to prove this season is Robyn Regehr.

His uncanny comeback from breaking both legs in a serious automobile accident three years ago gave the defenceman a super human quality with Calgary fans.

Last year, on the ice, the young defender proved he is human after all, struggling through a mistake prone third season in the NHL.

If attitude and raw skills suggest a direction, don't count this young player out, as he hopes to get back on track this season.

The skid in development last year was shown in his Calgarypuck rating, as Regehr fell to a 2.4 rating this September. It will be interesting to see his rating in December and April as the season plays out.
---
Rating:

2.2
Position Rank: 6th
Team Rank: 14th

Jordan Leopold hopes to cap off a brilliant calendar year by making the Flames and contributing as an NHL'er.

The young rearguard won the Hobey Baker award for best College hockey player, and then lead his squad to a championship.

If that wasn't enough, he was the only nonprofessional to represent his home nation, the U.S., at the World Championships.

For Calgary fans unfamiliar with Jordan Leopold, thing Gary Suter with additional leadership skills.

The hype around Leopold is evident in his 2.2 rating from Calgarypuck readers. That score put him two slots behind fellow rookie Chuck Kobasew, 14th overall on the team.
---
Peter Buzek

Rating:

1.8
Position Rank: 7th
Team Rank: 21st

If the chips fall as expected this fall, Peter Buzek will platoon the sixth and seventh spots on the blueline with rookie Jordan Leopold.

Buzek is an intriguing player to have in camp, especially when said player has such low expectations attached.

His skill package and age still suggest an upside of a top four defenceman, with this being his first full season in Calgary, it will be interesting to see which path his career takes.

His rating of 1.8 accurately reflects the enigma that is Peter Buzek.
---
Steve Montador

Rating:

1.7
Position Rank: 8th
Team Rank: 23rd

The Flames 8th defenceman will likely be Steve Montador this fall.

Like last year, in case of injury, Montador will likely be the first call recipient in Saint John.

He's a steady all around hockey player, that has risen from no status, to on the bubble, a feat in itself.

His rating of 1.7, is more than fair for a player with his upside and experience.