September 13th, 2002
Rate the Flames: Camp 2002
Goal
---
A few weeks ago, Calgarypuck.com asked its readership to assign a rating to each and every player on the Flames perceived 23-man roster.
Over the next five days, position by position, we'll take a look at the results, and then on Saturday (the commencement of this fall's training camp) the analysis will look at the team on a whole.
Today's feature ... Goaltending.
The Stoppers
The Dominic Hasek plan.
As long as four years ago, Calgary brain trust looked East for the framework and design to bring their struggling club back to the playoffs. Not to the Canadiens, or Leafs, the Wings, or Devils, but the Buffalo Sabres.
At that point, the Sabres were getting great mileage out of one star player, and a cast of hard working players, the star player, Dominic Hasek manned the pipes.
With this framework in mind the Flames looked into their system and anointed top prospect J.S. Giguere their Hasek, and then tried to backfill the present by acquiring goaltenders like Ken Wregget and Grant Fuhr.
That brain trust is gone, and this new management group was no where near as patient.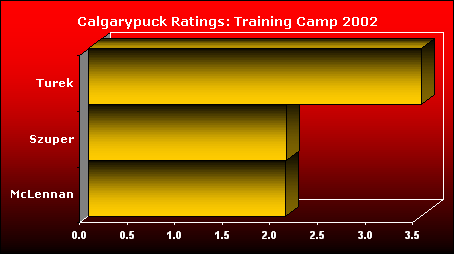 When Craig Button took over the reigns he immediately acquired Mike Vernon, and though this positive memory has likely faded for the average fan, Vernon almost single handedly dragged to the Flames into the playoffs during the 2000-01 season before suffering a concussion around Christmas of that season. He was never the same goaltender again.
Last summer Button looked for the "now" again, acquiring goaltender Roman Turek, a move that paid much more consistent dividends.
Averting unrestricted free agency, Button managed to lock the "large" stopper up and place the goaltending mantle in the most secure hands that this organization has seen since the early 1990's.
Goaltending is the least of Calgary's worries.
---
Rating:

3.5
Position Rank: 1st
Team Rank: 4th

Roman Turek's first month in a Calgary uniform was simply magic.

Flame skaters and fans watching from the seats quickly developed a "we can't lose" feeling watching the huge goaltender place his frame in front of everything, and still appear to be taller than Fred Brathwaite while on his knees.

The strenuous pace couldn't last, and things did come back to Earth, but Turek's first season in Calgary was a breath of fresh air for the organization.

Consistency, stability, a chance to win.

If the Flames man to man defensive scheme can find its way back to the pace set last fall Roman Turek will once again look unbeatable. Give him the first shot, clear the rebounds, the team will do well. Get running around, give the puck away every second shift and Mr. Tretiak himself wouldn't make a difference.

Turek's ranking of 3.5 places him at the very upper limits of an above average player, a fair assessment of the goaltender in Calgary eyes. Last season we opined on many an occasion that to win the Flames need Turek, Derek Morris, and Jarome Iginla firing on all cylinders, so it's interesting to see Turek's overall grade fall to fourth on the club, behind Craig Conroy.
---
Rating:

2.1
Position Rank: 2nd
Team Rank: 15th

For a man that has never played a minute of hockey in a Calgary uniform, Levente Szuper sure has a supportive following.

The Hungarian national made waves in training camp last season, not yielding a single goal in his appearances before hurting his knee.

Szuper went on to his most successful professional season, playing the bulk of the games in Saint John, and leading his native land to an almost upset in the second pool of the World Championships.

Szuper, a fourth round pick, has risen from obscurity to basically become the Flames goalie of the future, at least if Brent Krahn and Andrei Medvedev continue to fall on tough times.

His rating of 2.1 edged likely backup, Jamie McLennan by .01.
---
Jamie McLennan

Rating:

2.1
Position Rank: 3rd
Team Rank: 17th

Think Rick Wamsley.

When the Calgary Flames won the Stanley Cup back in 1989, starter Mike Vernon had a perfectly suited backup in Rick Wamsely.

He knew his role, he wanted to be in this role, and he kept his teammates loose during the process.

While the Calgary Flames are a very long shot to win the Stanley Cup this winter, they do appear to have another Rick Wamsley in the back up role in Jamie McLennan.

McLennan is a fine goaltender by his own standards, but likely doesn't have the game to be an NHL starter.

But he wants to be in Calgary, knows his role, and should provide solid goaltending in his 15 to 25 starts.

His rating of 2.1 was basically a dead heat with prospect Levente Szuper ... a sign of a battle at camp?
---