September 9th, 2002
Rate the Flames: Camp 2002
Left Wing
---
AP Photo
Carbon Copy? Can Dean McAmmond repeat his career best performance from last season?
Also See ...
Rate the Flames: Center
A few weeks ago, Calgarypuck.com asked its readership to assign a rating to each and every player on the Flames perceived 23-man roster.
Over the next five days, position by position, we'll take a look at the results, and then on Saturday (the commencement of this fall's training camp) the analysis will look at the team on a whole.
Today's feature ... Left Wing.
Left Wingers
The guys lining up left of center have been a huge weakness for the Calgary Flames ever since Gary Roberts departed to Carolina prior to the 1998-99 season.
No glitz, no sizzle, very little substance.
However, things are finally getting better.
Don't get us wrong ... there still isn't a lot in the way of glitz and sizzle, but the team is shoring up their substance, at least at one end of the ice.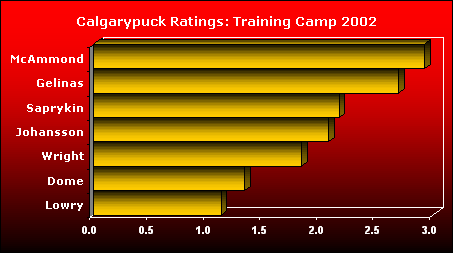 The left side has completely been rebuilt under the careful watch of general manager Craig Button.
He signed Dave Lowry, traded for Dean McAmmond, signed Martin Gelinas, and brought in depth players like Jamie Wright, and Robert Dome.
The only holdover at left wing from the Al Coates era is the enigmatic Oleg Saprykin, a player who is likely to find his season starting in Saint John.
As a group, the left wing side is built on speed and defensive responsibility, leaving the offence to the guys on the other side of center.
The group as a whole only has two players in the team's top ten rated players (McAmmond and Gelinas), but five players that fit within the 23 man roster limit.
---
Rating:

2.9
Position Rank: 1st
Team Rank: 7th

You can't have a better homecoming than Dean McAmmond received last year, his first season in a Calgary Flames uniform.

The Alberta native was tickled "red" when he learned of the transaction that brought him back to his native province, but after setting new marks for goals and points in his career, he's likely down right giddy.

For small market Canadian teams to compete, GM's have to continue to unearth hidden gems like Dean McAmmond, above average skilled players not being used effectively in their existing situations.

The Flames have utilized this same theory in the acquisition of Martin Gelinas this summer, hoping that lightening strikes twice.

McAmmond received a rating of 2.9, which slots him slightly above the "average" NHLer.
---
Martin Gelinas

Rating:

2.7
Position Rank: 2nd
Team Rank: 10th

Game winning goal to knock out the Toronto Maple Leafs in last year's playoffs ... how can this guy not be loved in Calgary?

Martin Gelinas wanted to come home? Not Quebec where he learned the game, but to the Canadian "left" coast where he first learned the pro game, and met his wife.

Calgary was happy to accommodate him.

Blessed with breakneck speed and an on and off again offensive touch, Martin Gelinas should be a very positive addition to the Flames. Though the focus may be on his offensive statistics, look for the defensive performance of Calgary's second line when adding up his effectiveness in red and gold.

Gelinas finished just 0.2 points behind McAmmond, good for 10th place on the club, a 2.7 rating translates into a marginally above average NHL player.
---
Rating:

2.2
Position Rank: 3rd
Team Rank: 13th

Clearly, by his third place finish on the depth chart, fans haven't given up on Oleg Saprykin.

Yet.

Another brutal camp and unproductive season in Saint John would seriously damage this perilous relationship however.

The can't miss kid from the 1999 and 2000 training camps has been a complete flop in the last 18 months of his professional career.

He has good offensive instincts, and excellent hands, but he appears to lack the jam to bring his game each and every night and the size to carry that "jam" through.

His rating of 2.2 puts Saprykin right on the equator between above and below average hockey players.
---
Mattias Johansson

Rating:

2.1
Position Rank: 4th
Team Rank: 18th

There isn't a lot of hard evidence when it comes to the abilities of Mattias Johansson, the veteran Swedish forward is making his first trip across the pond to play pro hockey.

Fans are somewhat optimistic, given scouting reports and the fact that Johansson made the Swedish Olympic team, one of only three NHLers to accomplish that feat.

However, given the result of the last European experiment, Jukka Hentunen, the tepid response seen in his 2.1 rating is certainly understandable.

Johansson will likely be a "defence first" winger for the Flames, or he may line up at the center ice position. Either way, the key to his game is preventing goals, and hopefully a provide a positive influence to the team's penalty killing ranks.
---
Jamie Wright

Rating:

1.8
Position Rank: 5th
Team Rank: 22nd

Up, down, up, down ...

Jamie Wright has always been just good enough to be that last cut at most of his NHL training camps.

As a result he's seen more airplanes than many airline pilots over the past several years, traveling from either Dallas or Calgary to an AHL affiliate and back again.

As if often the case with depth players, his strengths seem to also be his weaknesses - he doesn't do anything particularly well, but he does everything reasonably well.

His rating of 1.8, above "holding on", and below "average" is fitting.
---
Robert Dome

Rating:

1.3
Position Rank: 6th
Team Rank: 28th

Robert Dome is a very interesting off season signing by the Calgary Flames.

Like new teammate, Oleg Saprykin, Dome has the ability to force the Flames to clear space for him on the big league roster, but the inconsistency to also limp away without a whisper.

After several disapointing seasons in the Pittsburgh organization, Dome is looking for a new lease on life with his second NHL club.

The Flames are hoping he takes full advantage of this opportunity.

Dome was rated 1.3 by the Calgarypuck fans, a number that puts him right in the middle of the "holding on" category.
---
Dave Lowry

Rating:

1.1
Position Rank: 7th
Team Rank: 30th

Was Dave Lowry really this bad last year?

In a word, yes.

Lowry is a great person, and a consummate professional, but his game slid too far to reasonably expect to hold down NHL employment last season.

When a player ages, it's natural to see a lost step, and an equivalent erosion in offensive skill. But when said player also seems to lose the ability to chip in defensively, he becomes more of a liability than an asset to the team.

Dave Lowry is slated to attend training camp this weekend with the Flames. He's looking to prove to the team and to himself that last year was a blip on the radar screen and not a sign that the end is near for the scrappy winger.

His rating of 1.1 is the lowest rated player of 30 receiving grades in this analysis, a judgement that is largely due to failed expectations, than a true ranking.