Lifting the Hood On Special Teams
Calgarypuck.com

Penalties, penalties, penalties ... the only real constant from game to game in National Hockey League.

If a team has less than stellar special teams they are likely down a goal or two before the puck is even dropped.

These days almost half of each NHL game is played with one team or the other at a disadvantage in manpower.

Calgarypuck.com takes a look at some statistics surrounding each team's play both on the powerplay and with one of their own cooling his heels.

The Power Index

A great way to measure special teams is to toss out the percentages and just go with goal scoring, for and against.


The graph to the right shows a left to right ranking of teams when it comes to "net" goals scored on special teams.

The number is calculated by taking powerplay goals added to shorthanded goals, and then subtract powerplay goals against and short handed goals against.

The area above the axis shows teams that have had a net gain from special team situations, while the teams below the axis have suffered.

The Referee Index

The one constant from fan bases across 30 National League cities is the feeling that their team is being unjustly singled out by the league's officials.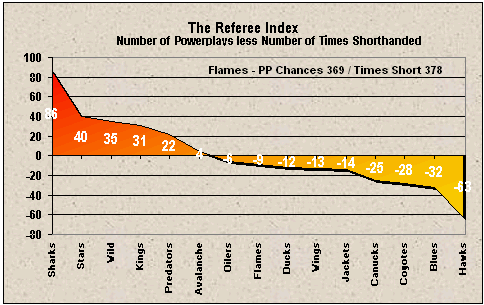 Most see their team getting all the bad calls, and the referees quick to look the other way when the other team is guilty of an infraction.

Clearly, justice can't be solved with an analysis like this - you'd have to pour over video tape after video tape to get a tally of bad calls for and against each team, but the graph to the left does show each teams' inequities when it comes to the number of times they are on the powerplay compared to the number of times they are shorthanded.

The 100% Test

A hockey club can have a brutal powerplay as long as their penalty killing work is solid. Similarly a team that is inept at killing penalties can get by as long as their own powerplay is zipping along at a good pace.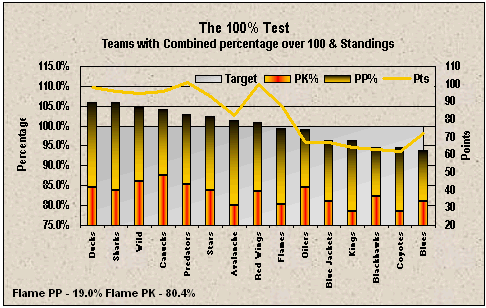 The graph to the right looks at the combination of powerplay and penalty killing percentages to this point in the season, searching to see which teams manage to top 100%.

As an added feature the graph also includes a line that depicts each team's point total to date to help the fan draw conclusions as to how important special teams can be to the bottom line ... winning.


Back to Calgarypuck.com
Read other Stories
Talk About it!