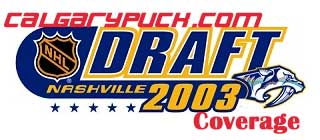 Pouring that Foundation
Rookie GM Darryl Sutter Plots His First Entry Draft
---
June 11th, 2003
D'Arcy McGrath
Like any building, a hockey team is always built from the ground up.
Upon a solid foundation, complimentary parts are brought together to become greater than the sum of their individual parts.

In an era of money where the playing field is far from level, small market teams like Calgary simply can't afford to fail when it comes to the selection and then development of their future.
Make sure you check out additional information in .. (Sutter Odds & Ends)
"Kids are important", stated Darryl Sutter from just outside the Flames' dressing room at the Saddledome on Wednesday afternoon. A comment that was fitting as one of the "kids", Jordan Leopold, walked by on the way to a work out.
"Hey Jordan" he called out as the soon to be sophomore defenceman moved his way by the media scrum.
"We haven't done enough drafting and developing around here", he continued, "Blair Betts is one of the few to come through the system. Now it's his time".
The first step in drafting and developing young hockey players is the actual selection process, a process that Sutter will experience as a general manager for the first time a week from Saturday in Nashville.
Pick up any draft preview published this summer and you'll see a blurb in each team's write up describing the draft tendencies of each club. Often the token "take the best player available" is provided with examples of past picks as a backup.
In Calgary that just isn't possible.
We can look back on a few years of Doug Risebrough, then at four seasons under Al Coates, and then three under Craig Button, but with a new regime once again in place in Calgary, it's anybody's' guess what Sutter has in mind.
"I wouldn't say we'll take the best player available" offered Sutter, "but maybe the best player available that fits our team".
Got it all figuered out then fans?
I didn't think so.
"No matter who we take, you know it's going to be a two to three year project, not a guy that can just step in. We can use players at almost every position. We have a lot of right wingers under contract, a young group of defenceman, and some good prospects in goal."
From that one could gather that the man was looking to the left side or center on the forward ranks as his initial thought going into the first round, a round that will see Calgary draft in the ninth spot.
But then just as the ink was drying on everyone's notepad he injected "but you can never have enough defenceman".
And the mystery carries on.
The Flames have three picks in the top 50 to 55 selections of the draft, an opportunity that clearly has Sutter very enthused in such a deep group. (The compensation pick for losing Curtis Joseph is expected to fall into the 41-51 hole, but the NHL didn't confirm the exact spot today as expected).
"With three picks in the top 50 you hope to go three for three - bring in three quality players. That doesn't always happen as we know, but that's the aim. We know were going to have a very good player available not only when we draft 9th, but also in the second round for our two picks".
It's a peculiar time for Sutter and the Calgary Flames. Sutter has inherited his predecessor Craig Button's entire scouting staff. That's an awkward situation at the best of times, but it's made even worse when one of said scouts is Button's brother Tod.
"Everyone trusts their scouts, there the one's that do all the work. I'll have some input into the team's needs but at the end of the day it comes down to the guys that saw them play."
He gleams his confidence in the group from their recent work pointing to past successes as all the proof needed for their ability to find talent.
"They did an unbelievable job last year. Nystrom, a big strong kid whose a couple of years away ... Lombardi, how many kids score 25 goals in the American Hockey League in their first season of pro hockey? Plus that Calgary kid in goal (Curtis McElhinney taken 176th overall), how many youngsters get taken that late and then become a number one goalie on a top six college team? The Russians the year before. Medvedev, Trubachev and Taratukhin are three of this club's top six prospects".
For his part he played down the drafting by origin angle that has buzzed around Calgary since his comments in accountability sessions at the Saddledome earlier.
"We have no preference in origin", he stated. "I guess I'd lean towards a North American player, a Canadian player, but to be honest it's a very deep draft, you won't get yourself in any trouble by isolating to any one region".
"In the end the kid's background is the most important. Where he comes from, what he's made of."
Someone mentioned the fact that there are two to three players in this draft that are sons or nephews of former NHL players, a factor that a Sutter of course wouldn't play down.
"Oh bloodlines are huge. But these kids are all first rounders for reasons other than their names. At one point in their careers they may have got a boost from their father or uncle but they got to this position on their own."
"I've seen Ryan Suter play. You naturally make comparisons and as having coached Gary, you hope he turns out the same way. He's going to be a very good player. He was a year younger then his teammates at the World Juniors and he stood out".
When pushed to see if he's had any influence pushed upon him by his brother Brent in Red Deer - a man with more than a little interest in another defenceman expected to go high, Dion Phaneuf - Darryl Sutter smiled.
"Everyone wants their players drafted."
Darryl like five of his brothers made this trek to the NHL many a year ago.
And where was Darryl when he heard the news that he had been drafted by the Chicago Blackhawks in the 11th round of the 1978 NHL Entry Draft?
"I was pouring cement 12 miles North of Viking Alberta", he stated as a matter of fact. "Bobby Orr called which thrilled Brent and my mother because they were both Bruin fans".
Interesting that he'd bring up the word cement, a key ingredient in that foundation we discussed at the outset.
And is that cement still in place Darryl?
"Of course".
And the Flames can only hope that a few years from next Saturday they are able to claim a similar story for the players they poured into their foundation.
It all starts from there.