September 11th, 2002
Rate the Flames: Camp 2002
Right Wing
---
A few weeks ago, Calgarypuck.com asked its readership to assign a rating to each and every player on the Flames perceived 23-man roster.
Over the next five days, position by position, we'll take a look at the results, and then on Saturday (the commencement of this fall's training camp) the analysis will look at the team on a whole.
Today's feature ... Right Wing.
Right Wingers
The players lining up left of center may lack the game breaker, the superstar, the player that puts butts in the seats, but in terms of depth and certainty, they are all over the right side.
When it comes to right wing, the Flames roster literally moves from a full out feast, to a desolate famine.
The scary truth is the fact that it all comes down to a 20-year-old.
Yikes.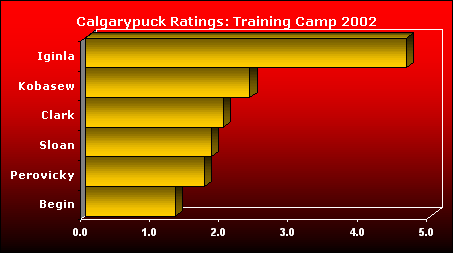 A signed Jarome Iginla is sure to get his points. He may not reach 50 goals and 90 some points again this season, but he's a good bet to clear 40 and 80 at least.
Then things get dicey.
The ideal NHL lineup would have a clear cut first line right wing, a well-suited second line right wing, and maybe even a third line right wing. The fourth line can be left to sort itself out.
Not in Calgary, at least not yet.
The first, third and fourth spots are well taken care of, but the second line job will likely fall to a Chuck Kobasew, a rookie with exactly zero NHL games under his belt.
---
Rating:

4.7
Position Rank: 1st
Team Rank: 1st

This may come as a complete shock, but it appears Calgarypuck fans are pretty high on Jarome Iginla.

Go figuere.

The Calgary Flames right winger accomplished just about every possible personal milestone goal or achievement last season including his first all star game, an Olympic birth, the scoring title, and major league awards.

Accordingly, the Calgarypuck readership rated him a 4.7, a number that puts him between the lofty tag of superstar, and the immortal tag of "the best".

In camp with a brand spanking new contract under his arm, the pressure now sits on Iginla to prove that last season wasn't a fluke, and that he can lead his club to the playoff promised land.
---
Rating:

2.4
Position Rank: 2nd
Team Rank: 12th

It says a lot about a team's depth when a rookie winger that has never suited up for a regular season game finds himself ranked second on the club at his position.

But, such is the case with Chuck Kobasew.

The lofty height are part and parcel to two major factors.

No other right wing has the talent to hold down a second line spot, and the average hockey fan is very high on Mr. Kobasew.

The pressure is on to see if he can deliver.

His rating of 2.4 doesn't appear all that high on a first glance, but to be classified as an average NHL player without playing a minute is quite an achievement.
---
Chris Clark

Rating:

2.0
Position Rank: 3rd
Team Rank: 19th

When teams improve in the standings, often players find themselves settling into roles to which they are more accustomed.

At least that's the design in Calgary, specifically with Chris Clark.

Last year's second line designate, struggled in terms of offence last year, only managing 10 goals through the season. However, 10 goals, from a player more suited to the third line, and with only one full season under his belt should have been a pleasant surprise.

His rating of 2.0 is more than fair given his role, and output.
---
Blake Sloan

Rating:

1.8
Position Rank: 4th
Team Rank: 24th

Blake Sloan isn't a flashy hockey player.

He won't put up big offensive numbers, or stand out all that much for the average hockey game.

However, that's likely exactly how the Flames want it.

Players charged with preventing goals should go unnoticed, it's when they stick out you know the puck is the Calgary net.

Sloan hopes to be key in the Flames attempt to return to penalty killing respectability this season, a factor made more huge by yesterday's announced crack down on obstruction.

His rating of 1.8 (slightly below average) seems to have fit the player and his role quite well.
---
Ron Petrovicky

Rating:

1.7
Position Rank: 5th
Team Rank: 25th

Just who is Ron Petrovicky?

Junior scoring star, Doug Weight antagonist, super pest, and infirmary regular ... all tags he has toiled under in the past.

When he's at his best he's the most abrasive, in your face, member of the Calgary Flames. Last season, however, his game lacked that sand paper edge on a game to game basis.

A case of no longer wanting to put in that extra, unglamorous effort, or a nagging injury that seriously limited Petrovicky's ability to play his game.

This season may go a long way in figuering this guy out.

Petrovicky is firmly on the bubble in Calgarypuck.com's eyes, ranking fifth on the club in terms of his position, and 25th on the club overall. His rating of 1.7 has him above the "holding on" classification, but not by much.
---
Steve Begin

Rating:

1.3
Position Rank: 6th
Team Rank: 29th

Steve Begin and Ron Petrovicky have a lot more in common than their perilous position on the club's roster. They have similar styles.

Begin, like Petrovicky, is at his best when he's stirring things up, and getting the opposition off their game.

He delayed signing a contract this summer in an effort to broker a one way deal, a shrewd move that would give him leverage in camp in his battle to stay in the NHL. In the end, however, he was forced to sign a similar two way deal that has him in a dog fight with as many as six other players to break camp in Calgary.

His rating of 1.3 was 6th for right wings, and 29th on the club, ahead of only Dave Lowry.