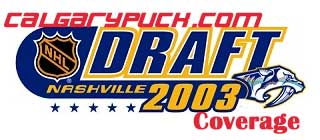 Calgarypuck Draft Coverage
McGrath-Look For Surprises
---
June 20th, 2003

D'Arcy McGrath

It's almost like this club follows a script.

Miss the playoffs, but don't miss them by a country mile. Get a good draft pick, but make sure the draft pick isn't too close to the number one pick. Have a bad run of hockey, a tough 70% of a decade, but manage to avoid drafting any clear franchise players in the process.

Gloomy? For sure.

Accurate? Hard to argue isn't it?

Since the 1996 season the Calgary Flames have missed the playoffs seven straight seasons. They now hold down the longest current running futility streak in the National Hockey League - that's right folks we can't even make fun of those funny Bolts from Tampa Bay.

Through these miserable seven seasons of heartbreak the team has never managed to break into the top five of any draft and grab a "can't miss" hockey player.

In 1997 they drafted 6th, ditto for 1998. In 1999 they were slated to pick in the ninth spot but deal the pick to the Rangers and picked 11th. In 2000 they used their own pick at nine again. In 2001 they traded down again, moving from the 11th spot to the 14th. Last June the Flames took Eric Nystrom with the tenth pick after moving down again from the ninth overall pick.

That's 6, 6, 11, 9, 14, and 10. The result? A few busts and a few promising players, but no franchise players.

This season the club flirted with the top five, in fact they seemed to have a top three spot all but locked up in early March before a final 20 game tear and the collapse of a few basement dwelling compadres (don't even get me started on the Pittsburgh Penguins) left the club listing up the standings and out of a solid draft choice.

All that, as they say, is water under the bridge. The club is once again slated to pick ninth and it's my job to take a wild stab at who they plan to draft.

To zero in on that pick, I've chosen to look at a prospect grid based on a few choice comments by the Flames general manager.

Exhibit A: "but you can never have enough defenceman".

Exhibit B: "you can't teach size, especially on the wings".

Exhibit C: ""I guess I'd lean towards a North American player, a Canadian player ..."

Canadian, big, and likely a defenceman or a winger seems to be the criteria currently cooking in the gray matter of Calgary's latest general manager.

That would eliminate M.A. Fleury as a goaltender (as if they had a chance anyway), Nikolai Zherdev, Milan Michalek, Thomas Vanek, Andrei Kastsitsyn and Konstantin Glazachev since they are European, and Zach Parise for his lack of size.

Who's left?

Eric Staal, Nathan Horton and Ryan Suter, three players beyond the Flames reach in the first round, and then a bunch of players that could conceivably fall to Calgary.

I'm tempted to throw my hat into the ever popular Dion Phaneuf ring, as my esteemed Calgarypuck.com colleagues have done on each of the past two days, but where's the fun in that?

Instead, I'll predict a full alignment of planets that sees the hulking Braydon Coburn fall to the Flames, after a heart stopping trade between Atlanta and another team in order to acquire the talented Czech center Michalek 8th overall.

Unlike the last time we've seen this script play out in Calgary (Jamie Lundmark falling in 1999 - funny how players seem to fall for a reason, isn't it?), Sutter won't have a predraft deal to move down, taking him away from Coburn. However, that doesn't mean there won't be drama. Just as Mr. Sutter is about to climb out of his chair Mike Milbruy will appear on the periphery of your television screen resulting in a time out and a whole lot of hand wringing. Five minutes later a clearly angered Milbury walks away and the Flames head to the podium to announce Coburn.

You saw it here first!

Who will the Flames select in the first three rounds?

9th overall

: Braydon Coburn
39th overall: Mike Richards
47th overall: Bryan Boyle

Which top prospect will go later than expected?

Dustin Brown, the #2 ranked North American skater falls not only out of the top ten, but also out of the top 15.

Which top prospect will go earlier than expected?

Ryan Suter ends up in the top three when Pittsburgh takes him third overall.

Who will be the best player to come out of the 2003 draft 10 years from now?

Whoever Calgary picks ... come on they're due! In all seriousness, Andrei Kastsitsyn goes onto a brilliant NHL career, never letting epilepsy slow him down.

Crackpot draft prediction?

The Philadelphia Flyers finally buckle under Rick Dudley's pressure and deal Justin Williams and thier 11th pick to the Panthers for the right to take M.A. Fleury first overall.