It would be an understatement to suggest Calgary fans have been spoiled somewhat lately when it comes to projecting first round selections in recent entry drafts.
Picking 4th or 6th (twice) is a range much easier to break down, creating three month debates about Sean Monahan vs Elias Lindholm, or whether the Oilers were going to take Leon Draisaitl or Sam Bennett. Last summer the Flames received some good fortune when the likely 4th overall pick Matthew Tkachuk fell to Calgary at 6 and then promptly went on to show his moxie in his rookie season in Calgary.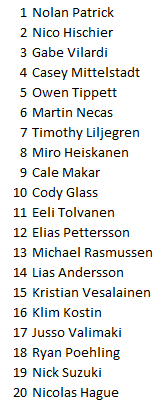 Two years ago the Flames were slated to pick in a similar spot with my player circled as Matt Barzal when general manager Brad Treliving stole the show by swinging a deal and acquiring Dougie Hamilton and not selecting on Friday night.
This year at 16, in a draft that has very little by way of consensus is almost like herding chickens in predicting what the Flames might do when they go to the podium.
– Full Article –