When it comes to prospects, prospect depth and the draft it's literally been famine or feast for Calgary Flames fans over the years.
From first round busts and prospect lists topped by depth players and tweeners to graduating their first round choice straight to the National Hockey League in three straight drafts (small interruption in the time continuum for the Dougie Hamilton transaction), Calgary fans could be given a pass for wondering whats what if Jusso Valimaki heads back to the WHL this season.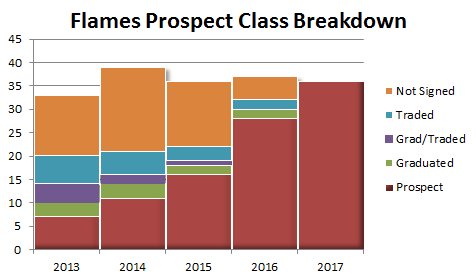 But that's not normal. Generally prospects take some curing before they are ready for the big stage, and with that we take a look at the current stable of hot housed prospects hoping to add to an already young NHL core.
The 2017 Calgarypuck Prospect Ranking takes a very different turn at the top. Instead of a recent draft pick in the #1 spot, instead you have a lifer that seems to have taken some major steps towards fulfilling his long term project moniker applied on his 2012 draft day. Is Mark Jankowski NHL ready, or will he be in the top five prospects again next summer? With camp just around the corner we are about to find out!
| | | | | |
| --- | --- | --- | --- | --- |
| Rank | Player | % | Vote | Run Off |
| 1 | Jankowski | 66% | Poll | |
| 2 | Parsons | 59% | Poll | |
| 3 | Andersson | 58% | Poll | |
| 4 | Valimaki | 38% | Poll | |
| 5 | Kylington | 44% | Poll | |
| 6 | Gillies | 42% | Poll | |
| 7 | Fox | 54% | Poll | |
| 8 | Foo | 35% | Poll | |
| 9 | Dube | 37% | Poll | |
| 10 | Mangiapane | 43% | Poll | |
| 11 | Kulak | 36% | Poll | |
| 12 | Rittich | | Poll | Run off |
| 13 | Poirier | | Poll | |
| 14 | Phillips | 39% | Poll | |
| 15 | Klimchuk | 50% | Poll | |
| 16 | Shinkaruk | 42% | Poll | |
| 17 | Hathaway | 36% | Poll | |
| 18 | Wotherspoon | 41% | Poll | |
| 19 | Ollas Mattsson | 36% | Poll | |
| 20 | Pribyl | 33% | Poll | |
| 21 | Tuulola | 41% | Poll | |
| 22 | Ruzicka | 39% | Poll | |
| 23 | Lindstrom | 53% | Poll | |
| 24 | Lomberg | 28% | Poll | |
| 25 | Healey | 40% | Poll | |
| 26 | McDonald | 32% | Poll | |
| 27 | Smith | 28% | Poll | |
| 28 | Fischer | 28% | Poll | |
| 29 | Joly | 39% | Poll | |
| 30 | Carroll | 26% | Poll | |
| 31 | Sveniingsson | 30% | Poll | |
| 32 | Mattson | 31% | Poll | |
| 33 | Pollock | 36% | Poll | |
| 34 | Schneider | 53% | Poll | |
| 35 | Karnaukhov | 36% | Poll | |
| 36 | Rafikov | 55% | Poll | |
| | | | | |
The Top Five List
You have to hand it to Brad Treliving, when the man sees an organizational weakness he's not one to be shy with his to do list. In recent years the Flames have added forward after forward to the upper end of their roster through high end draft picks (Sean Monahan, Sam Bennett and Matthew Tkachuk), as well as fortutious development in the form of Johnny Gaudreau. However the backend was decidedly bare when it came to the pipeline.
This year's top five however features three European defensemen that all project to top four roles in the National Hockey League along with 7th ranked prospect Adam Fox.
1. Mark Jankowski– Drafted by surprise in the Jay Feaster/John Weisbrod era and then immediately dubbed the best pick in the 2012 draft and a future Joe Nieuwendyk by the pair, things got off to a rocky start for the lanky Quebec high schooler. Since then though he's just kept on keeping on, filling out physically while developing his hockey IQ and game. Now Mark Jankowski looks to be a sure fire NHLer with only impact left to be determined. Is he a big body Joel Otto replacement for the third line or a many tool package looking to force one of Sam Bennett or Mikael Backlund out of the top six projection for the franchise? Those high on him point to his rookie AHL projection and WAR stats as elite, while those more hesitant point to his shooting percentage as elevated and unlikely to repeat; the answer will start to emerge in a few weeks when camp gets going.
2. Tyler Parsons – The prospect making the most noise on the Flames' list over the past year and a half is none other than American stopper Tyler Parsons. From Memorial Cup win to drafted to a World Junior Championship to almost carrying his junior club on his back through two rounds of OHL playoffs this spring; the kid only knows one gear. About to turn pro there is a lot of intrigue into his final landing spot this season between the ECHL (Kansas City) and the AHL (Stockton), but given his arch don't count on this kid being long for minor pro hockey.
3. Rasmus Andersson – Some of the best news to trickle out of Calgary's summer development camp this summer was the top five fitness result from Swedish defenseman Rasmus Andersson. With elite hockey IQ, it was nutrition, fitness and dedication as the only shackles holding the two way defenseman back from a successful NHL career. With steps in that direction and a one game audition last Spring with the Flames it will be interesting to see how far he has come when main camp opens in two plus weeks. Being a right shot he certainly has some players in his way on the big club but should an injury or two surface, Andersson is a good bet to see some time in the show this season.
4. Juuso Valimaki– Juuso Valimaki became the answer to a unique question in June, that of "who will the Flames draft in the first round?". Sure every June comes with an unknown draft pick, but unlike the club's previous three first round selections (2013, 2014, 2016) guessing which player would be donning a Calgary Flames jersey this June was hard given the club's 16th spot placement was considerably harder to nail down then drafting in the top six. But all in all the selection turned out great given it's mid round placement, as the Flames seemed to pull in a blueliner that ticked all the boxes of future NHL top four defenseman. The kid has size, isn't uppity under pressure, can play in all zones and has a background of leadership at a young age. Will be fun to watch Valimaki develop and force moves in a season or two.
5. Oliver Kylington – Easily the most controversial of Flame's prospects, Oliver Kylington is all extremes both to the good and to the bad. If you're in his corner you see a can't miss prospect due to his elite NHL ready speed and ability to jump up in the play. If you're a detractor you see a guy that is having a tough time thinking the game, risking too much too often, and not letting the game come to him in wise moments. One thing can't be argued however, and that's the cheap acquisition cost for a prospect that could be a star. Kylington went from a 5th overall projection to almost falling into the third round in 2015, so give the Flames credit for jumping in and adding the dynamic young player to his stable. Now it comes down to development, and getting the player in the right lane. Do that and the Flames have a great asset build story.
Looking Back – Previous Top 5 Lists
The more summers of prospect rankings we do, the greater the depth of analysis possible. With four on the books it's time to look back at previous years and how the top five lists in those seasons have done. Was the group successful in identifying the best prospects of the time, or did we miss the mark completely by undervaluing some, and overvaluing others?
2013 – Clearly Monahan was the top prospect, but Sven Baertschi unseated Johnny Gaudreau for #2 on the list, a clear miss. Jon Gillies and Mark Jankowski round out the top five and still on course to make the grouping a pretty solid top five. Micheal Ferland and Brett Kulak at 25th and 26th were a little overlooked, and Patrick Sieloff at 7 was a reach, though injuries clearly derailed what looked to be an NHL career.
2014 – 2014 had another clear cut choice in Sam Bennett at the top, but the group elevated Johnny Gaudreau from third the previous year to #1, a move that proved profound. Baertschi, Emile Poirier and Markus Granlund rounded out the top five, two of which are now mainstays on the Canucks. Was interesting to see both Jankowski and Gillies slide (10th and 11th) and replaced by the likes of Tyler Wotherspoon, Morgan Klimchuk and Max Reinhart. Ferland and Kulak still glued at the hip moved together up to 15th and 16th.
2015 – With no first round selection, Sam Bennett was set to claim his crown one year tardy and was joined in the top five by Poirier, a rebounding Gillies, Ferland finally getting his due and goalie flavour of the time Joni Ortio. Jankowski also rebound to 6th overall while Kylington and Andersson debuted at 10th and 13th respectively. Brett Kulak was still an afterthought, sitting at 19th.
2016 – In a lot of ways 2016 was the beginning of the renaissance for Calgary prospects as although they had graduated many of their top players in recent years, the depth of the top five and ten were coming into focus. First round pick Matthew Tkachuk took first spot but was joined by Jankowski at 2, Gillies at 3, Kylington and Brendan Hickey who has now been dealt to the Coyotes. As of last summer the top nine all had a tonne of potential with Andersson, Hunter Shinkaruk, Poirier, and Andrew Mangiapane providing greater depth. Brett Kulak was finally getting some momentum, moving up to 12th.
Graduates
For the fourth straight year the top ranked player on the Calgarypuck summer Prospect Rankings was graduated straight to Calgary with Matthew Tkachuk joining the ranks of Sean Monahan, Johnny Gaudreau and Sam Bennett. Will Mark Jankowski be able to keep that streak alive? Tkachuk went on to form a great combination with Mikael Backlund and Michael Frolik, putting up 13 goals and 48 points as a rookie. The only other 2016 ranked player that I'd call graduated is the much more subdued Freddie Hamilton who spent the entire season on the NHL roster while getting into only 26 games and scoring twice.
Moving On
The Calgarypuck group seemed to have a pretty good pulse on the Flames depth chart of prospects as the Flames traded or failed to qualify five of the bottom eight players ranked in 2016. All in all the Flames traded two 2016 ranked players, and walked away from five others thinning their system for a new crop of kids turning pro.
Traded – Brandon Hickey (5th) may or may not have been a signing head ache next summer, but the Flames took that worry off the books by dealing the defender to the Coyotes as part of the Mike Smith deal. Additionally the Flames had Keegan Kanzig (34th) through into the other goalie deal to secure Eddie Lack from Carolina.
Released – The Flames decided not to qualify Ryan Culkin (22nd), Stefan Falkowsky (30th, signed with LA when Flames offered an AHL deal), Kenny Morrison (32nd), Riley Bruce (36th) and Tim Harrison (37th).
Movers and Shakers
Hockey fans want prospects to improve in a linear fashion with steep steep curves, but that isn't always the case. Top prospects lose steam and tumble down lists, while others go from once forgotten to suddenly hot again, which can clearly be seen when you look at Calgarypuck's Summer Rankings from year to year. This year was no different with players rocketing up and spiraling down the rankings from summer to summer.
Up Up and Away
1. David Rittich – +19: Goalies dominated the positive list with David Rittich taking the crown for fastest moving, going from an afterthought at 31 to a factor to be reckoned with at 12th overall. Will be interesting to see what the Flames do should they get an injury to Lack or Smith, Rittich or Gillies to come up? Will be interesting to see.
2. Tyler Parsons – +12: In second spot is Tyler Parsons, a stopper who was well thought of last year at 14th overall, but now a force in second place, it will be really interesting to see how he looks at main camp, and how he fares in his first turn of pro hockey.
3. Matthew Phillips – +9: In what appears to be a spooky re-enactment of the Andrew Mangiapane story, Matthew Phillips went from quaint undersized late round draft pick to mover and shaker on the Calgarypuck prospect list and now suddenly potential World Junior player this Christmas season. He comes in tied for third in biggest move with two others players moving up nine spots from 23rd to 14th. Hig climbing might not be done.
3. Dillon Dube – +9: If Matthew Phillips does make the grade for World Junior team he will likely see a familiar face in the room in Dillon Dube, Calgary's third round pick from 2015. Dube started the season injures last year, but rebounded to make the Canadian team and then played a huge bottom roster role as a defensive energy winger. His season didn't go unnoticed on the site as he climbs from 18th to 9th on this summer's poll; a player that really stood out at the Flames Development Camp in July.
3. Adam Fox – +9: Coming in tied on this list, but would likely be in the top five for prospect moves across the circuit, Adam Fox went from an undersized USHL defenseman to a Bryan Leetch throwback in his first year of college hockey. Hopefully he comes out and signs early so Calgary fans don't experience a gripper in three summers.
Down the Drain
1. Brett Pollock – -16: Brett Pollock went from shiny new prospect in a recent trade, something that is apt to give you a burst in a voting round, to cold sober reality of a tough year adjusting to pro hockey, and with that tumbled 16 spots from 17th to 33rd. He may never be an NHL hockey player, but my guess is he should be somewhere between the two ranks, perhaps we'll see that in 2018.
2. Mason McDonald – -11: Mason McDonald was once the top pick to be the legacy goaltender in Calgary after being taken in the second round by the Flames. Since then he's taken on some water, both in a backup role at a World Junior tournament, in the Q, and then at the ECHL level. Goaltenders though, develop in strange ways so don't be surprised if this script has a chapter or two left in it.
3. Hunter Shinkaruk – -9: An exciting trade from the detested Vancouver Canucks, the Flames added yet another first round pick from the 2013 draft class. It seemed to pay quick dividends as well as the player had a solid AHL season in Stockton and found the net in Calgary in a late season call up. Last season though things never seemed to get moving for the native Calgarian. An up and down AHL year and very little done at the NHL level has some of the glitter coming off his projection. Looking for a bounce back season.
3. Daniel Pribyl – -9: A classic case of the intrigue of the unknown pushing a player to high initially, and then an injury troubled season sending an adjustment down the list. The truth is I don't think we have figured out who Daniel Pribyl is in North America. Perhaps this year he'll get untracked.
5. Tyler Wotherspoon – -8: A player that has been on our list for all five summers, but has yet to crack the NHL roster full time. Wotherspoon has the added burden of going from Calgary's top defensive prospect in a thin list to now facing scads of competition on the back end. This summer he moved from 10th to 18th after hovering in that 7-11 range for each of the previous four summers but ironically he could make the team out of camp this year if he can out duel Brett Kulak.
Lifers!
An interesting list of players that have managed to appear in all five rankings (2013-2017).
Quite a tale of three different type of prospect paths in the graph to the right featuring five players that have appeared on all five summer rankings.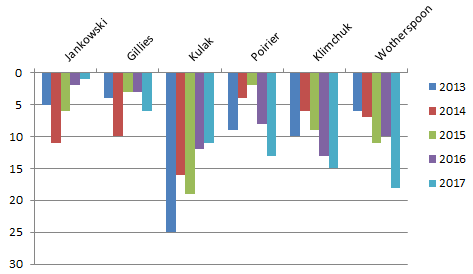 The left side features two players that have consistently been in the mix as top prospects in forward Mark Jankowski and goaltender Jon Gillies. Their moves up and down the list are minimal at best, always progressing a rate that has the average hockey fan happy enough to keep them relevant.
The middle player moving right is Brett Kulak, a player that started from well back in rankings but has slowly and steadily become a player that Calgary fans have in their sites, and a defenseman that should graduate and become a full time NHLer this fall.
And finally the two players on the far right who have seen their shine come off to some degree as winger Morgan Klimchuk and defenseman Tyler Wotherspoon have lost ground year over year do to missed opportunities, injuries, or an improving depth in Flame's prospects.
The Maginot Line
The point in a summer's prospect list where prospects become suspect, or long long shots to make the club.
Last year I had the cut off point or Maginot Line at prospect #19, two spots deeper than my cut off point of 17 in 2015. Players in that group of 19 that no longer hold the same promise would include; Daniel Pribyl at 11 and Brett Pollock at 17 though more than those two are dodgy on that list.
This year with the added depth I'll aim to be more conservative and put the cut point at 17 like two years ago. The 17th player on the list is Garnet Hathaway who I think should see a depth NHL career on the fourth line, leaving Tyler Wotherspoon and those below out on the curb. For the record I was tempted to cut the list at 15 sending Shinkaruk and Hathaway packing as well.
IBM Line
That magic line in the sand between blue chip and just solid prospects. A team with many blue chip prospects is in good stead as they have players ready (chomping at the bit) to not only steal an NHL job, but potentially at an impact position.
With so many prospects graduating from the top of our lists in recent years, the Flames blue chip line is getting a little more fuzzy.
So this year's choice won't be very popular as I'm suggesting there isn't a blue chip prospect at this time. I think Tyler Parsons has a bright future in goal, and could head into this category as early as next season. A follow up year from Rasmus Andersson on the farm and Adam Fox in College could add two more, and don't forget Juuso Valimaki returning to the WHL to dominate.
But at this time I don't deem any prospect to be blue chip.
Thanks again for voting Calgarypuck, we'll be back at it next summer!