Lots of high quality restricted free agents are awaiting their second contracts from their respective NHL clubs; that isn't the least bit newsy at all.
However a few changes in structure, production and expectation have conspired with a cap wrinkle to put a tonne of pressure on the contract negotiations between this high end group of players and their hockey teams.
It's a pressure that should have the sides coming together quickly if the numbers are crunched closely by both sides.
Changing Landscape
Recent contracts to Leon Draisaitl (Edmonton 8 x $8.5M) and Austin Matthews (Toronto 5 x $11.6M) have pushed expectations of highly productive players coming out of their entry level contracts. The bridge is largely gone, the notion that RFA years are cheaper than UFA years has evaporated, and teams have had to scramble to fit younger star players into the fold much sooner than they would have expected.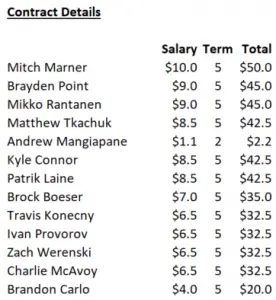 Last season a protracted hold out for William Nylander had the player agreeing on a contract mere hours before the December 1st deadline, reentering the fold in Toronto with a brand spanking new six year $7.5M AAV contract. The nuance to the deal that largely went unnoticed was the adjustment to the cap impact in year one versus the rest of the year, and the impact that that could have on this year's list of RFAs.
Nylander's contract had a cap hit of $10.2M last year, and then a reduced AAV of just under $7M for the final five years. The first year spike is a calculation for RFAs joining teams late where the dollars left are grossed up by time missed in the first year.
The Maple Leafs had the cap space last year so this nuance was absorbed and life went on, but things won't be so rosy this fall in many NHL locals. In fact almost all the teams with one or more of these RFA players outstanding have less than two weeks of regular season to get their players signed before they can no longer fit them in; that is according to my estimations for their contracts.
The table shows my contract assumptions for each player. Since it's en Vogue to get big dollars with limited term I've simplified the process by making all the big RFAs settle on five year contracts.
Fans of every team will have different assumptions on what their player will sign for, but I think the list to the left is somewhat indicative for what we can expect.
The salaries of Brandon Carlo and Andrew Mangiapane were included, not because they belong on a list of impact RFAs but because they are similarly unsigned and are associated with a team that has one of the big names without a contract.
(click on thumbnail for image)

Arriving Late
The "Nylander Nuance" coupled with each club's cap situation creates the number of days late a player can be in each city (based on my salary assumptions above) before the player will no longer fit.
Should this happen one of two or three things will have to happen.
Another player is moved to make room
The RFA has to re-think the negotiation to less term in order to have a lesser cap hit
The player digs in and literally misses the season due to his demands.
The blue numbers above are the length of runway to get a player signed for each team in terms of days.
I went with LTIR numbers from CapFriendly, so each market may have a pending injured player that hasn't been filed to date, which would effect the numbers.
The Jackets and Avalanche have time on their side due to ample cap space, but the rest of the teams on the list literally have two weeks or less. This solved number of days is then applied to the date on the calendar where the team and player meet the cliff.
Toronto has 16 days into the season to get Marner done at $10M per year before their LTIR will no longer be enough to save them.
Tampa has only ten days to get Brayden Point done at $9M per year before they run into trouble.
The Flames, Canucks and Bruins are already in trouble, and don't need a late player and an elevated cap year one to cause them headaches.
What Does it Mean?
A week ago Matthew Tkachuk's agent Don Meehan suggested it's in the team and player's best interest to be signed and in uniform on time, and he wasn't kidding.
The old adage about the player having the hammer when it comes to withholding services can only be applied in the case of Mikko Rantanen and Zach Werenski. The rest of the list had better drop that notion forthwith. If a player gets cute with this dance they could quickly have their year one cap impact sail to a level that not a single competitive team could fit, essentially nuking the notion of an offer sheet.
Use that leverage now, but the two sides had better get things worked out in the next week.
Otherwise the hold out may look a lot more like a lockout.