The Calgary Flames plugged a rather massive hole in their roster when they signed Jacob Markstrom to a six year $6M contract; effectively adding another core player to the team both in terms of impact and in expenditure.
The previous three campaigns combined had the Flames owning not soul stripping level of goaltending, but slightly below average (ranked 18th for the three seasons 2017-18 through 2019-20), and certainly not a difference maker in stealing wins, or prolonging playoff series.
To start his career in Calgary we've seen it all really haven't we?
He was the team's best player to start the season, then got hurt and struggled. Since Darryl Sutter has taken over he's won three out of his four starts and looked solid doing so.
But overall his numbers just haven't been all that good, certainly not Vezina caliber, something I'm sure the Flames were thinking they were adding when they out bid some rivals for his services.
Where is he struggling?
To date this season it appears Jacob Markstrom's issues have come in two circumstances; average shots five on five, and the high danger attempts when the Flames are short handed.
Have a look at the adjoining chart.
When it comes to five on five play his high danger save percentage is virtually identical to his numbers five on five in each of the last two seasons in Vancouver. His low danger save percentage five on five has actually improved a little.
The glaring issue when teams are skating even up has been the medium danger chances, which to be honest kind of fits my eye test so far this season.
When you look further down you'll see shorthanded he's just getting carved on high danger chances.
But what can be said about shot volume? Are the Flames giving up more shots? More dangerous shots?
Is Markstrom labouring under a leaky defensive system?
The easy number based answer to the those questions is simply no.
The second chart to the right breaks down all three seasons for Markstrom in terms of total shots per 60 as well as high danger, medium danger and low danger shots per 60.
In every case five on five the Flames give up less when it comes to shot volume. As a percentage they give up 12% less overall shots per 60 minutes, 12% less high danger shots, 9% less medium danger shots and 16% less low danger shots per 60.
Markstrom appears to be in a better situation.
When shorthanded though, that's not the case. Markstrom is facing 4% more shots per 60 when down a man, though 16% less high danger shot attempts per 60 when the Flames have a man in the box.
Once again, it doesn't appear to be a structure or team defense issue.
But those are just raw stats, what do the heat maps look like for Vancouver and Calgary as a team (not Markstrom in net specific)? Is it possible that Calgary is giving up more despite the numbers saying otherwise?
Visual Team Differences?
Of course it might be wasted time looking into different sections of this system if in fact it was an overall Calgary team defense issue.
Is Jacob Markstrom under a more stressed workload behind the Flames vs the Canucks?
In a word? Once again, no. The visuals below support the numbers above; Calgary is playing better team defense than the player was used to in Vancouver.
Using heat maps from hockeyviz.com certainly suggests Markstrom should be having an easier time of it, not struggling under added offensive pressure.
The Canucks averaged 9% more expected goals/60 than the NHL average last year, and 12% more when you looking at their penalty kill structure and results.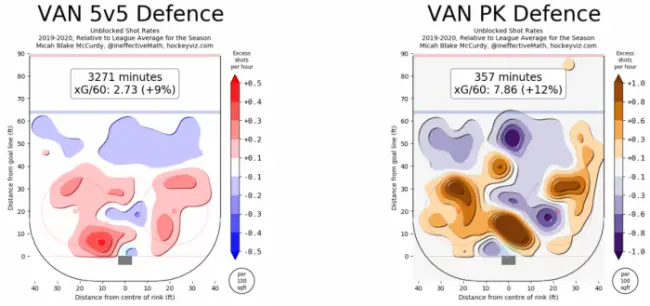 The Flames on the other hand are 11% better than the NHL average in preventing expected goals; 3% when killing penalties.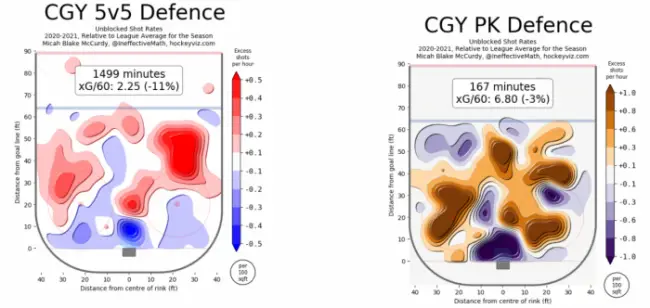 One difference that jumps out though is the high slot.
The Flames do a better job of protecting Markstrom than the Canucks did when it comes to rebounds, goal mouth scrambles and in tight shot attempts, but they do seem to give up a bit of a sweet spot 20 feet out, dead center.
Could it be that Markstrom has a weakness in that area, and the Flames are the furthest thing from a tonic to fix that blind spot?
Breaking the Season Up
So we've demonstrated a few things.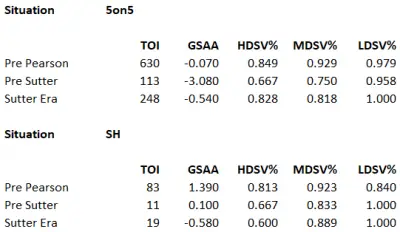 One, Markstrom isn't off to a great start in his career in Calgary, but it appears that the difference isn't a soft defense in Calgary. The guy is struggling for the most part with the average or medium danger shots and not the high danger shots that they'd expect.
But how has he fared through different parts of the season? To answer that I break the season into three defining sections for Jacob Markstom; his season before he came charging out of his net to stop Tanner Pearson, his season after that incident but before Darryl Sutter took over, and his season to date under Darryl Sutter. The second and third sections have a serious sample size alert.
The big wart on the season is clearly that time period in-between which is both miniscule in terms of sample size and somewhat expected given his recovery from an injury.
Five on five Markstrom struggled huge in both high and medium danger shots, posting just .667 and .750 respectively in terms of save percentage.
Since Sutter has taken over it looks like his five on five high danger save percentage has rebounded to his career averages though he still struggles with medium danger shots, his penchant all season, though I think a good deal of this drop came in one period, the third against Edmonton.
His shorthanded numbers don't represent enough time to concisely draw conclusions, but they're certainly not headed the right way.
What to make of all this?
If I was to guess I'd say the struggles come down to two clear issues this season.
His injury, and wanting to make good on a new contract.
He was pretty solid to start the season, and then got hurt and lit up. Coming off the injury he's been better and he's better again for the most part under Sutter.
A goalie that can stop the tough stuff but not the medium danger shots is a bit odd, so guessing the pressure of living up to a contract has causes some focus issues plus maybe a bad bounce or two.
The Flames are behind the eight ball to make the playoffs, and if they have any hope it has to come from Markstrom.
Given these numbers and his play on Friday in Toronto, I think it's quite likely the goalie will do his part.