Ideally we'd be discussing the Flames sixth straight win and a two point lead in the standings after tonight's 3-1 win in Winnipeg.
But with the disappointing loss to the Hawks last night it's a muted … tied with the Jets but they have a game in hand and the tie breaker story as we head into the final four games for the Calgary Flames.
But they're alive.
And we'll be talking hockey and playoff chances for three days until they play the Canucks on Saturday night.
All I needed!
The Lineup
Despite the back to back and laying an egg the night before the Flames stick with the exact same lineup.
No change on the blueline as we see Noah Hanifin with Chris Tanev, Mackenzie Weegar with Rasmus Andersson, and Nikita Zadorov with Troy Stecher. It looked like they considered inserting Michael Stone as he took the warmup but didn't play.
Lots of change up front with only one line kept intact; Trevor Lewis with Milan Lucic and Walker Duehr. Dillon Dube moves up to play with Elias Lindholm and Tyler Toffoli, Andrew Mangiapane gets back to Mikael Backlund's line with Jonathan Huberdeau. Andrew Mangiapane charged with trying to get Nazem Kadri and Nick Ritchie untracked.
Jacob Markstrom gets the start.
Line Metrics Coming In
xGF%
Mangiapane – Lindholm – Toffoli 67.0%
Huberdeau – Backlund – Coleman 52.4%
Ritchie – Kadri – Dube 42.7%
Lucic – Lewis – Duehr 57.8%
Hanifin – Tanev 66.6%
Weegar – Andersson 62.6%
Zadorov – Stecher 42.1%
Goals Saved + Avg
Markstrom -6.0
Vladar -8.4
Trend Tracker:
So goaltending this year.
If you build a histogram looking at goalie impact this season it isn't pretty.
Looking goal differential; that is goals against vs expected goals against the Flame's netminder has been on the no help at all side of things in 58% of the games this season.
A brutal 26% of the time they have been at least a goal worse than they should have been.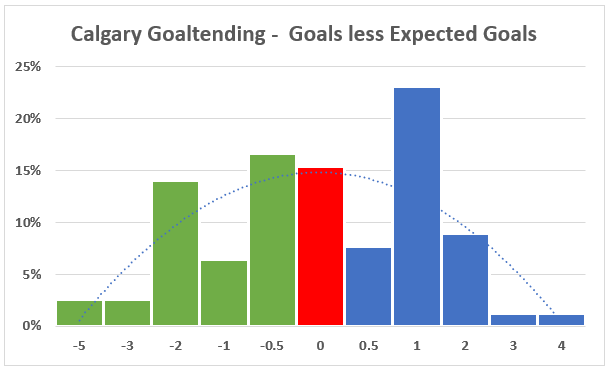 Booing Andersson
Is there some Rasmus Andersson in Winnipeg history that has slipped my mind?
Otherwise pretty odd target for the Jets crowd tonight.
Now don't get me wrong, who cares … but why are you upset for the guy that was hurt crashing into the boards. If you don't like the call it's the official isn't it?
Could be booing him making a quick return, but the call was made when he first hit the ice, there was no milking in play.
Lucic Double Minor
I've bitched all year about the silliness around how NHL officials differentiate between 2, 4 and 5 minute high sticking penalties.
Not tonight.
You can't have your stick at face height for an opposing player to skate into. It's careless and exactly what I see as a four minute minor.
I don't care about blood.
Accident is two. Carless is four. Intent is five.
Got it right by accident tonight.
Playoff Atmosphere?
I guess there was a decent "Go Jets Go" chant before the anthems … that's sort of playoff like.
But after that? Not a lot from my vantage point, though maybe I just don't feel the urgency with the result of the game last night.
Didn't feel that playoff like energy from the building, and not really from either team either.
Just a regular regular season game in my books in how it played out early.
Ugly to Goal to Ugly
What a sequence of events.
Terrible Jonathan Huberdeau turnover leads to a Jets three on one … foiled by Jacob Markstrom.
Puck goes back up the ice, this time Calgary on a two on one … Mikael Backlund to Andrew Mangiapane … goal.
But wait not done yet. Dubois does a skate towards Markstrom to jaw at him about their scuffle in the crease. Markstrom sprays him with water, Dubois responds with what looked like some threats. Flames jump in and it's sort of a line brawl.
Still not the whole story … Flames in mid change after the goal celebration at the bench and are left with six skaters on the ice and get the extra penalty for having too many dudes in a scrum.
Now that's more like playoff hockey.
Markstrom Money
Two goal win, but without a solid Jacob Markstrom performance it could have been much different.
Lots of controversy around the player, and his selection to start the game after losing last night and the fact that it was a back to back.
He didn't let them down tonight.
Final expected goal total had the Jets up 3.59 to 2.68.
The Flames got to their total, with Markstrom strong the Jets came up about three goals short of their expected total.
Season Saving Third
Going into the third tied at one is fine for a road game, but not for a road game where you need to win in regulation.
Then suddenly … fourth line has a good shift and Walker Duehr dumps the puck in off Jet's defenseman Schmidt.
A few minutes later and Jonathan Huberdeau makes a great pass to Nikita Zadorov and it's 3-1 Calgary.
They tried to blow it, they truly did, by giving up a breakaway with two minutes to play, but held on to keep their season alive.
Odds and Sods
Despite some production I just don't see Nick Ritchie as one of the Flames top 12 forwards. Lucic's best before date is past due as well, but at least I can sort of understand the sentiment with keeping him in the lineup. But Ritchie? Would rather see Jakob Pelletier. … Six minors called in the first period, and all of them good calls, but I just hate it when you don't get to see much five on five hockey. It's just a different sport. … What's wrong with Elias Lindholm? I mean he always shows up and does what he does, but when you turn the puck over on a powerplay you skate your ass off. You're the last guy back! That's at least the second time this year where he's surrendered an odd man break against and didn't engage to get it back. … I say this every Jets game, but with those sweet red white and blue old logo home and white jerseys floating around, why do they ever choose to wear these two tone blue silks? Up there with the Flames decision to go 13 years with the ugly jersey set they just retired.
Special Teams
Huge role for special teams tonight as the officials got themselves more than a little involved.
A total of 11 powerplays on the night with only one ended up in the net, a first period Winnipeg tally.
Jets get the only powerplay goal and kill off six, they take the special teams battle.
Calgary's powerplay was … well … not … good.
Standings and Record
Teams are now tied, the Jets with a game in hand and the tie breaker.
They're going to need some help, and it sure would be nice if they were up two points with the Hawks pair in their pocket, but at least it's still something to talk about between now and Saturday.
Honestly that's all I'm looking for.
A few more days with a chance.
Counting Stats
Shots: Flames 35 Jets 35
Face Offs: Flames 46% / Jets 54%
Powerplay: Flames 0-6 / Jets 1-5
Fancy Stats
Lots of very even underlying stats, but the best overall chances, or at least the bulk of the second tier chances went to the Jets meaning Jacob Markstrom was the difference. Five on five the Flames had 44% of the shot attempts with period splits of 60%/38% and 42% respectively. In terms of five on five expected goals, the Flames had 41%, and for high danger scoring chances the Flames had 44%, with a 7-9 split.
In all situations the Flames had 44% of the shot attempts, 43% of the expected goals, and 48% of the high danger splits. The all situations expected goal totals came out at 3.59 to 2.68.
Individually the Flames were led by Nikita Zadorov, posting an xGF% of 66% on the night five on five. He was joined in the 60s by Chris Tanev and Nazem Kadri, with a bounceback game. Three players under 20%; Mikael Backlund at 15%, Mackenzie Weegar at 13% and Rasmus Andersson and an unbelievable 6%. Ouch!